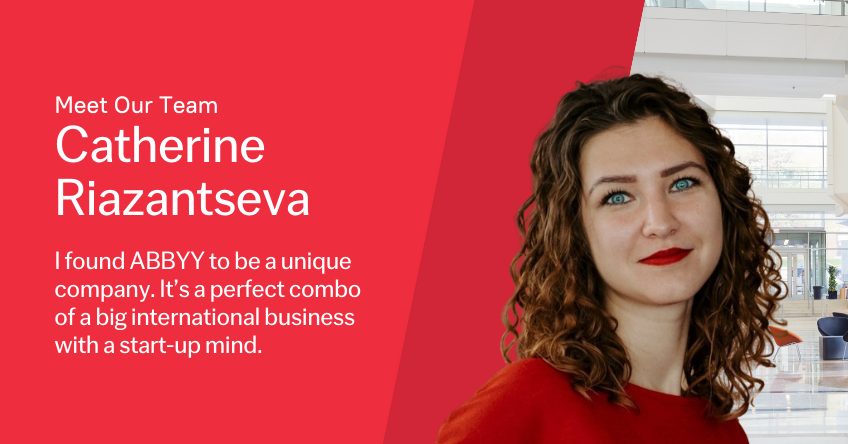 If anyone knows what attracts great employees, it's Catherine Riazantseva. She's behind the strategies for ABBYY's compensation packages and knows a thing or two about workplace incentives – no matter where you are in the world.
As part of our March interview series in celebration of International Women's Day, Catherine took some time out of her busy schedule to tell us about her role and plans for the coming year…
Follow us on Instagram and get to know the people at ABBYY
What attracted you to ABBYY?
I found ABBYY to be a unique company. It's a perfect combo of a big international business with a start-up mind. ABBYY is flexible and sustainable at the same time. There are opportunities for both vertical and horizontal growth, and you constantly improve your expertise. If anyone asked me to describe ABBYY in one word, I would use "opportunities".
Tell us your title and a bit about your role and journey at ABBYY so far
I joined ABBYY in 2018 as Compensation & Benefits Adviser before being promoted to my current role as Head of Global Rewards. My main objective was to review and update compensation principles within all functions and countries that we are located in, so that it would align with our ABBYY People strategy.
The next professionally interesting challenge for me was the pandemic. We had to come up with solutions for sustainability and adjust to new realities in a very limited timeframe with no previous best practices to refer to – this was something new, not just for me, but for the whole world. Looking back, I think we did a great job as a company, especially the People Team, as we were able to provide the right guidance in forming strategic management decisions. Over the last year, ABBYY has extended its presence in some locations and moved into new countries, which has meant I've been working on setting compensation principles for those regions. It's important for us to have the right balance at both a global and local level.
In addition to global-level projects, my team and I also support Function Leaders and Managers in department restructuring and changes in role design at an individual level, for example, promotions.
What does a typical day look like for you at ABBYY?
There is never a typical day for me, which is great, as I personally am not a fan of too much routine. Having colleagues in all time zones around the world, means I adjust my daily schedule frequently. My workload is pretty project-oriented, and the strategy of my team has to be aligned with company goals. There are certain processes that I lead, such as merit increases and bonus calculations, while I also help define strategies for goal-setting. I'm happy to say we have some really exciting things planned for this year to complement our already popular remote and flexible working options.
What keeps you going, and what do you enjoy the most in your role, any highlights?
I would describe my job as a perfect balance between people interaction and numbers. I'm a huge Excel and math fan. I like everything being organized, calculated, and analyzed. But I also like reasoning and fruitful discussions. There is no point in numbers for numbers' sake – we are working with people, so each decision and analysis should have an explanation behind it.
What was your previous experience before ABBYY?
I started my career at the university where I studied. My work there was around international communication—organizing foreign delegations, electing industry-known professors, and keeping track of international business-trips for university professors. My next step was as HR Generalist at a company called SIBUR International, where I was primarily responsible for the performance evaluation processes, educational projects, and private health insurance. I continued my career as a Consultant at Korn Ferry. There, I gained tons of expertise in HR consulting—mostly in areas related to global rewards. It was a perfect place to systemize knowledge and expertise within the HR field and learn best practices from unique cases in different industries from all over the world.
Your top advice to someone joining ABBYY in your function?
Fasten your seatbelts! Saying we are a fast-paced environment is an understatement, but it's a fascinating journey.
How do you spend your free time?
I enjoy walking a lot, or hiking, and meeting with friends. I'm also trying to find myself in the world of contemporary art.
If you could have one wish come true, what would it be?
As idealistic as it sounds, I truly wish that we could all live in a more peaceful world. Oh, and hope that we don't see the return of another pandemic, so we can get back to enjoying some more truly "normal times".
What's your pet peeve?
If people are lying to hide a mistake or not addressing their concerns. Good human communication is the key to everything.
Name any inspirational book/movie/music you have recently discovered or are enjoying at the moment
Playlist anthems I lean on: Oasis – Wonderwall; Ed Sheeran – Galway Girl;  Panic! At the Disco – Hey Look Ma, I Made It; and any song by Muse, literally.
Interested in joining the ABBYY team? Please check the vacancies below and apply!
Subscribe for blog updates
Your subscription was successful! Kindly check your mailbox and confirm your subscription. If you don't see the email within a few minutes, check the spam/junk folder.
Your subscription was successful!