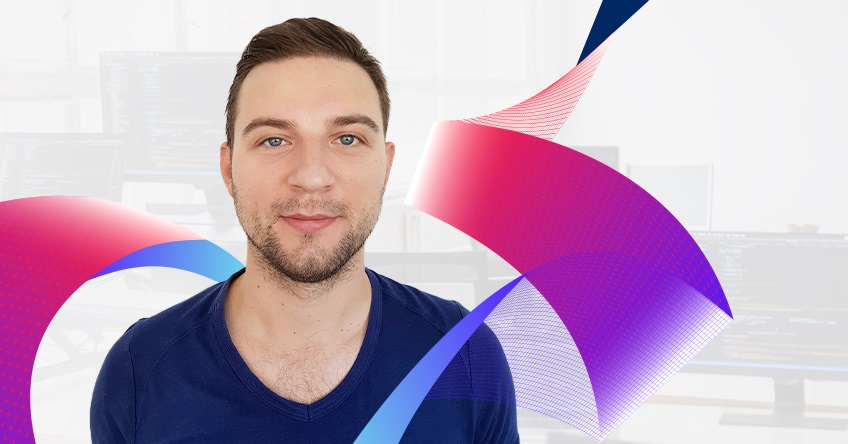 From teaching salsa dance to rock climbing and NFL fandom–there's never enough hours in the day for ABBYY's Testing Team Leader Gábor Szakács based in Budapest, Hungary. In fact, if he had his way, there'd be 36 hours in a day!
We spoke to the busy father-of-two to ask about his role at ABBYY, and how he manages to juggle work, parenthood, and a variety of hobbies. Learn more about Gábor, including his role at ABBYY and some top pieces of advice, below.
Follow us on Instagram and get to know the people at ABBYY
What attracted you to ABBYY, and what is your role?
I was attracted by the opportunity to lead a team. The plan was to create a new quality assurance team from scratch, which sounded appealing and challenging to me. It was also a switch from testing hardware electronics to testing software. It gave me great confidence that even before I started the job, I was asked to join the interview panel for recruiting our first test engineer. Six months later, we are now a diverse team of six!
I'm in charge of the team for testing our Process Intelligence product ABBYY Timeline. My role involves ensuring timely releases, thoughts on distribution, dealing with any hiccups in the system, and providing feedback on what's missing in the development cycle or any other requirements. I also take care of the team's needs in terms of tasks and goals, and find that part of the role particularly inspiring.
What was your previous experience before ABBYY?
I worked as a test engineer for four years at a startup. The company became part of Siemens. Before that, I worked for IBM as a failure analysis engineer at a plant in Vác. I was promoted to work on field defects, which was much more fun as I got to travel the world. I also had the opportunity to achieve certification with the International Software Testing Qualifications Board.
Your top advice to someone working in your field?
From a test perspective, it's crucial to pay attention to small details–that's where the Devil lies, as they say. Also, always stay creative. Although it's a technical role, the job involves a lot of creativity, and you must be continually learning. There are newer releases and updates all the time, and there's always something to ponder on.
Do you have any hobbies or fun interests?
Having two daughters takes up a lot of my free time, as they're only two and four, but I manage to go indoor climbing once a week. I'm also a huge Tampa Bay Buccaneers fan and watch the NFL every Sunday evening. 
I'm an avid fan of aquascaping; I have two aquariums and love to create vivid effects. I just tore apart my previous installment, so I'm working on a new one. And I recently took up a new hobby of building Legos. We are huge Harry Potter fans, so that has been a theme lately. I'm also a dance instructor, teaching Cuban salsa. It's how I met my wife.
If you had one wish come true, what would it be?
To make each day last 36 hours. That way I get to see my daughters more and have time to fit in work, plus all the fun stuff!
What's your pet peeve?
Hair in the shower drain. 
What is an inspirational book, movie, or music you have recently discovered?
Right now, I'm reading The Institute by Stephen King. Pratchett's Discworld novels are a source of good laughs and deep thoughts, I recently finished his 15th novel, Men at Arms, and it's a hilarious one to say the least.
Music-wise, I just discovered a Swedish band called Cult of Luna. I've always liked heavy metal and used to play bass guitar in a black metal band years ago. I also won an air guitar contest at a festival in 2006, so I certainly know how to head bang!
---
Are you interested in working with Gábor and his team?
Check out our Software Test Engineer opening in Budapest.
To see all of ABBYY's current open positions, please click here.
Subscribe for blog updates
Your subscription was successful! Kindly check your mailbox and confirm your subscription. If you don't see the email within a few minutes, check the spam/junk folder.
Your subscription was successful!