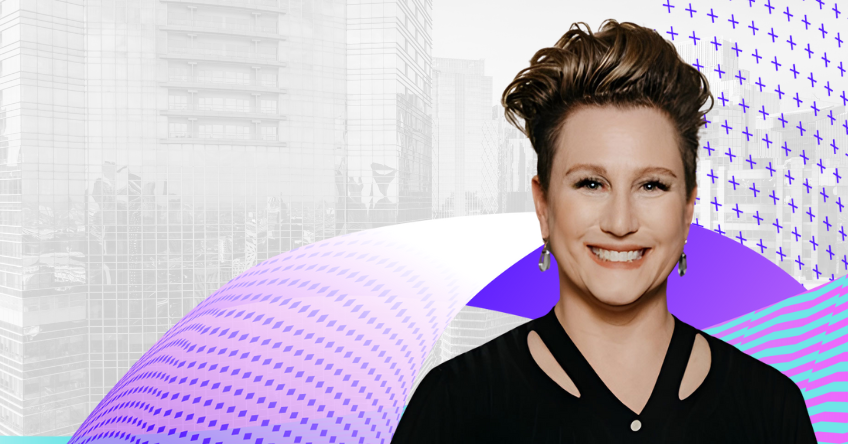 In the final installment of our interview series in celebration of International Women's Month, we speak to ABBYY's Chief Marketing Officer Gabrielle Lukianchuk.
She tells us about her success with storytelling and how it impacts marketing return on investment (ROI).
Follow us on Instagram and get to know the people at ABBYY
What attracted you to ABBYY?
ABBYY's long tenure and deep relationships with its customers. I was drawn by the team culture that is focused on customers' success. It was fascinating to see the potential of how intelligent automation solutions are mission-critical in helping our clients create intentional customer experiences and make intelligent decisions faster and simpler.
Tell us your title and a bit about your role and journey at ABBYY so far.
I am very lucky to lead an amazing team of dedicated and innovative marketing professionals at ABBYY as Chief Marketing Officer. Since joining ABBYY six months ago, I have had the opportunity to get to know the team and our business to help to inform and shape our marketing strategies and support our growth in the intelligent automation market. The journey has just begun, but so far, I am thrilled to be a part of a team that is so passionate about our customers and the business outcomes we enable with our solutions.
What does a typical day look like for you at ABBYY?
I generally start super early each day, thinking through my priorities and what I plan to accomplish. Then I generally jump into discussions with the marketing team and the extended ABBYY team members we work closely with. We are very focused on marketing ROI, measuring the business impact, so we do spend a lot of time thinking through the Why, What, How as it relates to what we are doing to ensure we are aligned with our marketing strategy and key objectives.
What keeps you going, and what do you enjoy the most in your role, any highlights?
My favorite part of my role is working with the ABBYY team. I absolutely love learning from one another and hearing their ideas, and experiences and how we can potentially leverage these perspectives to enhance how we engage with our customers and the market.
What was your previous experience before ABBYY?
For over 25 years I have led transformative approaches to marketing, centered on the customer and creating intentional storytelling experiences that drive growth. I have deep expertise in brand and demand, digital marketing, and transformational experience in building and developing global solutions and product marketing that focuses on the customer.
Your top advice to someone joining ABBYY in your function?
Be bold and keep learning! The technology and software space is always changing, and it is important to stay on top of your game in terms of understanding the customer's business needs and making sure you develop a customer mindset to enable better storytelling.
Since it is International Women's Month, we also wanted to ask you: What do you think are the most important skills and traits for women to have in order to succeed as leaders in the tech industry?
Women in leadership are vital for success. Women offer diversity of perspective based on their life experiences and leadership approaches that have proven to contribute to business growth.
Confidence, strong leadership abilities, an innovative "free thinking" mindset, and a healthy dose of compassion and inclusion are all super important in my experience.
You need to make sure you keep an open mind to what is possible, keep moving forward, and remember that all progress is good progress. Use your wisdom to exceed your own expectations.
How do you spend your free time?
I love to spend time with my family, travel and learn new things. I also really enjoy staying active and healthy.
If you could have one wish come true, what would it be and why?
I don't just have one wish. If I did, it is that my family stays healthy and happy.
What's your pet peeve?
Women underestimating their potential or apologizing for no reason. Lean in to who you are and be confident. Don't be afraid to take up space.
Name any inspirational book/movie/music you have recently discovered or are enjoying at the moment
I enjoy anything that has to do with travel and learning about different cultures.
Interested in joining the ABBYY team? Please check the vacancies below and apply!
Related open positions
Europe
Technology and Product Development
Finance
Subscribe for blog updates
Your subscription was successful! Kindly check your mailbox and confirm your subscription. If you don't see the email within a few minutes, check the spam/junk folder.
Your subscription was successful!