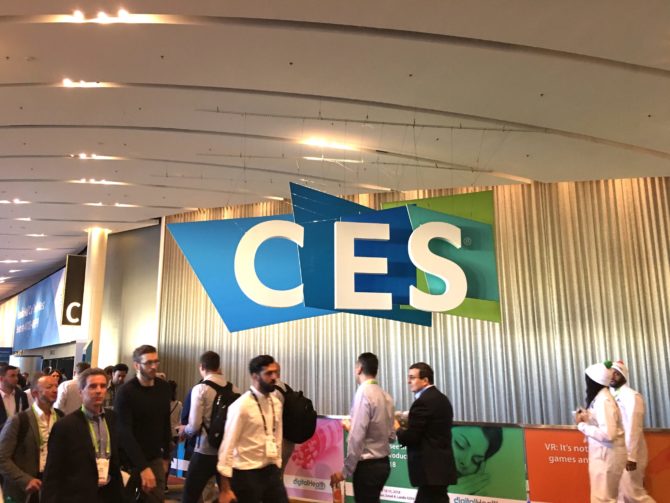 CES, or Consumer Electronics Show, is the world's biggest tech show held in January in Las Vegas. The event gathers plenty of tech companies, startups, VCs, and media from across the globe, who come there to see and be seen.
This year, Catherine Matantseva, our international PR executive, attended the event to demo ABBYY technologies for journalists, analysts, and partners. Today, she is ready to share her thoughts on the biggest trends and most noticeable companies of CES 2018.
Every year in early January, while many are just returning to work after the holiday break or savoring their last days off with family, tech professionals, journalists, and marketers are busy preparing for CES. The global technology fair that gathers over 170,000 attendees from 150 countries gives an impetus to a "tech race" of giant corporations and start-ups who use their breakthrough ideas and affluent venture capital to challenge the status quo.
Quite a few experts believe that the massive size of CES does more harm than good. Fuss and buzz, neon logos and robots aimlessly wandering around – all of this makes it extremely hard to find and appreciate anything worthwhile. Yet, CES is only getting bigger. For heavyweights, it is a launch pad for new products, a place to showcase their strategic priorities and an opportunity to entertain partners and clients at star-studded parties. For start-ups, CES is a way to make a statement, get the attention of investors and media. Analysts and journalists come to the show to try new tech, observe and cover market trends and try to predict the future.
CES 2018 will be remembered for the heavy rain that ended the 116-day dry streak in Las Vegas, and an unexpected power outage that left the Central Hall of LVCC in the dark for over an hour.
But let's focus on the tech. Here are the most powerful trends and most noticeable companies at CES 2018.
Google
The search giant who kept a low profile during previous shows started a full-scale attack in 2018. Pervasive Google ads occupied almost every billboard and screen in Las Vegas.
Impressive interactive spaces in ARIA and Sands Expo, huge gumball machines with Google Home speakers as gifts, and the massive PR campaign – all served the purpose of supporting the Google Assistant ecosystem. The company intends to win a bigger chunk of the market over from Amazon Alexa that is currently integrated into 70% of smart speakers in the US.
What's new with Google Assistant? It has developed new skills. It sounds more colloquial and natural in terms of intonation and vocabulary. It has been integrated into newly released smart screens from Lenovo, Sony, JBL, and LG, which are essentially Google Home speakers with a display. "We are trying to make the experience richer without making it more complicated," said Gummi Hafsteinsson, Product Management Director at Google Assistant.
Samsung
This year, the Korean tech giant presented a new concept called Intelligence of Things. It is a proprietary ecosystem of intelligent devices that exchange data with each other. This was supported by the launch of the SmartThings cloud and app, as well as the Bixby integration in Samsung's smart TVs. Boo-Keun Yoon, Samsung's co-CEO, announced that 90% of the company's devices were already capable of exchanging data via the Internet and by 2023 every product in the company's portfolio would be Internet-connected.
On top of that, Samsung introduced a new modular TV – "The Wall". Needless to say, the massive 146-inch screen made a strong impression.
Razer
Project Linda, Razer's new smartphone that transforms into a laptop, was named the best device of CES 2018 by several media outlets. How does it work? The smartphone conveniently fits into the space usually occupied by the touchpad, then connects to the monitor, keyboard, and hard drive via USB-C.
Nvidia
At CES 2018, the American GPU and chip unit producer consolidated its position on the market. The company announced their new BFGD monitor, a 65-inch 4К HDR gaming monitor that supports G-sync, Android TV, and Google Assistant – the first in its class. Nvidia's CEO Jen-Hsun Huang also stated that the company will focus on manufacturing processing chips for self-driving cars, which will help to model the behavior of autonomous cars and bring them to markets sooner.
Chinese Companies
The competition between Western and Chinese companies is heating up – this year companies from China made up over a quarter of the total exhibitor count at CES 2018. Chinese corporations presented promising innovations across multiple fields demonstrating extremely wide interests and ambitions. Asian tech giants did not shy away from the spotlight: Baidu announced their partnership with Nvidia, Alibaba occupied an impressive amount of space in one of the pavilions, and Huawei held a high-profile keynote.
Self-Driving Cars
Unlike last year's show, where only a small number of self-driving cars was available for test drive, CES 2018 featured a fleet of autonomous vehicles driving around Las Vegas and dozens of companies showcasing their chips, equipment, and software at the show. Lyft had the biggest self-driving fleet in town. Autonomous taxi rides were pretty uneventful, almost mundane, but, to be fair,  a driver was still present – for safety.
One more product category made a lot of buzz among both journalists and travelers – autonomous luggage, for example, the CX-1 from ForwardX, which follows its owner wherever they go.
Robots
Robots showcased at CES 2018 fall under three categories: ready to enter the market or already on sale; in development, featured as a prototype; and conceptual androids created to push the boundaries of technology. Modern consumer robots protect your house, help with chores, babysit, teach, and entertain. Robots for business can replace your secretary, receptionist, a help desk employee or a waiter.
Humanoid robots are capable of talking and understanding speech, expressing emotions, gesticulating, walking, and more. Hanson Robotics-developed Sofia, the first robot to receive a citizenship, is a vivid example of such innovation.
The new version of the beloved Aibo robot dog by Sony recognizes family members and makes its way around the house using cameras in its nose and tail, responds to commands, and is overall friendly and affectionate. It took over 4,000 parts, 22 actuators, and OLED-screen eyes to make this adorable companion move like a real dog.
Drones
250 Intel's Shooting Star drones lit up the sky of Las Vegas every evening from January 8th to January 11th – the brightest demonstration of drones at CES 2018.
According to the media, DJI drones remain the best overall, whereas industrial and underwater drones are the most promising. Expanding functionality is the common trend in this field.
AR, VR
Just a few years ago, everyone was closely following the development of VR, now the attention had shifted to augmented reality. Both technologies are used in a wide range of fields from gaming and entertainment to automotive and medicine.
One of the most important things is that VR is finally becoming wireless. HTC launched its premium Vive Pro VR headset and Vive Wireless adapter that allows for a fully wireless integration of both Vive and Vive Pro.
Sleep and Wellness Tech
This year, for the first time ever, sleep tech companies occupied so much space and attracted so much attention at the show. It is obvious that in modern society, people are stressed and overloaded with information; they seek ways to regain energy, protect their mental health and peace of mind.
Nokia and Phillips were among the companies who presented new products in this field. NuCalm made an ambitious statement that their trademark 20-minute relaxation experience is equivalent to 2 hours of sleep. Rem-Fit's ZEEQ pillow collects data, plays music, and even treats snoring.
To sum it all up, CES saw an infinite number of devices and technologies: 65-inch rollable OLED TV by LG, smartwatches from Kate Spade and Skagen, which once again proved that smart accessories can look truly spectacular and many more.
I definitely recommend attending CES, especially if you work in tech. I have been to trade shows in Barcelona, London, but the experience and the sheer scope of CES are truly exceptional. However, before embarking on a journey to the future, do not forget to save digital copies of important documents in FineScanner, install TextGrabber to recognize and translate slogans of Chinese companies on the fly, and of course, use your Business Card Reader for effortless networking. You will also need comfortable shoes, a power bank to charge your smartphone, and some cash to swing by a casino. You are in Vegas, after all!
Subscribe to our newsletter
Enter email and get FineScanner with 1 month premium for free!
Your subscription was successful! Kindly check your mailbox and confirm your subscription. If you don't see the email within a few minutes, check the spam/junk folder.
Your subscription was successful!