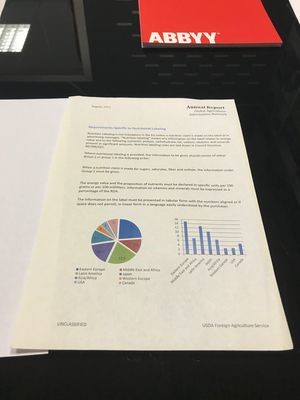 2017 has ended and it is time to share what we have accomplished over the last 12 month. We also want to say a big thank you to all of you because we would achieve far less without your contribution!
Now to figures. First and foremost, the number of our mobile users in OCR apps has exceeded a good 8 million! That's almost the population of Austria, can you imagine? Last year you used our iOS and Android apps to take almost 20 million photos, scan 3 million business cards, and create 4 million documents. We are very much pleased that our solutions come in handy!
In 2017, you left us 43,000 review stars in both the App Store and Google Play and wrote 7,500 reviews with an average rating of 4.5 stars out of 5. Thank you for highly appreciating our work and being actively involved in the joint effort. We give careful consideration to every comment, and believe us, they do have an impact on our plans. And as always, we will try to do even better next year.
This year, we had around 60 releases, which makes it almost five a month. This is quite impressive, huh! And apart from user applications, we also develop corporate solutions for large global enterprises. Let's drill down to more details.
Business Card Reader
Believe it or not, this old fellow turned 7 this year! In June, we released the web version of BCR and made it easier for you to manage your business cards from any computer connected to the Internet.
iOS 11 now allows BCR users to view virtual business cards in augmented reality. Have you tried looking for one right on your table?
What's more, the app is now supported by iPhone X, it allows users to export data to Salesforce, and has a new cropping capability.
For Android users, BCR now supports Android 7 and 8, App Shortcuts, has improved purchasing capabilities as well as an overall optimized experience.
Our apps featured in several foreign magazines this year. BCR was spotted in one of CIO's articles in May and Computerworld's in June. On top of that, MacWelt, a German magazine, mentioned all three of our OCR apps.
FineScanner
In early 2017, the iOS version following the Android one incorporated a sleek design. FineScanner for iOS 11 got annotation instruments that allow you to add comments to PDFs right on your smartphone and was enhanced with drag and drop and a new cropping tool.
iPhone X now enables you to set a password for all documents that are automatically sent from the device.
The Android version now supports Android 7, Android for Work, and App Shortcuts and has a more flexible pricing policy.
Many wrote about FineScanner this year, among them are MacWelt, Business Insider, PC Mag, and Gizmodo.
TextGrabber
TextGrabber was the one to stand out in 2017. Both iOS and Android versions are now capable of recognizing text in real time when you point your camera at the text and have an excellent modern design.
The iOS version got the best features from iOS 11 and was adapted for iPhone X, whereas the Android version has learnt how to speak and is now available for vision-impaired users. Mass media didn't ignore such progress—the app was mentioned by TechCrunch, Forbes, and Business Insider.
Our blog currently features a total of 21 articles about what we have achieved this year. We have also launched weekly articles about productivity called Mobile Mondays and you seemed to like it. Our blog now includes 14 of them and the best is yet to come!
That is what we have accomplished in the splendid 2017 and we hope it has been as fruitful for you as it has been for us. Let's make 2018 even better! We have ambitious and exciting plans, stay posted! We are also hopeful that Business Card Reader, FineScanner, and TextGrabber will be of use.
Subscribe to our newsletter
Enter email and get FineScanner with 1 month premium for free!
Your subscription was successful! Kindly check your mailbox and confirm your subscription. If you don't see the email within a few minutes, check the spam/junk folder.
Your subscription was successful!