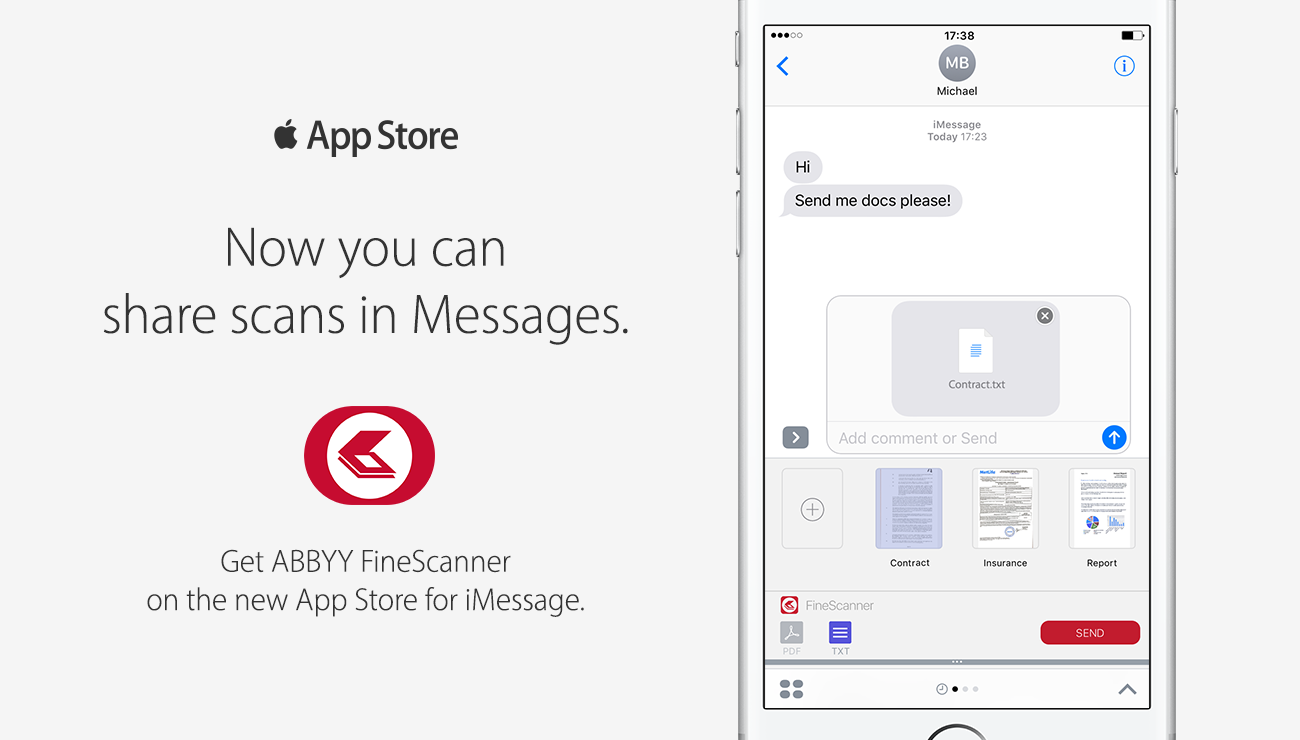 iOS 10 is live! And it got the tech world buzzing. While users are just trying out the updated OS, we at ABBYY Mobile have been working day and night for weeks to utilize its abundant native resources in the best way possible and introduce some brilliant new features of FineScanner that save our users a lot of time and energy.
1. FineScanner for iMessage
Need to send a copy of your passport to your spouse or a document to a colleague? Now you can do it without exiting iMessage. To activate this feature:
Update your device to iOS 10
Update FineScanner to the latest version (today it's 5.6.5) on the App Store
Open dialogues window in iMessage
Tap the App Store button near the text field, then tap Store
Tap Manage button on top of the screen
Enable FineScanner for iMessage.
To send a scan with iMessage:
Tap the App Store button near the text field and choose FineScanner
Choose a document and a format – PDF or JPEG for scans and PDF or TXT for recognized documents. [caption id="" align="aligncenter" width="320"] Send scan via iMessage[/caption]
2. Today Widget
Another one of iOS 10 features is Today Widget screen. Swipe right from the home screen or the lock screen, and you will see it. Here you can put the important services you always want at hand – weather, notes and FineScanner with the last scanned document. To add the FineScanner widget, tap the Edit button at the bottom of the widget screen and choose FineScanner.
3. New 3D Touch menu
For devices supporting 3D Touch (iPhone 6s, 6s Plus and iPhone7, 7 Plus), we've added a feature that allows you to see the last scan, open a document or search in the app. You can do it simply pressing FineScanner's icon little a bit harder to access the quick actions.
We also have a little surprise for you. It's not iOS 10 related, but still pretty great. Give a warm welcome to FineScanner's  new design! We started our re-design with the introduction screens and are going to continue with the rest of the application. We really hope that you like it, so please let us know what you think.
Update your devices to iOS 10, download or update our FineScanner app, try our all-new features, and don't forget to leave a review on the App Store.
Let's celebrate the latest technology together! It saves us a ton of time, makes our lives so much easier and gives us the opportunities we couldn't even dream of in the past.
Subscribe to our newsletter
Enter email and get FineReader PDF Mobile with 1 month premium for free!
Your subscription was successful! Kindly check your mailbox and confirm your subscription. If you don't see the email within a few minutes, check the spam/junk folder.
Your subscription was successful!