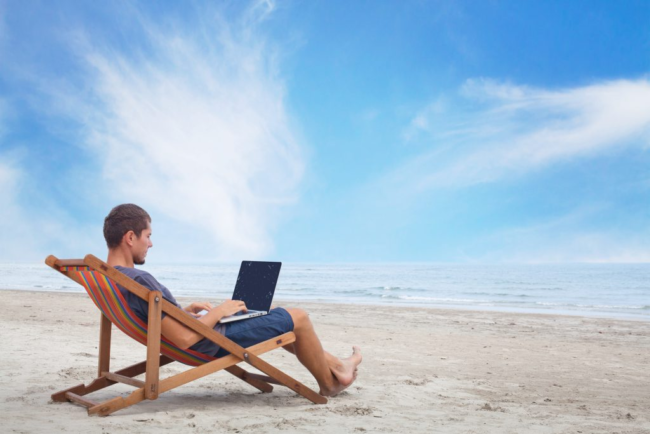 August is a perfect time of year to go on holiday and get away from it all. If you have already worked out the itinerary and are about to pack your bags and head for warmer climes, take a few minutes to skim through this post, where we mention some of the apps that may come in handy while holidaying abroad.
Come again?
It's always nice to be able to speak the local language and converse with the natives in their own tongue. But some street signs or menu offerings may stump even the most accomplished of polyglots. To find your way in a foreign town or order a local specialty at an authentic restaurant, be sure to download Lingvo Dictionaries before you leave home. With this handy app, looking up a word takes only a second. But if a text looks all Greek to you (and you are not even in Greece at the moment), try TextGrabber. This app instantly captures text on your camera screen and translates it for you. The full-text translation will help you get the general idea of the text.
Your summer reading list
Use your summer vacation to catch up on reading! That way you will return home not only with a fresh tan, but also with a head full of new, exciting plans and ideas. Make your holiday productive by downloading or digitizing a few books. With BookScanner for iOS, you can quickly scan book pages and create e-books with your smartphone or tablet. Looks like your beach reading has just been sorted out!
Forewarned is forearmed
Losing your documents or credit cards is bad enough, but doubly so when you are travelling abroad. We hope this never happens to you, of course, but it's better to be prepared. It may take some time before your passport pops up at some lost-and-found nearby, so make sure you always have a digital copy at hand, secure, yet readily accessible. We suggest you use FineScanner to digitize your passport, ID, driving license, credit cards and other important documents, save the copies on your mobile device and upload them to a protected cloud storage of your choice. Now, you will be able to block you lost credit cards in seconds or show a digital copy of your passport when needed.
One brick short of a load
In smaller towns, you can get by with a town map and a brochure you get from your hotel or the local tourist office. But for destinations like Tokyo or Mexico City, travel guides are typically 500-page doorstops that you have to carry in your backpack and thumb through whenever you need to find an address or a point of interest. If your backpack literally makes you bend over backwards, BookScanner will save your aching back and add some planning to your sightseeing. You can easily scan the pages with the sights you can manage on a given day and then consult them on your smartphone.
Be prepared
If you are lucky enough to travel on business to a country with sun-kissed beaches or snow-covered slopes, you will want to combine business with pleasure and relax after a busy day of talks and meetings. Chances are you are not alone – professionals and executives from other companies will also head for the beach or the slopes! Here's where Business Card Reader will come in handy. With just a few taps on your phone, you can send your digital business card to your prospective customer or partner. You will impress them with your tech savvy as well!
So long, and thanks for all the fish!
Man does not live by bread alone, of course. Especially in countries like Japan, where seafood is king. But what if your Japanese isn't quite up to scratch and you can't tell one kanji character from another? Some weaker souls might give up and plump for a hamburger, but we have a better and much more high-tech solution. It's called TextGrabber for iOS and it can capture text in real time, making all addresses clickable and phone numbers dialable, enabling you to pinpoint any restaurant you fancy on the map and book a table there.
We hope our small collection of apps will make your holiday more enjoyable and hassle free. If you have already had some positive experience with any them, please let us know in the comment section below. Any feedback on the app stores is very welcome as well.
Have an unforgettable vacation!
Subscribe to our newsletter
Enter email and get FineScanner with 1 month premium for free!
Your subscription was successful! Kindly check your mailbox and confirm your subscription. If you don't see the email within a few minutes, check the spam/junk folder.
Your subscription was successful!