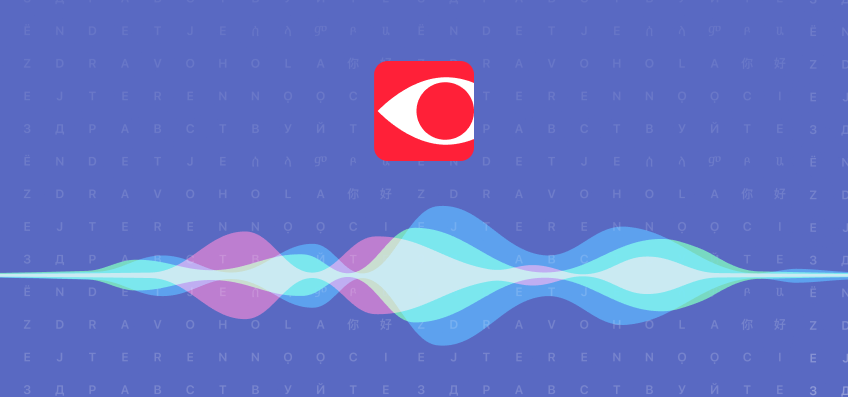 ABBYY's third Technology Summit was held in Las Vegas. The annual event is an excellent chance for us to showcase our latest technologies to our customers and partners. Mobile Team attended the summit and now sharing their thoughts and impressions.
ABBYY Technology Summit is an annual event where ABBYY partners can get a behind-the-scenes look at ABBYY's latest technologies and solutions and talk in person to our developers, engineers, analysts, and experts in digital transformation. Our very own Igor Akimov, Mobile Product Owner, and Anna Koltsova, Mobile Product Marketing Manager, have provided us with an exclusive insight into this year's ATS, shared some cool pictures, and, of course, told us what to expect, technology-wise, in 2019.
ABBYY: Las Vegas is a dream destination for many. What's your impression of the city?
Igor: Las Vegas is one of America's largest cities. It's the gambling capital of the world, of course, so its airport is the fifth busiest airport in the USA. This means that people can easily get there from anywhere in the US and, in fact, any other country in the world. It also offers huge conference centers that can accommodate thousands of guests.
Anna: My impressions are rather mixed, to be honest. On the one hand, it's a feast for the senses, with casinos and gamblers winning really big, with spectacular architecture and life-sized replicas of the famous sights from all over the world, including Paris, Rome, and Venice. You can walk down the street and find yourself at the foot of the great pyramid of Giza. It's like you're inside a fairy tale.
On the other hand, if you step off the Strip, you'll find yourself in a typical middle American town, with one- or two-storied houses and malls. The city is surrounded by desert on all sides, with next to no vegetation, and it's not all glitz and glamour actually.
The majestic Grand Canyon, on the other hand, took our breaths away.
ABBYY: What about the event? Was it mostly formal meetings or informal chats?
Igor: It was very business-like, with lots of partners and clients from all parts of the world, people who have committed themselves to work with ABBYY and who want to know all about our latest offerings. In many respects, it's no different from similar events organized by Facebook or Google. It's a conference where ABBYY partners can talk directly to our developers.
Anna: This year's ATS was a first for me, although it was the third technology summit organized by ABBYY. The people at the event are very open and willing to learn new things. It was an excellent chance for us to talk shop and exchange ideas.
ABBYY: What did the Mobile Department bring to Vegas? Any new solutions?
Igor: There were four presentations on agenda, that focused on the key features of ABBYY mobile technologies for business:
Anna: In the Mobile and Intelligent Capture slot of the conference, we demonstrated how ABBYY's mobile apps like Business Card Reader, FineScanner, and TextGrabber can be used to showcase our technologies without any additional effort—there's no need to set up any servers or configure any scanning settings. These apps can be downloaded, free of charge, from the App Store or Google Play, so that users can immediately try them out and see for themselves what ABBYY has to offer when it comes to mobile scanning and text recognition.
There was a session titled "Mobility—Deep Dive into the Capabilities of the ABBYY Mobile Portfolio," where Glenn Rosenthal, Solutions Architect, spoke about the capabilities of the FlexiCapture mobile client. This client turns your mobile device into a portable scanner so that you can use it to scan any types of documents handled by your company's document management system powered by FlexiCapture. This greatly expands your data capture capabilities, allowing your company to leverage sophisticated technology when interacting with your customers on-site. For instance, you can approve a loan on the spot within minutes, using your mobile phone to complete all the necessary paperwork.
On the final day of the summit, we had a session named "Hands On—Pivot to Mobile: How ABBYY Supports Your Mobile Strategy," where Olga Titova, ABBYY's Mobile SDK Product Owner, did an excellent job demonstrating how you can integrate the Real-Time Recognition SDK into any mobile app in just a few minutes.
The highlight of her talk was the demonstration of our latest mobile recognition technology for IoT. We have not yet publicly announced this technology, but we offered a sneak peek to the ATS participants.
ABBYY: What about talks and presentations made by our partners?
Igor: Digital transformation and robotic processes are the talks of the town, with people discussing how "software robots" can be used to fill out forms and collect data. ABBYY has a clear technological edge here, as our R&D Department has been researching neural networks for more than a decade. With the development of respective frameworks, ABBYY can provide solutions for document classification, data capture with additional learning, information extraction, text analytics, and NLP for virtually any area of business. Companies show a lot of interest in these latest technological developments.
Anna: Of course, the ATS was not all about our mobile technologies. ABBYY has a lot to offer for what we term "content intelligence" and digital automation, including RPA, BPM, ECM, and Process Intelligence. The ATS was attended by representatives of Gartner, IDC, Everest Group, HSA, Cognilytica, and BPO Media. Our partners Blueprism, M-Files, Epson, Fujitsu, and Laserfiche participated as sponsors.
ABBYY: What do you think are the main trends in the mobile app market? Do you see ABBYY as a trendsetter?
Igor: The main trends are software subscription models, augmented reality, machine learning, and voice recognition.
We were among the first to offer software subscriptions back in 2014. Augmented reality was introduced in BCR with the release of iOS 11. The technology is used there to demonstrate capturing data from a virtual business card.
We're currently making some final touches to our machine learning technologies and will make them available in mobile scanners within the next six months. I can already tell you that these will be the best mobile services for working with documents.
As for voice recognition, we have added Siri Shortcuts in FineScanner and TextGrabber and our users have been showing an increased interest in this new capability. It's hard to tell at the moment whether we should use voice recognition in our data capture apps. But voice assistants can definitely be trusted with document classification, search, and reminders. And we are actively exploring these possibilities right now.
Anna: Igor has been talking about the future of the mobile market, but the digital transformation is equally important. Ability to capture, analyze, and process information on any device—that's our not-so-distant future. Just like ordinary users, companies are becoming increasingly mobile. Even today we have banks and insurance companies that do not own any physical office space, providing their services exclusively via mobile apps and websites. Telemedicine is becoming more widespread. People increasingly expect to be serviced here and now, by taking a snapshot of a document with their smartphone or by tapping their smartwatch. That's the reason why all those capture, search, recognition, and identification technologies are becoming more mobile and more powerful at the same time.
ABBYY: Finally, what would you say is the main takeaway from the summit?
Igor: We've got lots of new contacts and met a lot of people from large enterprises whose needs we are currently investigating. Attendees showed a lot of interest in our mobile innovations and the ability to integrate solutions into one ABBYY ecosystem. And, of course, we now have a better understanding of what the market expects from our mobile services and how we can better meet their demands.
Anna: The ABBYY Technology Summit is an excellent opportunity to familiarize yourself with the many technologies and solutions ABBYY has to offer, in just two days. The ATS is packed with valuable information for partners and prospective customers. I think it a good idea to hold this event in Europe as well. We had the chance to talk personally to lots of our customers and gain a better understanding of their digital transformation needs. The event will definitely have an impact on our plans for 2019. We are already making adjustments to our roadmap.
We've come back from the other side of the Atlantic with new, valuable insights and very positive emotions.
We are looking forward to seeing you on ABBYY Technology Summit in 2019, where we will reveal more exciting projects!
Subscribe to our newsletter
Enter email and get FineScanner with 1 month premium for free!
Your subscription was successful! Kindly check your mailbox and confirm your subscription. If you don't see the email within a few minutes, check the spam/junk folder.
Your subscription was successful!