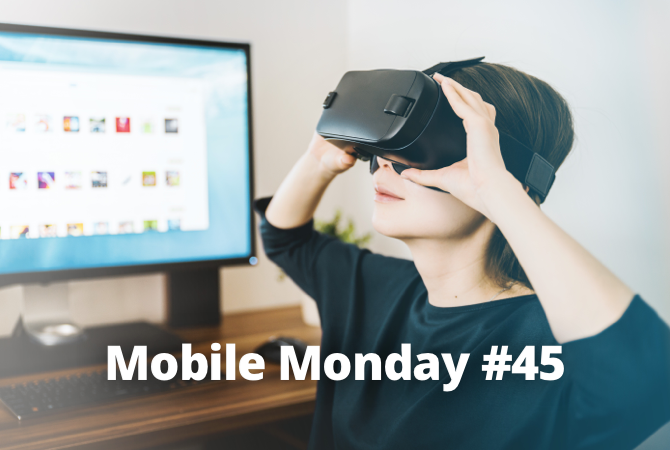 Augmented reality sounds quite futuristic, doesn't it? Yet, lately it is becoming ever more real. From today's issue you will find out what is it and how is it different from virtual reality and learn how to merge notes in TextGrabber and book hotels.
iOS & Android Tips: Augmented Reality
Today's Mobile Monday is a bit different from its predecessors. We decided not to create two separate sections for iOS and Android and opted for a single topic about cutting-edge technologies.
Augmented reality or as it is often referred to as AR is a technology that lets its users to augment real-world objects by computer-generated perceptual information. This technology helps gadget users to overlay information on images using their built-in cameras in real time.
Augmented reality may be used in various fields: from games to education. However, we need to differentiate between augmented and virtual reality from the outset. Both these "realities" are present in the modern so-called technological society.
Virtual reality or VR as opposed to AR does not supplement the real world but rather helps to create a separate world that fully absorbs a user.
To submerge into VR one needs a special headset that is commonly referred to as "glasses". Inside the device is a portal to virtual reality. The so-called portal looks like two tiny screens that transmit the same image to both eyes and create a volume effect. Bear in mind that high quality VR headsets cost a pretty penny. To save money, opt for special frames that are used as a cradle for a smartphone. Arguably, Samsung Gear VR can be considered to be a leader in this field and gives you probably the best value for money. Yet, it is only compatible with the following Samsung-produced devices:
Galaxy S6 edge+, S6, S6 edge
Galaxy S7, S7 edge
Galaxy S8 и S8+
Galaxy S9 и S9+
Galaxy A8, A8+
Note 5 and 8
All in all, VR is a technology with tremendous potential. However, almost all VR-supported headsets are bulky, inconvenient, and expensive. Plus, they overheat and discharge smartphones. But we still hope that soon enough smartphone producers will find a solution.
Augmented reality, on the other hand, makes a more rapid headway as it does not require additional devices. Have you ever heard of Pokemon GO? This game provides an excellent example of a VR-based software.
AR can make your "mobile" life substantially easier. But it all depends on how smartphone producers will assist developers in creating new software. Apple is one of the companies that created a major impetus by releasing ARkit. This platform lets developers of AR apps to concentrate their efforts on creating new apps rather than reinventing a wheel. All applications are devised based on a ready-made platform made available by Apple.
AR capabilities on Apple devices were released together with iOS 11. Here's a list of devices that support new experiences:
iPhone SE
iPhone 6s
iPhone 6s Plus
iPhone 7
iPhone 7 Plus
iPhone 8
iPhone 8 Plus
iPhone X
Devices on Android, in turn, use Google-devised ARCore. This is a set of tools for developers similar to Apple's ARkit. There's wide variety of smartphones that support ARCore-based applications. Check out this list for more information.
What are the benefits of AR?
Let's start with games.
Augmented reality helps you submerge into games, lose some weight chasing Pokemons, and of course, feel positive emotions! Looking for a new adventure? Try playing The Birdcage. It is an excellent logic-based game where you need to release a bird from a cage. Download it for iOS and enjoy!
Are you planning to buy new furniture? Use the IKEA app to see how a new bookshelf or an armchair will look in your room. Download the iOS or Android app and try new furniture in AR.
Do you need to measure something out but you don't have a ruler with you? Not a problem. Take you device and an AR-driven app on iOS or Android. By the way, iOS 12 now features a new built-in measurement app.
It goes without saying that AR is also used in education. For example, a WWF app lets you control the river flow, build dams and see how it affects the lives of people and animals. Become the master of rivers with iOS.
Download Solar System AR available on Android to discover how planets are positioned in the solar system. The magical Star Walk 2 is for those who want to learn more about stars. With this app, you will learn about constellations and see where the International Space Station is right now. We also recommend using your headphones for a better experience. The app is available on iOS and Android.
Undoubtedly, we at ABBYY couldn't stay away from this fantastic technology. In Business Card Reader for iOS augmented reality can be used when you don't have business cards at hand. Open BCR and create a virtual card right on your table. We've already discussed this in one of our previous issues so if you've missed it, follow this link.
We've shown you just a few examples where augmented reality can be employed. We will continue to closely follow the news about this technology and keep you in the loop. But before you move on to the next section of this Mobile Monday, watch the video below that explains practical benefits of AR.
ABBYY Tip: How to Merge Notes in TextGrabber
Let's suppose you are collecting quotes for your report or thesis. You've already recognized considerable amount of text fragments with TextGrabber and now you need to export them. Good thing is there's no need to store all of them in one note. Read on to learn how to merge several notes and share them in one click.
Tap the icon in the bottom left corner to go to Notes.
In Android:
In iOS:
Then move to the top-right corner and select notes to be merged. Be sure to select them in the order you need—you will see the index numbers on the left. This will be exactly the order in which your notes will be merged.
In iOS, click Merge to perform the action.
In Android, tap the icon in the top-right corner.
There you have it! Now you have one note instead of two.
App of the Week: Booking
Booking.com is a perfect assistant for those who love to travel on their own. It helps you search for and book hotels, hostels, and apartments, read travelers' feedback and see the history of your trips. Services can be paid by your credit card directly in the app.
Download the app for iOS and Android.
Here's a little lifehack that will let you earn 1,000 rubles. Go to booking.com, open the notifications section, and refer a friend.
If you accidentally close the promotion message, it is always available here. Scroll down until you see the View reward status button and tap it. The opened page can be shared with your friends. Within 60 days after your friend's departure you and him/her will receive a 1,000 ruble reward. This way you can earn as much as 10,000 that will be transferred to your credit card specified in your account.
First-Hand Experience: Advice From a Colleague
Shared by Denis Osipov, Product Manager
It so happens that apart from my regular responsibilities at ABBYY I also recruit interns. I don't believe I have enough experience to describe a procedure for a perfect interview, but there are a few approaches that might help you get your first job.
Remember that you do have enough experience. Some young would-be employees erroneously believe that they are not experienced for a position. They are wrong. In fact, requirements of many job opportunities are very flexible and can be adapted for a new person in a team. Plus, most companies are eager to train their newcomers.
The most important asset of a trainee is their eagerness to develop. This is what you need to show in the first meeting with your future employer!
An interview is nothing more than a simple conversation. The main goal is to understand whether you and your employer will get on well with each other. Stay confident and talk as equals. Remember that both sides are interested to pursue a fruitful cooperation.
That's all from us for today. Until next Monday! As always, the previous issue is made available for you here.
Subscribe to our newsletter
Enter email and get FineScanner with 1 month premium for free!
Your subscription was successful! Kindly check your mailbox and confirm your subscription. If you don't see the email within a few minutes, check the spam/junk folder.
Your subscription was successful!