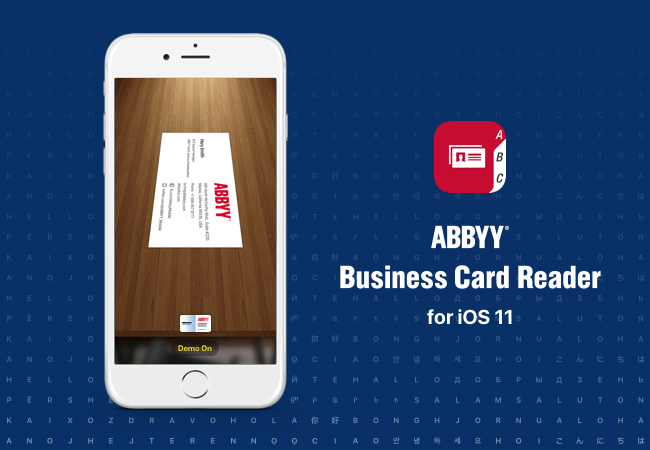 Let's give a warm welcome to iOS 11! We know that you've been waiting for this for quite a while. Now we're ready to introduce to you the new Business Card Reader with some spectacular features designed specifically for iOS 11!
iOS 11 allows developers to implement augmented reality, neural networks, and machine-learning-based features in their apps. We're excited to release our iOS 11-powered three excellent features in BCR.
The Augmented Reality Demo Mode
Business Card Reader now is so cool that it can create a virtual business card placed on a surface around you so you could try the app in action even if you don't have a business card at hand! Experience how the information on a business card is easily captured by the app, to become a digital contact in a matter of seconds. The new AR demo mode was created with Apple's ARKit. We should note that an augmented reality feature is particularly rare for business productivity apps—that's why we're so proud of our new BCR. Want to try it already? Follow these steps:
Open the camera in BCR.
Turn on the Demo Mode.
Move your device over a surface until the virtual business card appears.
Scan and enjoy!
Note! This feature is available only in iOS 11 for iPhone SE, 6s and above.
The Improved Crop
Business card boundaries detection and autocrop accuracy have been improved by 65% thanks to the new detection technology. Now you can enjoy the effortless capture of any business card! The new autocrop is working twice faster and provides you with the most accurate card image regardless of the original photo.
Password AutoFill
We've also added Password AutoFill, so you could start your work with BCR synchronization as quickly as possible.
If you already logged in to abbyybcr.com using the Safari browser on your Mac or iOS device, chances are your password was saved on the device. If that's the case, all you need to do is tap the key icon in the login window and your credentials will be entered automatically. If you've never logged in before, follow these steps:
On your iPhone, open Settings > Accounts & Passwords > App & Website Passwords.
Add the abbyybcr.com website, which is to be used for signing in BCR, and your user name and password for this website.
Open BCR > Settings > ABBYY Cloud > Log in.
Tap the key icon on the iPhone keyboard. 
Choose abbyybcr.com you've created; 
Log in!
Now you can also use the same password storage to quickly login to abbyybcr.com  in Safari with your iPad and Mac under the same AppleID.
We are delighted that you've updated to iOS 11 with us. Giving you the best user experience is a priority for us, and your review would be a great encouragement! You can leave it in the AppStore on BCR's page. Stay tuned and be the first to know about the other iOS 11-powered updates in our apps!
Subscribe to our newsletter
Enter email and get FineReader PDF Mobile with 1 month premium for free!
Your subscription was successful! Kindly check your mailbox and confirm your subscription. If you don't see the email within a few minutes, check the spam/junk folder.
Your subscription was successful!