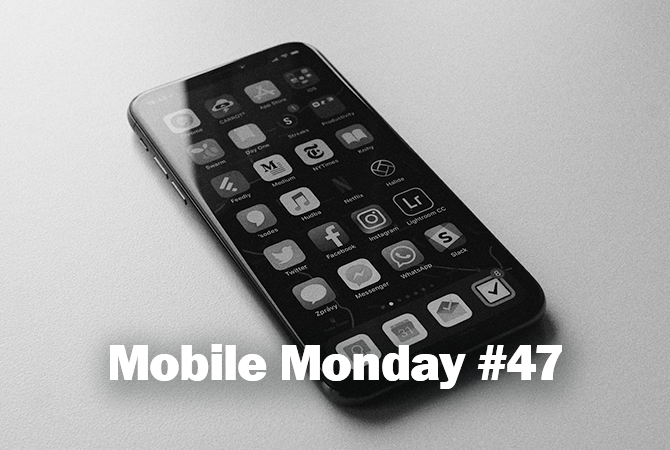 Our phones tend to run low on memory at the most inopportune moments, in today's Mobile Monday we provide smartphone storage-cleaning tips. We also show how you can easily translate text in real time with TextGrabber Android and stay fit.
Memory is a precious resource on any mobile device. Especially when you have just 8 or 16 gigs under the hood. But not to worry, there's always some useless stuff you can delete to free up space. You've just got to know where to look.
iOS Tip: How to Clean Up Your iPhone
A good way to start is to find what's the biggest memory hog on your device. Open Settings → General → iPhone Storage to see how much space is used for each app.
iOS will offer a few recommendations on how you can optimize your iPhone's storage. We recommend this as a first step, because usually it's the surest way to get rid of all the junk.
Once you have optimized everything as suggested by your phone, here's what else you can do.
Delete attachments in Messages
When you send messages via iMessage, you usually add lots of screenshots, photos, and selfies. After a while, they will take up hundreds of megabytes, gigabytes even, in your phone memory.
To delete unwanted attachments, open Messages and find the conversation with the biggest attachments.
Tap the icon in the top-right corner to see all the attachments.
To delete an attachment:
Touch and hold the conversation.
In the pop-up menu, tap More.
Select the attachments you want to delete.
Tap the bin icon at the bottom.
There's yet another way to optimize your iPhone's memory in the Messages app.
When you send or receive audio messages, they are saved on your phone and will be stored there for ever if you don't change the default settings. To erase audio messages after a certain period of time, tap Settings → Messages. Next, and under Audio Messages, tap Expire and select After 2 minutes. Now any audio message will be deleted two minutes after it's been sent or received.
If you're not the person that likes to read your letters again and again, you can set your phone to delete your old messages automatically. You will find the necessary option in Settings → Messages →  Message History. You can keep your old messages for 30 days, for a year, or forever.
Optimizing your media library
HDR (High Dynamic Range) is a very useful piece of technology when you want your photos crisp and vivid (BTW, see this newsletter for some tips on taking photos with your phone). But be aware that by default your phone will save both your HDR and their 'normal' counterparts. This OCD behaviour can be changed.
Open Settings → Camera and disable the Keep Normal Photo option.
Don't forget to choose the optimal resolution and recording speed for your videos. It's pretty straightforward: the more frames per second you want, the larger the resulting video file. For more advice on making videos with your phone camera, see this newsletter.
When you delete photos or videos, they are moved to the Recently Deleted folder, where they will be stored for another 30 days. Don't forget to clean up this folder now and then.
iCloud Music Library allows you to keep a large chunk of your data in a cloud. To save space on your phone, be sure to select Settings → Photos → Optimize Storage. When your phone starts running out of space, the system will automatically replace full-res photos with their light versions. The originals will be sent to iCloud, from where they can be retrieved at any moment.
Instead of storing music on your phone, stream it. Gone are the days when you had to sync your mobile with your laptop music library. Now that we have free Wi-Fi and reasonably priced data plans, we can use streaming services like Apple Music to save precious space.
If Wi-Fi coverage in your area is still not very good, you can cap the space available for music files on your device.
To do this, tap Settings → Music → Optimize Storage and tell the phone when to stop saving those audio files.
Optimize your apps
Now let's return to Settings → General → iPhone Storage for a moment. Here you can unload any app while preserving all of its data. Or you can go the whole hog and delete everything and the kitchen sink.
You can configure iOS to automatically unload apps that have not been used for a long time. You can always restore an unloaded app by tapping its icon, which will be prudently preserved.
When an app is unloaded, a cloud icon appears next to it, indicating that the app is no longer in the memory of your phone but is in the iCloud.
Alas, iPhones don't provide any tools for purging app data and temporary files. The best you can do is reinstall the bloated app. This is particularly useful for Mail, big apps, games, and social networks, which typically store lots of pictures, documents, and temp files.
To delete an app with all of its data, touch and hold its icon and then tap the cross in the corner. You will need to confirm your action. Many apps for which you have enabled iCloud backups can be restored together with their deleted data.
To restore a deleted app, simply download it again from the App Store.
Android Tip: How to Clean Up Your Phone
Memory is just as precious on Android devices as it is on iPhones. When your phone is close to capacity, you have some hard choices to make. Which apps, files, and photos will have to go this time? Here's a few tips on how you can prevent your phone storage from being gobbled up by useless data.
Clear the cache
Before we start, let's find that place in the settings where we can see the amount of free and used memory. The latest versions of Android offer built-in tools for inspecting and cleaning up your phone's memory.
To do this:
Tap Settings → Storage and USB.
Tap Internal storage to identify the culprits.
Tap Apps to display a list of your apps sorted by size.
Tap Images, Video, or Audio to display the corresponding files in the Android file browser.
Tap Other to open the file manager displaying the files and folders stored in the memory of your device.
On the same screen, you can see an item named Cache data, which shows how much space is taken up by the cache. Tapping this item will clear the cache for all the apps, which in most cases is a fairly safe thing to do.
Alternatively, you can clear the cache of each individual app. To do this, select the app and then tap Clear Cache. A more drastic operation is called Clear Data. This one will delete everything, including your game levels, passwords, logins and whatever other data may be associated with the app.
Using dedicated apps to clean up your phone
There are lots of third-party apps designed to free up storage space on your phone. One of them is called Clean Master. When you open the app, it shows two circles representing the free and used memory on your device. The bigger circle is your system memory and the smaller circle is RAM.
Tapping a circle will start a quick scan and in a few seconds you will see a detailed report, where you can choose files to be compressed or deleted. For each detected app, Clean Master will provide a tip telling you what it is and whether it's safe to delete it.
If you see that your phone is dangerously low on memory but cannot identify the culprits, it may well be that you have a virus. The best thing to do in this case is to download an antivirus app. Such an app will scan your phone and delete the malicious software from its memory.
Optimizing the media library
Most Android phones support memory cards, where you can keep your photos, videos, and documents. Note that most apps can only be kept in the memory of your phone.
And don't forget about cloud storage services. Many of them will offer gigabytes of storage space for free. Unsurprisingly, one of the most popular of them is Google Disk, as its client app is preinstalled on most Android devices, offering you 15 GB of storage space.
Photos and videos can be uploaded to Google Photo (it makes no difference whether you created them using the device or copied them from somewhere else).
To upload your photos or videos to Google Photo:
Open the Google Photo app.
Sign in to your Google account.
Tap the menu icon in the top-left corner.
Tap Settings → Backup and sync.
Enable the backup and sync feature.
The Google Music app allows you to upload up to 20,000 tracks from your music collection and stream them back to your device.
ABBYY Tip: How to Translate Text in Real Time in TextGrabber for Android
A short while ago, we announced a cool new feature in TextGrabber for Android that allows you to translate text by simply pointing your camera to it.
Here's how it works if your phone is connected to the Internet:
Open the camera and turn on the video mode.
Tap the Translate button in right-hand part of the screen.
Make sure the right "to" and "from" languages are selected (the language of the original is displayed on the left).
Tap the camera button and wait a few seconds—you will briefly see the captured text at the bottom of the screen followed by its translation.
You can share the translation with other users by tapping the corresponding button in the bottom-right corner.
Tapping the Save button on the right will open an editor, with the captured text displayed at the top and the translation at the bottom. Here you can make any necessary changes to the captured text and update the translation by tapping the Refresh button.
To translate another fragment, tap the List button to go to the notes bar and then tap the red "plus" icon.
When no Internet connection is available, TextGrabber for Android will rely on its offline dictionaries to provide you with verbatim translations between English and nine target languages. Offline translation will give you a general idea of what a text is about and is useful when you are travelling in areas with no reliable Internet connection.
Here's how it works when your device is not connected to the Internet:
When TextGrabber detects that your device is offline, it will prompt you to switch to offline translation mode and the antenna icon in the centre of the screen will become active. When Internet connection is re-established, the app will automatically switch to online translation.
You can also manually switch to offline translation, which may be useful, for example, if the roaming charges are unreasonably high. To do this, open the TextGrabber settings while in the notes screen and enable the Use offline translation option.
Select the appropriate "to" and "from" languages, point your phone to the text fragment that you want translated, and tap the camera button. You will briefly see the captured text followed by its translation. If TextGrabber can't find a word in its dictionaries, the word will be displayed in its original language in the results window.
You can edit, save, and export results in the same manner as when you are in online mode.
App of the Week: Pinterest
Pinterest is an app and a social network for finding creative people, ideas, and inspiration. In 2017 its membership hit the 200,000,000 mark.
Pinterest allows you to bookmark pages and categorize and share your bookmarks.
Pinterest users find and bookmark all sorts of inspiring things: recipes, home improvement ideas, fashion styles, etc. Each idea is represented by a picture and a small caption linking to the original page, where other users can find a more detailed description or step-by-step instructions.
The app is available on iOS and Android. You can also save your ideas by opening this site on your desktop computer.
First-Hand Experience: Advice From a Colleague
By Sergey Kharchenko, iOS Developer
We all agree that staying fit and active should be a lifestyle. Our sedentary jobs and lack of regular physical activity contribute to a range of health problems, which often manifest themselves as occasional aches and pains that seem to pester us for no apparent reason. Some of us sign up for a gym only to realize that it takers enormous will power to maintain that initial enthusiasm and commitment, and many gym memberships are cancelled within the first few months. Now, then, here's my advice.
If you've got an office job, it's a good idea to get up for a stroll around the office every hour to prevent muscle degeneration. Just come up with some purpose for your small walk so you have somewhere to go ("It's time for a cuppa")  et voila—you've done some exercise and are now ready for another hour of productive work!
But just walking an extra mile is definitely not enough. Having a hobby that involves some form of physical activity is great and will help you keep yourself in good shape (no, I don't mean the shape of a perfect sphere :-)) You can also easily incorporate more physical activity into your daily routine. For example, take a walk in the park after work, or get off one stop early and walk the remaining distance, or walk to the shop that sells your favourite breakfast cereal. If you are in Moscow, you can hire a bike at any of the docking stations scattered around the city and pedal for pleasure or commuting. Either way, you will get your daily dose of exercise and joy.
Move at every opportunity. Set yourself small challenges every day to gradually ease yourself into a more active and healthy lifestyle, and very soon you will see and feel the results of your efforts. The suggested activities won't take up too much time and they are definitely not a waste of it. These are just pleasurable alternatives to workouts in the gym, which many people find boring or too exhausting. If you like some of them, you will start doing them more often and benefit even more. Time enjoyed is not time wasted.
Stay on form and don't forget that a sound mind needs a sound body to support it.
That's all from us for today. See you next Monday!
P.S. You can find the previous issue of this newsletter here.
Subscribe to our newsletter
Enter email and get FineReader PDF Mobile with 1 month premium for free!
Your subscription was successful! Kindly check your mailbox and confirm your subscription. If you don't see the email within a few minutes, check the spam/junk folder.
Your subscription was successful!