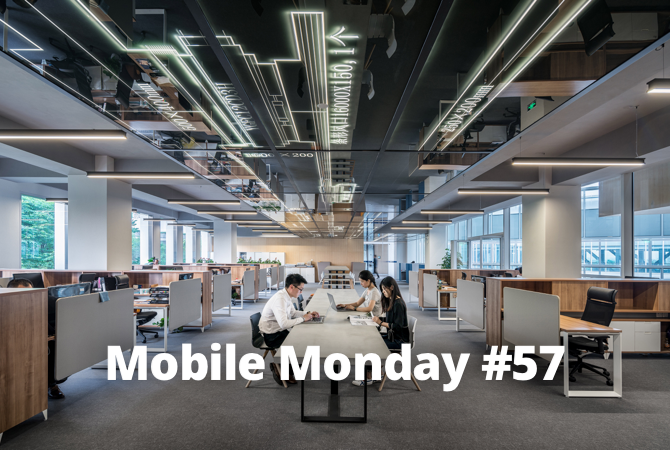 Today we'll continue investigating corporate mobility, a subject that we already discussed in one of our earlier newsletters. We'll focus primarily on centralized administration of Apple gadgets in corporate environments. We'll also quickly translate a notice and cook a mayo.
Managing iOS devices
Sometimes a company may need to create and deploy its own mobile app. Today we'll tell you briefly how this can be achieved using Apple Configurator 2 and Mac OS Server. We'll provide just a brief overview, without going too deep into technical details.
You will need the following two tools to deploy an app in your company:
Apple Configurator will only work for devices connected via a USB port. Using this app, you can be sure that the user won't delete the profile you have installed. MacOS Server includes a tool called Profile Manager that is used for remote administration of Apple devices.
Another important feature, called Supervising, can be found in Apple Configurator. It is used for resetting a device to factory defaults, configuring your Profile Manager, and disabling a hard reset of an Apple device. It can also create backups for supervised devices.
So, how exactly do employees use supervised corporate iOS devices? Profile Manager creates a site, from which your employee can download the required profile. All the necessary apps and settings will be installed on the device automatically.
Here are the basic features of Apple Configurator:
Reset the iOS devices to their factory defaults.
Create device profiles.
Create so-called "blueprints", or sets of configuration options.
Switch the iOS devices to Supervisor mode to ensure that they can be fully controlled from your computer only.
Create backups for the supervised iOS devices.
Blueprints are best described as profile templates that can be applied in just a few clicks. More about them later.
You can use a profile to configure lots of different things. For example, one profile can be used to:
Set up a Wi-Fi connection.
Restrict the use of multimedia features.
Prohibit installing apps from the App Store
Create a filter that will allow opening only certain websites or will prohibit launching the Safari browser altogether.
Several profiles may be installed on one device.
The following can be controlled via a profile:
General device information
Passcode
Functionality restrictions
App usage restrictions
Media content restrictions
Global HTTP proxy settings
List of allowed websites
Domain policy
Access to Wi-Fi networks
VPN settings
AirPlay settings
AirPrint settings
Mail settings
Calendar synchronization
Contact synchronization
Calendar subscriptions
Website icons
Fonts
Now for the blueprints. This is a profile template that contains all the necessary device settings. Here's how it works.
Creating a blueprint
Nothing complicated here:
Select the type of your device:
Add the necessary apps:
Then add device profiles:
Profile Manager in MacOS Server offers the best value for your money. For centralized configuration of your corporate apps, use Apple Push Server. To install profiles on devices that are outside your corporate network, use Apple Push Notification Service (APNS). Push notifications are necessary for delivering commands from MacOS Server to the supervised devices.
Profile Manager also you to bind iOS devices that have been configured using Apple Configurator 2. This is an important step, which, after a number of manipulations, will allow you to remotely administer your employee's devices.
Employees can be joined into groups, and some employees can be granted administrative privileges. Using these tools, you will be able to deploy the necessary apps throughout your organization, ensure the security of your company data, and shield your employees from distracting phone calls. You can also enforce all the necessary restrictions and install corporate mail boxes, calendars, address books, and a lot more.
Your employees will be saved the hassle of configuring their devices themselves. MacOS Server will create a site where employees will only need to enter their credentials and wait for the device to reboot, after which all their earlier settings will be erased and the corporate settings and apps will be automatically deployed.
Now, when the newly configured device is turned on for the very first time, the user will tap "Apply Configuration" and see the usual "Welcome to iPhone" screen, but the apps and settings will be those enforced by the administrator.
ABBYY Tip: Getting Quick Translations On the Go
Not long ago, we welcomed a business partner from a far-off country in our Moscow office. We had no problem understanding each other and the contract was finally signed. But when our guest was leaving the HQ building, an unexpected problem occurred. The turnstile wouldn't let the guest out, refusing to accept their temporary swipe card. Thing is, we have a special turnstile for visitors issued with temporary passes, but our guest could not read the Cyrillic instructions printed on that gate. Luckily, we had a hi-tech solution!
Here's a video showing how you can easily translate anything printed anywhere:
Download TextGrabber and you will always find a way out even if you don't know the local language.
First-Hand Experience: Advice From a Colleague
By Anton Zakharenkov, Designer
Mayo is the king of condiments used in all sorts of dishes in all sorts of cuisines. You can put it in salads, you can put it in soups, you can put it in sandwiches. Desserts may be about the only exception, but it all depends.
Mayonnaise is a rich sauce, so if you're slimming, perhaps you'd do wise to avoid it. But when you need a dollop of mayo in your dish, why not make your own? It will only take you a minute.
You'll need:
1 egg
1 tbsp. salt
1 tsp. ground pepper
1 tbsp. lemon juice (you can also use apple vinegar instead)
200 ml oil (try 150 ml sunflower oil and 50 ml extra virgin olive oil)
Tall narrow container
Immersion blender (make sure the blender fits into the container)
Instructions
Crack the egg into the container.
Add the salt and the pepper.
Pour in the oil.
Add the lemon juice.
Now place the blender into the container until it reaches the bottom and blend for 5 seconds without moving the blender.
Keep blending for another 30 seconds, raising and lowering the blender in the container.
That's it. You should end up with delicious homemade mayo.
Add a clove of garlic to the ingredients, and you'll get traditional Spanish aioli.
That's all from us for today. See you next Monday P.S. You can find the previous issue of this newsletter here.
Subscribe to our newsletter
Enter email and get FineScanner with 1 month premium for free!
Your subscription was successful! Kindly check your mailbox and confirm your subscription. If you don't see the email within a few minutes, check the spam/junk folder.
Your subscription was successful!