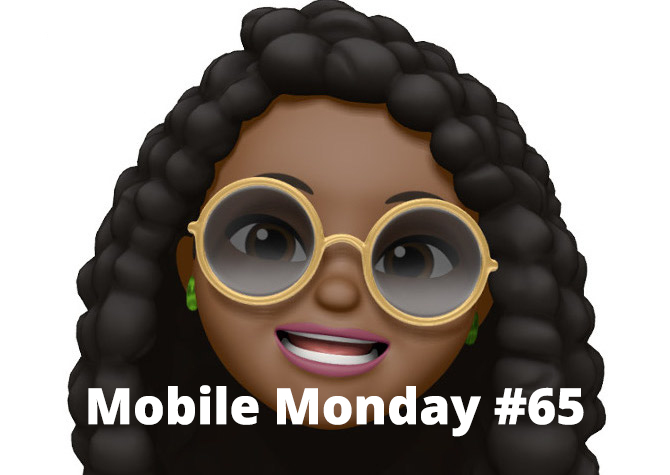 In the previous Mobile Monday we told you how to add emojis to keyboard. Now we going to show how you can create a copy of yourself. We also provide advice on writing shopping lists and understanding restaurant menus abroad.
iOS Tip: Creating a Memoji
In the iPhone X, Apple introduced TrueDepth, a new technology for its front camera that enables the Face ID feature to unlock your phone. The upgraded front camera also allows you to create animojis, which are basically "live" emojis that mirror your facial expressions. iOS 12 takes animated stickers one step further, enabling you to create a virtual copy of yourself termed memoji.
To create a memoji, open the Messages app and start composing a new message.
Then tap the monkey icon, swipe right, and tap the plus sign. Now you can create your virtual alter ego.
Here's how a festive memoji may look like:
On phones running iOS 12, the camera will not only track your facial expressions but will also detect a stuck-out tongue. Any memoji you create can then be used exactly as animojis (they will all be available from the same menu).
Android Tip: Creating an AR Emoji
Android users can also create their digital alter egos. The feature is termed AR Emoji and is currently available only on the Samsung Galaxy S9, where it can be found in the standard camera app.
You can create a virtual likeness of yourself by tapping Create My Emoji and apply various visual effects to embellish it.
Unlike the iPhone memoji feature, AR Emoji will always attempt to create an animated sticker based on your selfie.
The technology is so good that we think you'll like your digital copy even without additional fine-tuning and tweaking. The choice of headwear, hairstyles, and spectacles may not be as big as on the iPhone, but it's great fun nonetheless.
You can now record a video or take a picture of your emoji and paste it into the Messenger app.
ABBYY Tip: Dining with TextGrabber
Everybody likes a holiday abroad, but in some far-off destinations restaurant menus tend to be undecipherable and the waiters are usually monoglots. If you're adventurous enough, you can simply point your finger at any random item on the menu and hope for the best, but may we suggest TextGrabber? No, it's not an exotic dish, but a smart app that can translate small snippets of text into your native tongue. Just be sure to select the right source and target languages et bon appetit!
The latest version of TextGrabber for iOS will now also keep the original formatting, so each translated menu item will appear on a separate line and you won't confuse any dishes.
App of the Week: Bring!
Most of us go to the shops once or twice a week and many of us buy lots of things that we don't actually need. Sometimes it's impulse buying and sometimes it's just bad planning when you and your spouse, partner or housemate independently decide to stock up on identical and highly perishable food items.
Making a week's shopping list is the best way to avoid ending up with more food than you can eat. We have found an excellent list making app. It's called Bring! and it's neat, uncluttered, and functional. The app allows you to put items into categories and specify their quantities. Probably the coolest thing about this app is that it lets you notify others that you're on your way to the shops, so they can ask you to pick up bread or other items while you're at the store.
The app is available on iOS and Android. That's all from us for today. See you next Monday!
P.S. You can find the previous issue of this newsletter here.
Subscribe to our newsletter
Enter email and get FineReader PDF Mobile with 1 month premium for free!
Your subscription was successful! Kindly check your mailbox and confirm your subscription. If you don't see the email within a few minutes, check the spam/junk folder.
Your subscription was successful!