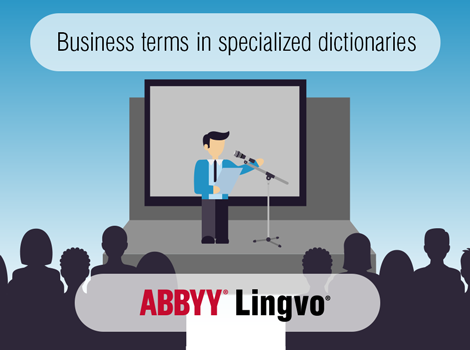 It's scary! Being in front of a group of like-minded business people and all of a sudden being at a loss for words. It's especially scary when those rooms full of people speak another language and you are trying to translate important information.
We are going to help you conquer your demons.  For example, within our Lingvo Mobile Dictionaries, you can find the Event Industry (En-Fr) dictionary which features over 6,000 entries related to hosting public events.
This terms and expressions dictionary for iOS and Android was created primarily for meeting industry and marketing professionals, and enables users to utilize a large collection of Event Industry terms: from A - such as "Abstract", "Acoustic panel" and "Acting coach" to Z -  like "zone time" and "zoom forward" (to zombie? - well, no, because we hope the living dead don't invade your business meeting).  It also features exotic phrases, like "gun microphone" - is that for the walking dead? - or "gobo holder" - you'll have to look that one up.
This super cool Event Industry Dictionary navigates a range of international conference elements such as: accommodation and transport, food and beverage, exhibition, congress, gala dinner (please invite me!), cultural activities, public relations, Internet connections, etc.
And no tricks here - only treats, as the Lingvo Dictionaries App is free to download!
Other interesting dictionaries available through the App, which you and your audience might want to try are: Diplomacy (Ru<->En), Oil And Gas (Ru<->En) and Medical - the Medical one is especially good just in case those zombies do raid your gala.
In the meantime… don't be scared, ABBYY, as always, has your back!
Subscribe to our newsletter
Enter email and get FineScanner with 1 month premium for free!
Your subscription was successful! Kindly check your mailbox and confirm your subscription. If you don't see the email within a few minutes, check the spam/junk folder.
Your subscription was successful!