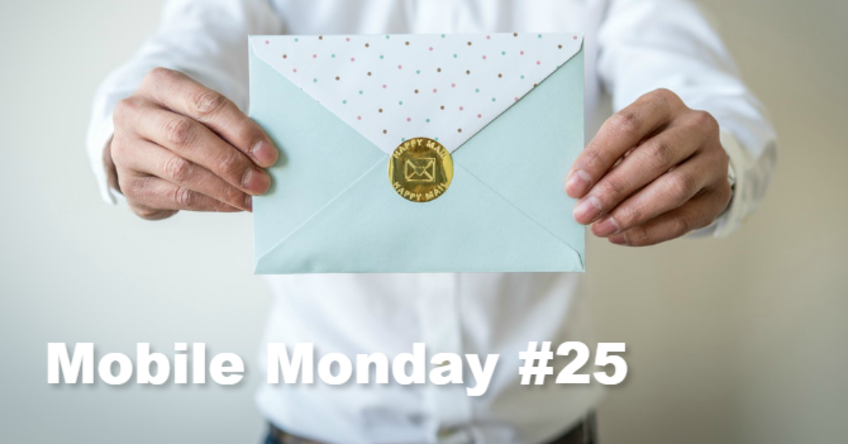 Today, learn how to use your mail app like a real pro. We will also provide some tips on how to recommend your favourite ABBYY app to a friend, and keep your home clean without putting everything in your garage.
iOS Tip: How to E-mail Like a Pro
E-mail apps are among the most commonly used apps on mobile devices. As evangelists of productivity and proselytizers of efficiency, we feel it our duty to share with you some tips on how to make sending and receiving e-mails easier.
Dragging recipients onto To and Cc fields
Need to e-mail several colleagues at once but don't want to copy and paste their addresses? Here's an easy way to add recipients. Simply tap and hold an e-mail address and drag it onto the To, Cc or Bcc field. You can also use this method to move recipients between the fields any way you like.
By default, iOS uses a very small font for incoming mail. This is not a problem in the case of short messages, but what about longer letters? We bet you will want to increase font size midway through the letter.
Here's what you do. Open Settings > General > Accessibility, tap Larger Text and then select the desired font size. This will change the font both in the Mail app and in Messages.
Smart quotes is a clever little feature that allows you to quote a text fragment and reply to that specific fragment. It's pretty straightforward: simply select any paragraph and tap Reply. A new e-mail will be created which will contain only the selected text fragment.
Sometimes, when composing an e-mail, you may want to refer to another e-mail, e.g. to jolt your memory or to quote some previous correspondence. People at Apple knew you might want to do that and added a feature that allows you to minimize (and maximize) e-mails. Start writing your message, then swipe it down as you do for Control Centre. Now you can easily switch between your current e-mail and earlier messages and drafts.
Adding drawings to your e-mails
Yes, a picture is worth a thousand words! Double-tap anywhere in the body of your e-mail message, tap Insert Drawing, and use the drawing and markup tools to draw anything you like. When the drawing is ready, tap Done, and it will be placed into your e-mail.
There are two ways to read e-mails without actually opening them. The first way is to use 3D Touch: firmly press an e-mail to preview its contents, then swipe up it up, left or right to access Quick Actions. To open the e-mail, press a little bit harder. The second way is to go to Settings > Mail > Preview and instruct the phone to show up to 5 lines of each message in a preview.
Android Tip: How to E-mail Like a Pro
There's a host of mailing apps for Android, but Gmail is probably the most popular, so we're going to focus on that one.
Gathering all your e-mails in one place
The latest version of Gmail allows you to view messages received by all of your Google accounts in a single screen. This means that if both your home and office mailboxes are hosted by Google, you can easily manage your private and business correspondence in one app. To switch between your accounts, use the drop-down list above the All inboxes menu item or swipe left on the avatar of the currently displayed account.
Just like the desktop version, Gmail for smartphones offers powerful search capabilities. For example, besides keywords, you can type "olderthan:1y" or "olderthan:1d" to limit your search to e-mails that are older than one year or one day. If you type "is:important", you'll get all important messages, while "is:starred" will show the messages that have marked with a star as requiring your special attention. You can find the complete list of search commands here.
In Gmail, you can sort incoming correspondence using various criteria, placing messages into their appropriate folders like Inbox, Promotions, etc. If Gmail determines the category of a message incorrectly and places a useful message into the spam folder, you can help the program learn to distinguish useful messages from rubbish.
If you see a useless message in a useful category, tap the settings icon in the top right corner and then tap Mark as unimportant. Conversely, if you see an important message in the spam folder, tap the settings icon and then tap Mark as important or Report not spam. This will move the message into its appropriate folder and train Gmail to tell spam from valid e-mails.
Switching between e-mails
This is a useful feature for those who have to work with multiple messages at the same time. To activate the feature, tap the menu icon and then tap General settings. Tap Auto-advance to open a dialog box where you can choose where you want to be directed automatically—to the older messages, to the newer message, or back to the list of messages. Now you won't need to manually return to the inbox page after you have deleted or archived a message, as the program will automatically show the page that you need.
ABBYY Tip: How to Recommend an App to a Friend
Thank you all for your very useful feedback that you leave for our apps in the online stores! We read all your posts and are always happy when you tell us that you like our apps. And if you like an ABBYY app so much that you want to recommend it to a friend, here's how you can do it (we will use TextGrabber as an example).
Open the side menu in the app (tap the three-bar icon in the top left corner).
Tap More.

Tap Recommend to a friend and then select the most appropriate method of communication—e-mail, instant messaging, social networks or SMS.

Help your friends find the coolest apps out there!
App of the Week: Giftboard
We all like surprises. Some of us like to get them, some of us like to give them. For the latter, there is a special app called Giftboard. If you want to send somebody a gift, whether it is a cup of coffee at their regular spot or a new tablet computer, all you need is provide your friend's phone number and a special Gift ID.
So how does Giftboard work? Inside the app, you will find a catalog of interesting and attractive gifts, which is regularly updated. You can choose any item from the list and pay for it from your phone, using your bank card. For your convenience, there are multiple categories like Flowers, Drinks, Gadgets, Beauty, and Most Popular.
Now all the recipient of your gift has to do is to show their QR code in a real-world store. Now, we think it's a very original (and convenient) way to surprise someone!
Available on iOS.
First-Hand Experience: Advice From a Colleague
Shared by Nadezhda Batyukova, project manager
My family owns a small country house that was built way back in 1960. The house was originally owned by my great grandma and has been handed down across four generations now. Imagine the amount of stuff we have accumulated there over the past six decades. Not that we're some bad hoarders but sometimes there are things we just can't let go. With some renovation work currently in progress, I have drawn up a list of guidelines for myself and my family so that we have more living space for ourselves and don't let the material possessions take over.
Here's what I've come up with so far:
Don't move any items that you no longer need to your shed, garage, summer cottage or to a paid storage unit "just in case". You're most unlikely to need any of these things in the foreseeable future, and should you really need a thing, you can always buy something similar cheaply at a bargain sale or borrow it from a friend. Besides, transporting, loading and unloading things may cost you a pretty penny.
Don't bring souvenirs from your travels (not even magnets to put onto the fridge) and ask your friends not to give you any. That's exactly how we amass stuff. Good memories, stories, snapshots, and perhaps some local sweet treats is what we should bring home. While travelling abroad, the only purchases that make sense are things you need but can't easily buy in your own country or which cost considerably more after they have been imported by the retailers (in Russia, at the moment of writing, this would be the latest iPhones, Google Pixel, Google Home, Netatmo, etc.).
Don't hang on to clothes, shoes, gadgets or books that you haven't used in the past six months or longer. There are lots of websites where you can donate or sell stuff (like the Russian-language darudar.org, Avito or Yula), where you can have your old gadgets or home appliances collected for recycling, where you can check if some of your very old things may be of any use to animal shelters, where you can donate books to libraries, etc. In this manner, you can free up some more living space for yourself, do somebody a good turn, give your old things a new lease on life, and inoculate yourself against excessive consumerism.
Use the services of a cleaning company. It's best to invest in a plan where the cleaners will come to your place regularly, as this is cheaper than one-off visits and will also prevent you from cluttering your home with useless junk. If you like to do your house cleaning yourself, draw.
That's all, folks! See you next Monday. P.S. The previous issue is here.
Subscribe to our newsletter
Enter email and get FineScanner with 1 month premium for free!
Your subscription was successful! Kindly check your mailbox and confirm your subscription. If you don't see the email within a few minutes, check the spam/junk folder.
Your subscription was successful!