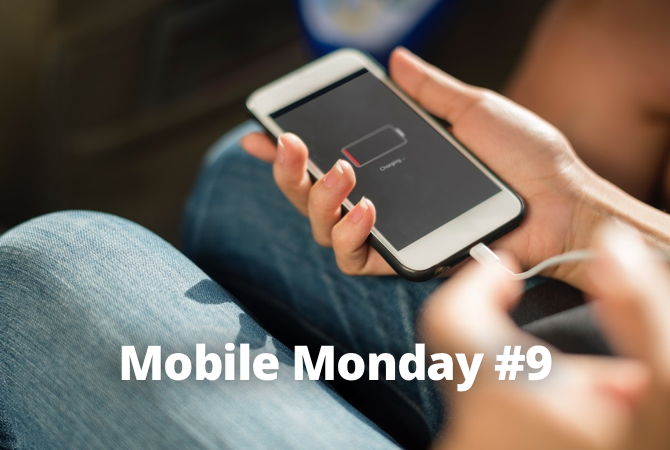 Imagine that you can use your smartphone without charging it for a whole month. How cool is that? Today, you are in for several tips on improving your phone's battery life, scanning way-to-fancy business cards, and leading a healthy lifestyle.
iOS Tip: How to Make Your Battery Last Longer
Let's start with a complaint that's as old as smartphones themselves. Apple are well-know for the swanky design and user-friendliness of their devices, which, quite deservedly, is reflected in their sales figures. However, ask any iPhone owner if there's anything they would like to improve and the unanimous answer will not doubt be "The battery". The latest upgrade to iOS 11 has made people all the more worried about their phones' running times.
To extend the battery life of our smartphones, Apple have added a special energy saving mode, which you can enable in Settings > Battery. You can also get to this mode by pressing firmly on the "Settings" icon if you have an iPhone 6S or later. If the battery of your iPhone drops below 20%, iOS will prompt you to enable this mode. In the settings, you can also see which of the apps are draining your battery the most. You can uninstall the most energy-hungry apps that you no longer need or limit the use of those that you want to keep despite their excessive appetites.
Here's a few more tips:
Always reduce the brightness of your display to the lowest point where you're still comfortable using your phone. Your iPhone can automatically adapt to the ambient light, but in some cases it may not choose the best setting.
Set the shortest possible period of inactivity after which the screen should be turned off.
If you are not expecting any important calls any time soon, enable Airplane Mode in the Control Centre while keeping Wi-Fi turned on. This works well in places where network connection may me dodgy, e.g. when you are underground, or when you need to fast-charge your phone.
You may also want to disable GPS (Settings > Privacy > Location Services) and other energy hogs like Wi-Fi or Bluetooth if you currently don't need them. BTW, when you disable Wi-Fi and Bluetooth in the iOS 11 Control Centre, they are not actually disabled—your phone merely disconnects from the current network or device о_О. You'll have to go to Settings to disable them for real.
Android Tip: How to Make Your Battery Last Longer
Compared to iOS, Android gives much more freedom to the installed apps, so some of them can get out of hand and drain the battery dry even on a spanking new device. The most practical thing to do is probably to find out which of the apps are the worst power guzzlers.
You will find all the necessary statistics in Settings > Battery. There you can also enable the power-saving mode (the name may vary, e.g. on Sony devices it's called STAMINA). You can set up your device to go into power saving when the battery drops to 5% or to 15%, or you can choose to have this mode permanently on. Typically, the screen and the GPS will be the worst offenders, so be sure to reduce the brightness of the screen and disable the GPS module whenever practical. To a large extent, the same holds true for WLAN  and Bluetooth. AMOLED screens, where each pixel is turned on separately, will hold out longer if you choose dark wallpapers and themes.
If you are really passionate about energy saving, you can turn to third-party apps for assistance. They will track down battery-draining apps and help your phone last longer on one charge. Don't expect any miracles, though. But still, you will get a timely warning that your battery is running low and the phone will not die on you unexpectedly. Particularly worthy of mention are Amplify Battery Extender, Greenify and Servicely.
Another way to preserve battery power is to install lite versions. For instance, Facebook, Facebook Messenger and Skype all have light versions that require less memory and power than their standard counterparts. If you don't need all the capabilities offered by the full version then the lite equivalent would be a sound choice.
ABBYY Tip: Capturing Data From "Fancy" Business Cards
Some people may get very creative when it comes to the design and layout of their business cards. While regular landscape-oriented business cards are easy prey for Business Card Reader, portrait or two-sided specimen may present somewhat of a challenge.
So, can you recognize a vertically-oriented business card with Business Card Reader? Of course, you can! Here's how:
Open the app and power up the camera.
Point the camera at the card so that it fits within the frame and the text runs parallel to the upper edge of the screen. You can scan now!
And what about bilingual business cards? Nothing to worry about. BCR can handle up to three languages on a business card, just be sure to select the required languages in the app settings.
Now for the two sided cards. First scan the front side and then scan the reverse. The text from the reverse side will be saved in the notes section, together with the date and time of capture, which is quite logical, come to think of it.
App of the Week: Healthy Lifestyle the Easy Way With Lark
Even the most extreme health fanatics may be fed up with all this lecturing coming from all quarters about exercising, dieting, and getting more sleep. If all you need is periodic reminders and gentle nudging, you may like Lark, a personal health coach that will help you take care of yourself. With its messenger-like interface, it will even speak to you like a personal coach. Lark will talk to you in casual English, wish you a good morning and crack the occasional joke to cheer you up.
The app imports all the necessary data from Health, and does a very good job of analyzing it. You can track your progress on a separate tab with charts and graphs, where your current results are compared with last week's.
For the purposes of monitoring your sleep, the app assumes that you are asleep from the moment you last checked your phone in the evening to the first check in the morning. Instead of counting your steps, the Lark will analyze your activity over time and distance, showing you how many miles you have walked and how many calories you have burnt.
What really sets Lark apart, however, is that it talks to you, sending you text messages with details of your day's activities and how they compare against your earlier results. When you open the main screen, the app shows you a rundown of your physical activities so far with tips on what to do for the rest of the day to benefit your health.
First-Hand Experience: Advice From a Colleague
Shared by Tatiana Zefirova, support specialist
Modern technology enables us to talk to and share with people from all over the world, the only condition being that we speak a common language. I would like to share some tips with you on how to enrich your life with a new language.
Try learning at least one language entirely on your own. I don't mean that you shouldn't speak to natives but rather that you try and grasp a language without the help of a language instructor or without following a formal language course. This will remove the pressure of scheduled classes, financial worries or fears of not being able to keep up with your more able classmates. Instead, you will be able to work out a learning strategy that works best for you and your circumstances.
You need to have some motivation though, which could be all sorts of things. For example, I always set myself the goal of passing a formal examination and getting a certificate, while a friend of mine wants to be able to understand the lyrics of her favourite songs. It needn't be anything global or unattainable. You would also do wise to break down the task into stages and set out some time limits for each stage.
Don't let yourself be trapped in the intricacies of grammar or vocabulary. Read and listen to authentic texts, trying to understand what the author is on about and what words or grammar you really need to grasp the meaning.
More is better. No, I don't invite you to learn a dozen languages at once and then give them up one by one in desperation. But once you have started on one language, be curious and stay alert for noticing similar patterns, cognates, borrowings and the like in other languages. Having a smattering of one language will often help you with another, bringing you a feeling of joy and satisfaction.
Finally, travel to the country where they speak the language to immerse yourself in the culture and habits of its people.
That's all for today, guys. As usual, the next issue of this newsletter will be out next Monday. The previous issue is available here.
P.S. The coolest sale of the year is approaching! We are getting ready for it at full speed, and advise you to keep up! Leave your e-mail on our 
black-black landing page
 and be the first to know about the beginning of the sale!
Subscribe to our newsletter
Enter email and get FineScanner with 1 month premium for free!
Your subscription was successful! Kindly check your mailbox and confirm your subscription. If you don't see the email within a few minutes, check the spam/junk folder.
Your subscription was successful!