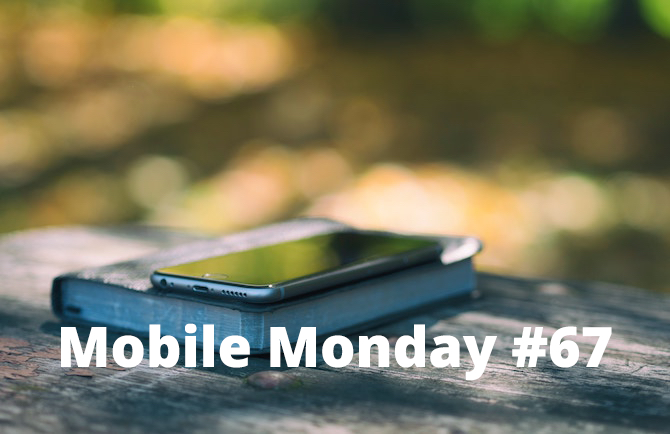 Can't find your phone? Don't worry – we'll help! Also, we've added the new overlap mode in TextGrabber. Finally, we'll be telling you how to hatch your own dragon in your phone and provide care for your new fire-breathing pet.
iOS Tip: Finding Your Lost iPhone
There's a feature in your iPhone called Find My iPhone which allows you to track the location of your missing phone, prevent others from using it, or erase all the data from its memory if you think there's no chance of ever getting your phone back.
To turn on the Find My iPhone feature:
Open Settings, tap your name at the top of the screen, and open iCloud (in iOS 10.2 or earlier, simply open Settings and tap iCloud).
Now locate the Find My iPhone item at the bottom of the list and turn it on.
Great! From now on, you will be able to track your device.
And here're the steps you need to complete if you lose your phone:
Sign in to iCloud from any computer (either a Mac or Windows PC will do) and go to the Find My iPhone As an alternative to iCloud, you can use an iPad, an iPod Touch, or another iPhone — simply open the Find My iPhone feature and log in with your name and password.
Now you should be able to see your missing device on a map. If you're lucky, you will see your phone sitting under the couch in the living room. If the phone is somewhere nearby, you can make it play a sound to help you find it.
If you see that your iPhone is miles away from where you are, enable Lost Mode. This will lock the phone, display your pre-configured text message on its screen, and prompt its current user to call you at the phone number displayed on the screen.
If push comes to shove, you can always erase all of the data stored in your phone. This may well be the best course of action when you think there's no chance of you ever getting your phone back. Once all of the data are erased, you will no longer be able to track your phone, as the device will be reset to its factory defaults. However, Activation Lock, which was enabled automatically when you switched into Lost Mode, will still be on until you have removed the phone from your iCloud account. Once removed from your iCloud account, the phone can be freely used by any other person.
Android Tip: Using Android Device Manager to Locate Your Phone
Android users can track and recover their device using Android Device Manager. The names of the menu items may vary depending on your phone's manufacturer and Android version, but the recovery steps should be basically the same.
Typically, you will need to tap Settings → Security → Android Device Manager (or Device administrators on some devices) and turn on the Find the device feature. On most phones, it will be enabled by default.
Now if you are unfortunate enough to have lost your phone, go to the Find My Device section on the Google website and log in to your Google account (this should be the same as the account that you use on your missing smartphone). The Android tracking mechanism is even easier to use than that provided by Apple. As soon as you're logged in, you will see a map showing the current location of your phone. At the same time, the phone will display a message saying that it has been located by the Google Play services.
Clicking the Ring button will dial your phone number and make your misplaced phone ring at maximum volume for 5 minutes.
If your phone has been found by an honest user, they can call you at your back-up number, which you can provide in a customized lock screen message in ADM. There, besides a message to anyone who finds your phone and your alternative phone number, you can also specify an additional password to be used to unlock your phone.
As a last resort, you can erase all of the data from your lost phone. To do this, open ADM and tap Erase. Note that this WILL NOT erase any data from the memory card in your phone, so consider storing your sensitive or confidential data in your phone's memory.
ABBYY Tip: OCR and translation overlap
If you have installed the latest update for your TextGrabber for Android, you can view translations superimposed on the original text visible on the photo. The OCR and translation algorithms have remained unchanged, but translations will now appear directly over the respective fragments of the original.
This can be useful, for instance, to Instagram users who need to save translated recipes and similar lists. Now when you import a screenshot of a recipe into TextGrabber, you will see the translated ingredients in exactly the right places, with the amounts shown next to them.
Watch this video for a demonstration:
To learn more about the new feature, please see this blog entry.
App of the Week: AR Dragon
Do you miss the good old Tamagotchi days? In this Augmented Reality day and age, there's a whole new menagerie of cute virtual pets! For  example, you may want to try AR Dragon from PlaySide and wax nostalgic and entertain your kids at the same time while raising your own pet dragon.
Of course, it is no match for a live puppy, but it's playful, cuddly, and does not shed at all.
You can keep your baby dragon in your living room, in the kitchen, or in your back yard. If you take good care of your new pet, feed it regularly, and scratch it behind the ears, the baby will ultimately grow to be a mammoth-sized winged critter that won't even fit into your living room.
The app is available on iOS.
That's all from us for today. See you next Monday!
P.S. You can find the previous issue of this newsletter here.
Subscribe to our newsletter
Enter email and get FineScanner with 1 month premium for free!
Your subscription was successful! Kindly check your mailbox and confirm your subscription. If you don't see the email within a few minutes, check the spam/junk folder.
Your subscription was successful!