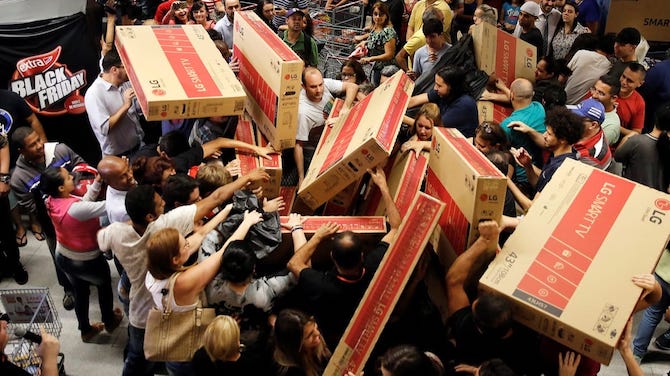 Shopaholics, rejoice – Black Friday is coming! To prepare for the day, we have a few tips on how to get the best deals and not get overwhelmed. There's also a really useful surprise at the end, so read on!
When you see banners shouting "90% off!" it's easy to be tempted and buy things you don't even need. But we're here for you and we will do our best to protect your wallet. Here's a few useful things to remember before you embark on one of your biggest shopping sprees of the year. Take a look at this post to learn how Black Friday came to be.
Love your lists. Throughout the year, take note of things you would like to buy an put them on wish lists in online-stores. Come Black Friday, check your list and you will see that some of the goodies can be had at considerable discounts. This simple planning trick will not only save you money but will give you a better understanding of what you actually need to buy. You will have to act quickly, though, because other bargain hunters are also on the prowl and stocks won't last forever.
Leave your e-mail. Promotions you get in your inbox can be quite useful. Besides info on an upcoming sale, they may contain personal offers and discounts not available to other shoppers.
Buyer beware. Not all online stores are 100% honest. Always shop around and compare the prices in several stores before clicking that "Buy" button. Sale might be fake with same price listed as discount.
When you see the "Sold out" sign... Don't panic and rush to buy something similar because the coveted item is no longer on sale. There's also Christmas and Boxing Day ahead. In the meantime, simply put aside the necessary amount or spend it on some other item on your wish list.
Always inspect. Carefully check all your purchases, particularly in the sale season. Some sellers out there may want to take advantage of the shopping frenzy and go as far as to push shop-soiled, defective or knock-off goods to unsuspecting customers.
P.S. Repost this post from our Facebook group. Every fifth reposter will get a promo code for lifetime premium FineScanner for iOS or Android account!
Subscribe to our newsletter
Enter email and get FineReader PDF Mobile with 1 month premium for free!
Your subscription was successful! Kindly check your mailbox and confirm your subscription. If you don't see the email within a few minutes, check the spam/junk folder.
Your subscription was successful!