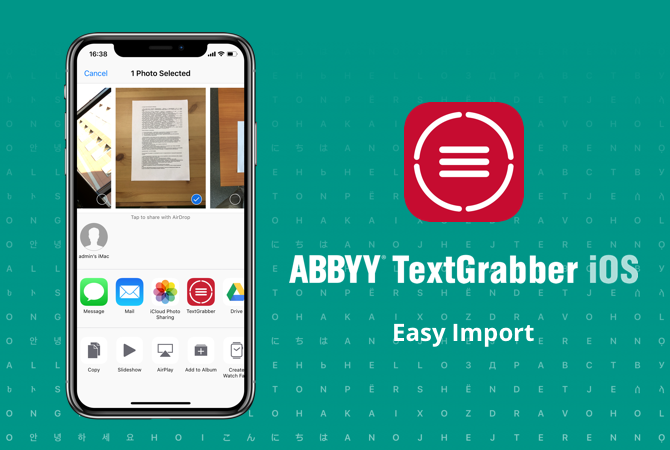 We never have enough time. No guarantee that we'll make your day a few hours longer, but no doubt we'll add a couple minutes. In the latest TextGrabber iOS update we have added a quick photo import. Check it out!
Import Photos Using the "Share" Button
Now there is no need to open TextGrabber to translate or recognize a text on the photo. We have finally added a share extension to TextGrabber iOS. Now tapping the "Share" button next to a file in the photo gallery and choosing TextGrabber will open the file in "Photo" recognition mode. Have a look at the video:
New 3D Touch Menu
We have already revealed 3D Touch functionality in this ABBYY Tip. But now you can do more with it! Push the TextGrabber icon harder to activate 3D Touch menu and tap "Recognize last image". The recognition of the last photo will be immediately opened in the "Photo" mode.
Tap "Share TextGrabber" to send a link to the app in the AppStore to your friends, so that they can enjoy TextGrabber too :)
Download the latest TextGrabber update and leave your feedback in App Store!
Subscribe to our newsletter
Enter email and get FineScanner with 1 month premium for free!
Your subscription was successful! Kindly check your mailbox and confirm your subscription. If you don't see the email within a few minutes, check the spam/junk folder.
Your subscription was successful!