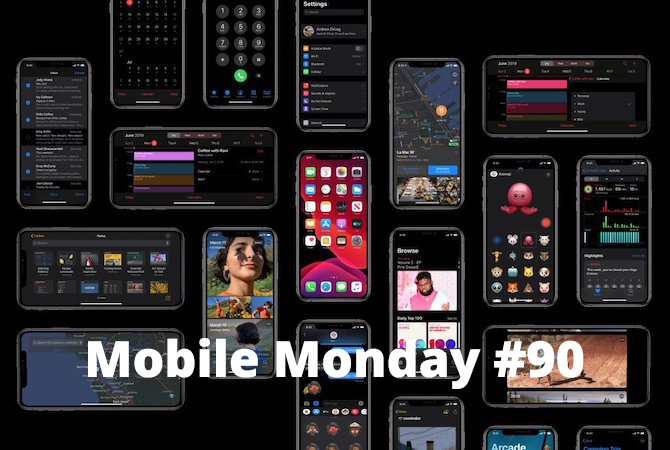 iOS-releases always seem to be a challenge for Apple-devices users. Especially it's true about iOS 13 that looks like the biggest iOS-update over the last few years. We prepared a quick overview of new features that you can begin with. 
Dark Mode
A long-awaited feature is finally available on iOS. All default Apple apps already have dark mode support. Some AppStore apps do have it too. For example, Facebook Messenger. It looks unusual and fresh, like new OS. Go to Settings – Display and Brightness to turn on Dark Mode. You can also do it while setting up an iPhone after iOS 13 install.   
Don't forget to set a schedule for Dark Mode. You can choose between Sunset to Sunrise and Custom Schedule.  
Emoji Button
There's no need to tap language switch button anymore to use emojis. Now there's a separate emoji-button. But it's available only on X-series, on Home-button iPhones there's not enough space for an extra button. 
File Manager
Apple's Files app, originally appeared in iOS 12, looked clumsy and useless. Other file managers could do much more. But now, with iOS 13 release, Files can become your favorite file managing utility. It can open ZIP-archives and archive files. Also, USB flash drive and memory cards support was added. You will only need a special adapter. 
Download Manager
Apple allowed to download files from the Internet in Safari. There are no limits on file formats or size. By default, all files are downloaded to iCloud storage to save your smartphone's memory. But you can change it in settings and keep all files locally on an iPhone.  
By the way, Safari was upgraded a little: new buttons design, settings for view and reading modes are now can be set for each website separately.  
Wi-Fi and Bluetooth Settings
You can access Wi-Fi and Bluetooth settings quicker. Open Control Centre, long tap a section with Wi-Fi and Bluetooth and long tap Wi-Fi or BT icon. Tap settings button below. 
Siri Shortcuts
Shortcuts app was significantly improved. Now you can control your Smart Home, automate routine tasks, manage actions according to changing conditions, for example arriving home. We believe that this has a high potential, so we integrated Siri Shortcuts support to FineScanner and Business Card Reader. 
Gestures
Gestures have always been an iPad feature. But why not use them on an iPhone? iOS 13 brings gestures to smartphones.  
Swipe left with three fingers to undo an action. Swipe right with three fingers to redo it. When the text is selected pinch in with three fingers to copy the text. To paste you use the opposite gesture. Also, you can open a clipboard menu by tapping with three fingers. You'll get used to it, just practice a little. It works on iPhone SE too, but it looks rather funny :( 
Photo and Video
You might want to delete your photo and video editing tools after installing iOS 13. Apple improved editing abilities.  
Tap Edit when a photo or a video is opened. You can perform three types of actions: adjusting, filters and perspective setting. Also, you can mirror videos and photos or change an aspect ratio. With the help of filters, you can easily improve the quality of images and videos. 14 filters are available and each of them can be additionally adjusted.  
Photo gallery has become smarter. With the help of artificial intelligence, screenshots and photo repeats are hidden so that you can enjoy the most memorable moments. Switch between Days, Months and Years to comfortably sort your pictures and find the ones you need. In addition to it, Live Photos and video are now starting automatically. Gallery browsing has become more dynamic.  
The new High-Key Mono effect was added to iPhone's Portrait mode. What's more, you can now adjust the light position on photos made in a Portrait mode. 
Swype Keyboard
Type by just swyping over the keyboard. No need to take your finger off the screen, just go through the letters you need. We've tested it already – almost 100% accuracy. But now it works only with English, but we believe that Apple is going to add more soon.  
New Reminders
The standard iOS Reminders did good, but it was overall out of date. Apple have taken on Reminders upgrade and it seems that they succeeded. The main screen is now split into 4 menus: Today, Scheduled, All and Flagged. While adding a reminder you can use quick settings button, that appears above the keyboard. This way you can immediately set a time, location (reminder shows up when reach or leave a location), flag a reminder or quickly set a time (today, tomorrow, this weekend). 
Now Siri follows your plans and suggests to create a reminder based on a conversation in Messages. Also, Reminders will do it's best for you not to forget anything. For example, if you create a reminder to buy a milk, it will suggest to create this reminder again after a couple of days.  
Tasks can be grouped now. Just drag one over another and it will become a subtask. It looks like a great solution to create shopping lists. Tag tasks with different icons and colors to identify them easily. One more thing that was missing is ability to add pictures to reminders. Now you can. 
Karaoke
You can now use an Apple Music app as a lyric book. Check it out: turn on a song, open lyrics and follow your favorite singer :) 
Find
My
No separate Find iPhone and Find Friends anymore. They united in a powerful searching tool called Find My. You can locate your devices and friends with it. Share your location with anyone you want, just send a request via iMessage. Address will be shown below the name, and you can check a route to your friend. Set up a special notification, to know if your friend leaves a location. You can do the same: let your friends know when you leave home to go to the party ;) 
Of course, functions like remote deleting or Lost iPhone modes are still there. But now tracking a device has become better. You can track an iPhone even if it's offline! It sends a special Bluetooth signal, that can be detected by any other Apple device (not yours too) and send a location data to the owner. Now there are more chances to find an iPhone that was lost in a Taxi or a bus. 
Have you installed iOS 13?
Subscribe to our newsletter
Enter email and get FineReader PDF Mobile with 1 month premium for free!
Your subscription was successful! Kindly check your mailbox and confirm your subscription. If you don't see the email within a few minutes, check the spam/junk folder.
Your subscription was successful!