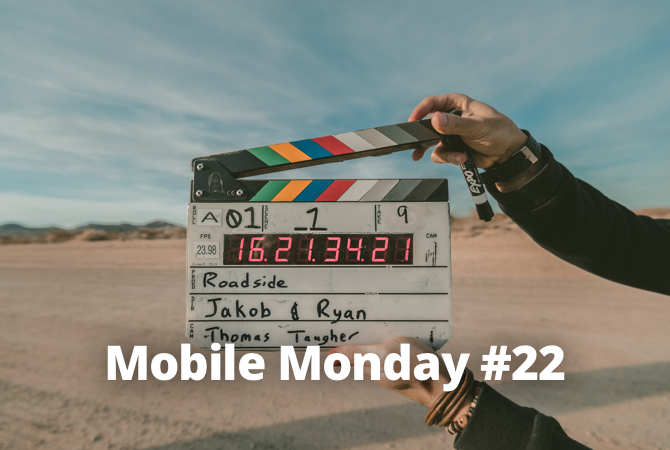 This release of Mobile Mondays is a bit unusual. Have you ever wondered what is missing in iOS from Android and vice versa? We've made a small research on it! We'll also talk about sending business cards and interactive videos.
Pros & Cons: Android Perks We Need in iOS
We all face this challenge of choosing the right smartphone. But a phone always comes with an operating system and here it is really a matter of preference. Both iOS and Android have their strength and weaknesses, but anyhow they can be improved in some way. We've compared two operating systems and prepared a list of features iOS is missing and what Android needs to take on board right now. So what capabilities Apple is missing?
Customizable interface
Icons, themes, and folders in iOS look the same. The Apple's operating system allows you to choose a wallpaper for the Home and Lock screen and... well, honestly, that's pretty much it. Even the choice of images is rather limited. Bo-o-oring! In terms of customization, Android is certainly far ahead. It has live wallpapers to fit every taste, simply pop into Google Play and select one to your liking, for example, Galaxy Pack, Dream Night Pro, Heavenly Skies. It has options galore! What's more, Android allows you to set up a theme, tweak the icon size, freely move icons and folders across the screen, install third-party launchers—whatever your heart desires.
Apps by default
Unlike Android, iOS does not let you select apps to be used by default. Android users, in turn, are able to choose any media player, browser, text editor and set it as the default one. We hope Apple will change their mind and add this feature, after all.
Widgets
iOS does feature widgets in the notifications bar but they pale in comparison to what Android has. Android offers widgets of all shapes and sizes: a weather forecast, a fancy clock, live news, your email client, social networks, and more! And all of this can be placed on both the home and lock screen.
Ringtones
Yes, we have covered it already in our first Mobile Monday half a year ago, but it still bugs us! Ringtones on iOS come as an unpleasant surprise for former Android users. To create a ringtone you have to use Garage Band or your computer. The easiest way of course is to buy tunes offered by Apple. Unfortunately, there is no other way to create a ringtone on iOS.
Pros & Cons: iOS Perks We Need in Android
Now let's see what features from iOS Android is missing.
A single OS
There are loads of Android devices on the market but it is next to impossible to easily switch, say, from HTC to Sony—even though the platform is the same, devices are still different. Third-party Android launchers may change your experience completely and it will take days to learn how to use your devices all over again. iOS, in turn, does not have this problem, because its interface does not change across devices.
Backups
Apple is known for its brilliant backup system. To download all your content and apps with their locations on the screen from iCloud, you need to simply sign in with your Apple ID. It gets harder with Android because all the steps must be performed manually. There are some Android devices that are capable of making a full backup, for example, Xiaomi with its proprietary MIUI firmware or Samsung.
A built-in screen recorder
iOS 11 was enhanced with a built-in screen recorder. It is a rather useful feature to have just in case, and it is especially pleasant to know that it comes with the updated iOS for free. Android only allows you to record your screen with third-party apps.
Siri
No matter how hard Google tries, it still cannot get closer to Apple's Siri. To be completely honest, when it comes to AI assistants, Siri is still in a class of its own. By the way, if you want to read an exhaustive overview of voice assistants, check this issue of Mobile Mondays.
Erasing data from a device
If your device was lost or stolen, you can remotely erase all the data with Find My iPhone. Important thing is that the Find My iPhone feature should be configured beforehand—before you lose your phone, to be precise. If you remotely erase your data, Activation Lock stays enabled to further protect your device. To reactivate the iPhone, you need your Apple ID and the password. This feature makes your life much easier as there is no need to worry that all your content, photos, and data from Wallet will be lost.
ABBYY Tip: BCR for iOS — Send Business Cards Automatically
Did you know that ABBYY BCR lets you send your business cards in response to emails? The secret it out! Here's a few steps to configure this fancy feature:
While in Business Card Reader, scan your business card and add it to My cards. This section stores all your cards regardless of languages and companies.
Instead of selecting your business card and writing an email from scratch each time, set up an email template in Settings > Exchange Business Cards.
Select the language and modify the text whichever way you like, set up sending rules (always or manually), and select one of your business cards that will be attached to your emails.

Done! From now on, no extra steps are required on your part. Just let BCR do its job.
App of the Week: Mosaic
We all enjoy watching TV show now and then. But have you ever thought that you would change everything if you were in character's shoes? Steven Soderbergh directed a murder mystery with 6 episodes a plot of which can be influenced by means of a specifically designed app. The show went live on HBO a month ago, but the app has been available in the App Store and Google Play for a while now.
Soderbergh and his filming crew have shot a unique 7-hour movie about a mysterious murder. Mosaic offers you a series of situations where you need to choose a character to follow and alter the plot for yourself. The decisions that you take determine the ending of the show. A nice perk is that you can always watch the series again and have a look at the plot from a different angle.
The app also contains extra content like police reports and telephone conversations between characters, and so on.
The app is already available but there's one glitch: it is not accessible from the Russian App Store и Google Play. You need to have a US account or change region in the App Store to download it.
First-Hand Experience: Advice From a Colleague
Shared by Irene Lineva, HR Admin
Winter is in full swing and the day length has already exceeded 8 hours. Splendid! With the weather still frosty and the snow still flaky, grab your figure skates and go to a skating rink.
Figure skating is a truly fascinating and the most beautiful sport. It is common knowledge that our figure skaters always rank among the best in various championships. And the European Figure Skating Championships that were held in Moscow just a month ago were not an exception. It brought our athletes 9 out of 12 medals, can you believe it! I bet you pictured yourself as a world champion at least once (I think we all did). Why not make your dream come true? Choose a skating rink, take your ice skates, and have some fun. If you are an amateur skater, find an instructor who will teach you the basics.
I especially like the VDNH skating rink. This year, the rink that is often referred to as the biggest in Russia surprises its visitors with artistic installations dedicated to winter sports. Even if you are not a skater, you can always warm yourself up with hot tea and tasty doughnuts.
As the saying goes, the winter spring is coming. Take a moment and enjoy a winter day on ice skates.
That is all, guys. As agreed, let's meet in the same place and at the same time… tomorrow! It's a Mobile Week after all. No need to look for the previous issue on the home page, it's right here.
Subscribe to our newsletter
Enter email and get FineReader PDF Mobile with 1 month premium for free!
Your subscription was successful! Kindly check your mailbox and confirm your subscription. If you don't see the email within a few minutes, check the spam/junk folder.
Your subscription was successful!