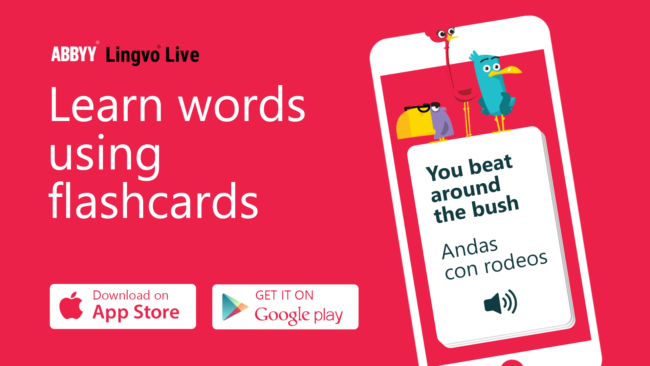 We have some very exciting news!
Long-awaited Flashcards for vocabulary practice are finally available in Lingvo Live for Android!
I bet you all remember that ancient method of learning new words – paper flashcards. You cut them out of cardboard, write words on them, and start studying. Then you have to find someone to help you practice… Do you still use this method? Oh, come on! There is a much easier and faster way to learn new words – digital flashcards in your smartphone. They are always at hand, don't go flying everywhere at the lightest breath of wind or get wet under the rain (do not leave your phone under the rain though either, it's not going to end well :)).
You can create flashcards out of dictionary entries in the Lingvo Live app for iOS and Android by choosing the word and translation in the academic dictionaries. Or open the Social tab, and choose one of the translations from the user-powered dictionary. Then tap Start lesson and learn new words or do a quick self-check just by scrolling through the list of your flashcards.
Experts and polyglots will also find something to do. Flashcards are a great tool to save interesting words, phrases and expressions you stumble upon then and again while reading an article, a book or scrolling through a newsfeed. It would be such a waste to lose those linguistic gems!
How to use Lingvo Live Flashcards? Well, first install the app :) Here you can find version for Android.
Open the app and put the word you are looking for in the search bar. Dictionary entries will appear. Then tap the college hat icon at the bottom of the screen. You will see the list of translations and definitions. Choose the one you want to learn and add it. Your flashcard is ready!
You can also create flashcard decks based on topic or anything you want really – "Appearance", "Polite words", "Sport terms", "Shopping", "Phrases from Game of Thrones", etc.
Download Lingvo Live for iOS and Android and try this new feature – it makes expanding your vocabulary so much easier!
Subscribe to our newsletter
Enter email and get FineScanner with 1 month premium for free!
Your subscription was successful! Kindly check your mailbox and confirm your subscription. If you don't see the email within a few minutes, check the spam/junk folder.
Your subscription was successful!