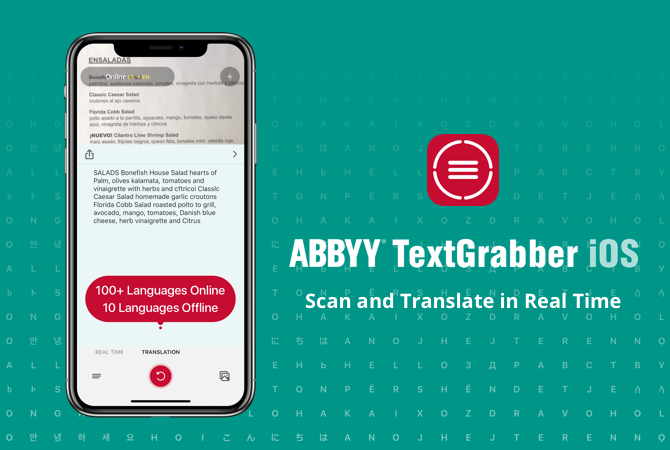 Only a few months ago we introduced the revolutionary Real-Time Recognition in TextGrabber. Now we present Real-Time Translation, a natural and useful complement to RTR, which will work even if your phone is offline. Read on to find out details.
With Real-Time Translation, you can translate any text as it appears on the screen of your phone. You don't even need to take a snapshot or crop the image. Simply point the camera to a text fragment, tap the camera button, and TextGrabber will immediately capture the text and translate it for you.
Getting Translations When Online
When your iPhone is connected to the Internet, you can use TextGrabber to translate text to and from more than 100 languages. Here's how it works:
Open the camera and select the Translation mode.
Tap Online, select the source and target languages and go back to the camera screen.
Tap the camera button and wait a few seconds—you will briefly see the captured text followed by its translation. You can stop the optical recognition process at any time by tapping the camera button once again.
Getting Translations When Offline
Without an active Internet connection, TextGrabber will rely on its offline dictionaries to provide verbatim translations between English and the following nine languages:
Brazilian Portuguese
Indonesian
Spanish
Chinese
German
Portuguese
Russian
French
Japanese
The dictionaries are mainly geared towards travel and leisure, each containing approximately 10,000 words.
Here's how RTR works when you are not connected to the Internet:
When TextGrabber detects that your phone is offline, it will prompt you to switch to offline translation mode.
You can also manually enable offline translation on the TextGrabber settings screen. This may be useful, for example, if the roaming charges are unreasonably high.
In the settings screen, select the Use offline translation.
Tap above the Offline translation bar to select the desired To and From languages.
When you get back to the camera screen, you will see a bar saying Offline mode is activated. Tapping this bar toggles between offline and online translation (the latter requires an active Internet connection).
Point your camera to a text fragment and tap the camera button to have it translated. If TextGrabber can't find a word in its dictionaries, the word will be displayed in its original language in the results window.
Even though the offline translation mode is not as powerful as online translation, it may still be useful when you are confronted with some text in a completely unfamiliar language and want to get at least a general idea of what it says.
TextGrabber for footy fans
The FIFA World Cup 2018 is just a couple of weeks away and many of you will be coming to Russia to support your national team. We believe that TextGrabber will become your trusted travel companion. Here are a few tricks it can do for you.
Capture Wi-Fi Passwords
In some hotels, together with your room key or swipe card, you will get a slip of paper with a password to the hotel's Wi-Fi. Instead of typing in these meaningless characters, capture them with TextGrabber and paste them into the password field.
Discover a Route to a Destination
If you are handed a flyer advertising a restaurant or a club, TextGrabber will happily help you to locate it on the map. When TextGrabber detects a web link or an address, it will highlight it in green. Simply tap the green text to open the URL or to see the address on the map.
Know What You Eat
In your local corner shop, most of the foodstuffs will have only Cyrillic text on their packaging, but they will also have complete lists of ingredients, which TextGrabber can capture and translate for you. Throw in some guesswork and common sense, and you will know if the stuff is palatable or better left to the locals.
Dine Like a Local
Of course, many swanky restaurants will have their menus available in multiple languages, but going local means eating out at places where they only speak (and write) Russian. Let TextGrabber translate the menu and make your order.
Read and Understand Medication Labels
Many medicines in Russia are available over the counter, but all the instructions will be in the local language. Capture the label with TextGrabber to find out beforehand if the pill will make you larger or smaller.
Go on a Museum Crawl
In the unlikely event that you get bored with the football, you may want to pop in a museum or art gallery for a change. You can trust TextGrabber to be your tour guide. Just be sure to point the camera to the explanatory text next to the exhibits.
And don't forget that a good portion of the real-time translation is also available offline.
If you haven't already, now is the time to get the latest version of TextGrabber from the App Store! Please tell us what you think in the comments or on the App Store app's page.
Subscribe to our newsletter
Enter email and get FineScanner with 1 month premium for free!
Your subscription was successful! Kindly check your mailbox and confirm your subscription. If you don't see the email within a few minutes, check the spam/junk folder.
Your subscription was successful!