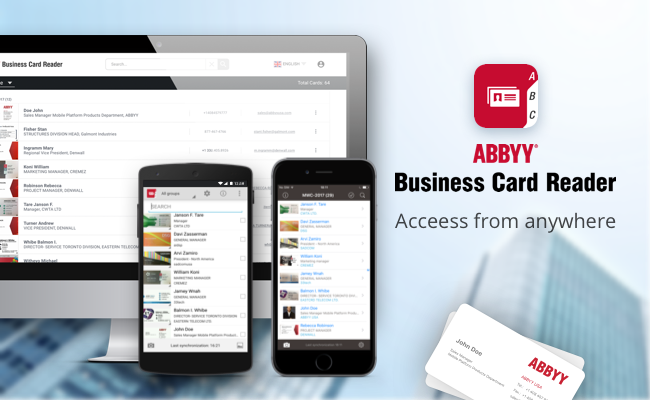 Introducing a huge update - as promised! Are you tired of swiping through hundreds of business cards on a small screen? Are you fed up playing hit and miss with  buttons? Or, are you simply more comfortable working on a computer? We have some awesome news for you! ABBYY Business Card Reader is now available not only on smartphones, but also on computers! Meet ABBYYBCR.COM!
According to our surveys, more than half of our users store over 100 business cards in BCR. Many of you have written to us that working with such a huge base on a smartphone is rather inconvenient and takes too much time. We've listened to these suggestions - as we always do - and decided to create a Web-version of BCR, just so you could work with biz cards even more effectively and easily.
How It Works?
Thanks to cross-platform synchronization, business cards digitized in BCR, immediately get into the cloud and displayed in your personal account on the ABBYYBCR.COM. Getting started is easy:
Enable Synchronization in the mobile app BCR;
Open ABBYYBCR.COM;

Click the Login button;

Enter the email and password you used in your mobile application for synchronization.
The database will start to load immediately after logging in. And you need not worry as secure connection and encryption will ensure complete security and safety of your data!
What the Web-Version Does?
Firstly, with a large business cards' base it is much more convenient to work on a computer - more business cards and data from these business cards are visible and it's easier to scroll through the list. In addition, you can perform the following actions:
move the cards to other groups;

edit or add any fields in business card;

view the front and back of the card in minute detail using a magnifier;

keep fresh information in the notes;

create an email directly by clicking on the email-address;

learn a location on the maps by clicking on the postal address;

go to the partner's site with one click.
Here is the answer to a question of interest to all - all the features of ABBYYBCR.COM are absolutely free for all BCR users on both mobile platforms.
By the way, specially for the launch we've prepared an awesome surprise for you! From June 1 to June 7, you can purchase a Pro version of BCR for iOS or Android with more than 70% OFF. That means it could be yours for just $5!
Subscribe to our newsletter
Enter email and get FineScanner with 1 month premium for free!
Your subscription was successful! Kindly check your mailbox and confirm your subscription. If you don't see the email within a few minutes, check the spam/junk folder.
Your subscription was successful!