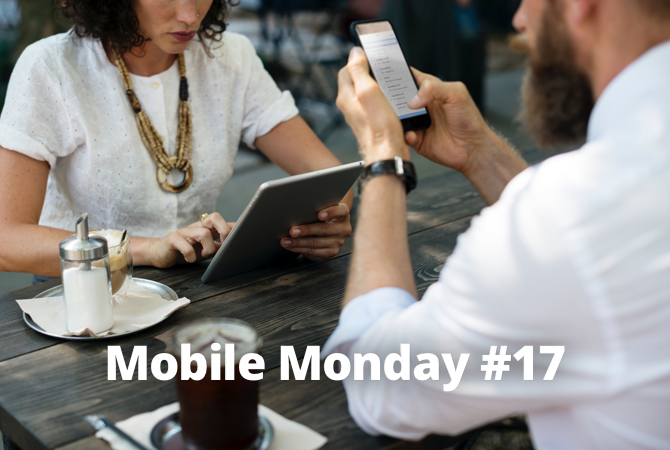 Do you want to capture a map area, visually appealing interface or piece of uncopiable text? Make a screenshot and save it on your smartphone in one click! Also today: image-only vs searchable PDF, corporate messengers, and social dances.
iOS Tip: Screenshot Management on iPhones without Home Button
Most iPhone X, Xs and Xr users have probably freaked out when they learned that the device lacked the Home button. So how do you actually take a screenshot on a device like this? Watch this:
Find the Side button on the right side of your device.
Look for the Volume up button on the left side.
Press both buttons at the same time.
Hold them for 1–2 seconds until you hear a sound.
The screenshot will be saved in the Photo app of your iPhone.
After you release the buttons, the screen of your iPhone will paint white for a fraction of a second and the smartphone will indicate it with the camera shutter sound. A thumbnail of your screenshot will appear in the lower-left corner of your device.
You are also free to edit your screenshot. To do this, use the Markup view that appears after you take a screenshot. It allows you to crop an image as well as to add comments with a highlighter, pencil, or pen of six available colors. Apart from that, you can incorporate a digital signature, various shapes like circles and arrows, and place a loupe on the portion of the text you want to magnify. Once the file is good to go, share it whatever way suits you best.
Android Tip: Screenshot Management on Samsung, Sony, and Xiaomi
The more Android devices there are on the market, the more there are ways to take a screenshot. Take a look at the three most popular device brands that run on Android. Let's start with Samsung and its methods to take a screenshot:
Press and hold both the Home button and the Power button for 1–2 seconds.
Press and hold both the Volume down button and the Power button for 1–2 seconds.
Press and hold both the Home button the Back button for 1–2 seconds.
If you've managed to take a screenshot, your device will show this sign in the top left corner:
The image will be automatically saved to the Album where you can share it via email or messenger as well as to crop or edit it.
Now to Sony devices. Here, the manufacturer provided for two ways to take a screenshot:
Press and hold the Power button until the dialog box displays where you need to select the Take screenshot option.
Press and hold both the Power button and the Volume down button until you hear a clicking sound. Your smartphone will also display the message that says Saving screenshot.
Sony devices save screenshots in the Album.
Xiaomi, in turn, has as many as 5 ways to take a screenshot! Let's break them down:
Power button + Volume down This is the most typical way to take a screenshot on Xiaomi. MIUI, a Xiaomi-developed firmware, inherited this feature from the original Android. When you take a screenshot, it saves to the gallery.
Menu touch button + Volume down This is one more option provided for by MIUI developers.
Using notification bar. This bar in MIUI 7/8/9 allows you to access quick settings and the screenshot icon (yes, that's the one with scissors). To take a screenshot this way, simply open the desired page or screen, pull down the notification bar, and press Screenshot. This comes in especially handy when you need to take a screenshot with one hand.

Using desktop icon. You can create the icon and place it on your desktop. To do this, simply go to the widget menu and drag the icon to the desktop.

By three finger swiping down. MIUI 8 has added a nice perk. It enables you to take a screenshot on your Xiaomi by swiping three fingers down. Unfortunately, this feature is only supported by a few models, but, as the saying goes, it doesn't hurt to try, right? Go to Settings > Additional > Screenshots and enable the feature. Then open the desired screen, swipe down, and voilà, your screenshot is ready.
ABBYY Tip. Image-Only PDF vs. Searchable PDF
FineScanner users grow puzzled now and then: the program allows you to generate both Image-only and Searchable PDFs. But is there a difference? Let's have a look.
Basically, there are two types of PDF documents that differ by the way they are created. The format of a file defines access levels to the text, images, or tables. The content may be either locked or available for modification.
When you scan paper documents using office printers or convert images or screenshots to PDF format, the content becomes sort of locked in the image. Such documents are called Image-only PDFs and contain nothing but images of pages without the basic text layer. As a result, Image-only PDFs do not allow you to search for text and the text itself cannot be modified or highlighted. This is the exact type of files which FineScanner initially generates while scanning a document. Yet during the recognition process, an Image-only PDF can be converted to a Searchable PDF.
Let me show you how a Searchable PDF is created step by step. The OCR app analyzes the structure of a document and symbols that it contains or, put it in simpler terms, "reads" a document. Then it adds the text layer to the image layer. Such PDF files are almost identical to Image-only ones with only one difference—they have a searchable, editable, and highlight-able text.
Therefore, FineScanner allows you to create a file that you can search in and edit by converting an Image-only PDF to a Searchable PDF.
App of the Week: Slack
We at ABBYY Mobile have been using Slack for quite a long time and decided to share this magnificent application with you.
So what is Slack? It is something like a team chat solution that allows you to:
Create individual chats for each topic and with unlimited number of participants. Chats can be both public and private.
Enjoy fast desktop, mobile, and web clients.
Use 5 free gigabytes for your files to start with. Not enough? Switch to the premium account.
View links to resources and images that are loaded and display as snippets just like on Facebook—for a bigger picture.
Integrate the solution with multiple external resources, such as Google Docs, JIRA, Confluence, TFS, Trello, AppsFlyer, Google Analytics, Jenkins, and more — and receive notifications right here without clogging your inbox.
Have access to the message archive among all clients. The free account displays the last 10 thousand messages.
All content is structured by channels. If you want to contact a person directly, try the direct messaging feature. Slack is accessible only to your colleagues who both use it permanently (thus have access to all channels) and occasionally (in this case, a person is granted rights only to one channel and the direct messaging feature).
To make it easier for you, Slack features a configurable notification system that allows you to set up notifications according to your preferences. You can receive either all notifications on the topic or get notified only when someone tags you—it's your call.
Slack is available as a desktop solution as well as on iOS and Android.
First-Hand Experience: Advice From a Colleague
Shared by Anastasiya Shilova, Customer Service Specialist
– Hi there! Do you want to go to a dancing class tonight? – Dancing? You've got to be kidding me. I am anything but a dancer!
Have you ever heard this from your friends or maybe thought the same of yourself?
Throw caution to the wind and go for it! You will not only learn some great moves but will grow more confident and entertain yourself.
Social dance is rapidly making headway. It is a type of dance that does not require strong skills and experience. If you ever watched people dance and thought to yourself that you wanted too, social dance is the right thing to try. However, there is more to this type of entertainment than just dancing. You will meet new people and even travel around the globe! Those who are truly in love with dancing even hold dance congresses throughout the year. They bring together the best dancing instructors and share their experience with others. And apart from dancing itself, you can also enjoy the views of a different country that you visit.
Zouk, a Latin dance, is currently becoming more and more popular. It is easy, tender, and nothing like other dances. You just want to see or try it once and bam—catchy tunes and dance moves will not leave you indifferent. The "quick-quick-slow" rhythm will always be on your mind from now on. If you want to give something new a go, Zouk will certainly brighten up your life. The nice thing is that learning how to dance is really easy. Simply start with a few basic moves, and you won't be able to resist it. It doesn't matter whether you have a dancing background or not, social dance is intended for everyone who wants to learn how to move smoothly and use your body language to express yourself.
And remember, it doesn't matter whether you choose a single, partner, or group dance, you will discover something new and get unforgettable emotions!
That's all for today, guys. See you next Monday. As usual, the previous edition is available here.
Subscribe to our newsletter
Enter email and get FineScanner with 1 month premium for free!
Your subscription was successful! Kindly check your mailbox and confirm your subscription. If you don't see the email within a few minutes, check the spam/junk folder.
Your subscription was successful!