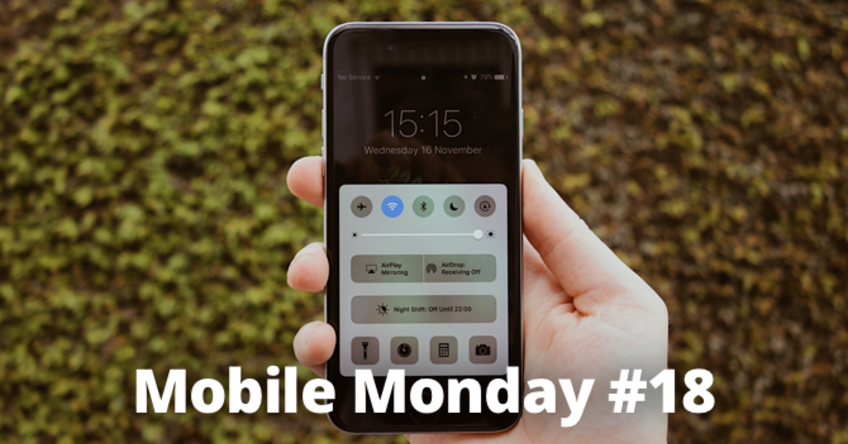 Mobile data, Bluetooth, sound volume, brightness, low power mode… all these features can be managed by means of a control center! Read on to also learn about real-time recognition, arranging your screenshots, and how to make wishes come true.
iOS Tip: Customizing Control Center
In iOS 11, you can use Control Center to take photos, adjust brightness, control your Apple TV, and more. You can even customize Control Center to display your most frequently used commands.
Here's what you need to do to:
Open Settings > Control Center.
Tap Customize Controls.
To add a control, tap the "+" icon. To remove a control, tap the "-" icon and then tap Remove, and you are done!
If you want to rearrange the controls in Control Center, open Settings > Control Center and tap Customize Controls. Then simply drag any controls that you want to reposition on the screen.
Of course, not all items can be removed from Control Center. For example, you won't be able to remove the system controls, music player, the rotation lock, the brightness control, the volume control, the Do not Disturb switch, or the AirPlay control.
Here's the list of items you can freely add or remove:
Accessibility Shortcuts;
Alarm;
Apple TV Remote;
Calculator;
Camera;
Do Not Disturb While Driving;
Flashlight;
Guided Access;
Home;
Low Power Mode;
Magnifier;
Notes;
Screen Recording;
Stopwatch;
Text Size;
Timer;
Voice Memos;
Wallet.
For more detailed instructions, please consult this page.
Android Tip: Customizing the Notification Tray
Android also offers a quick access panel, which can be opened by swiping down from the top of the home screen. While it is a handy panel where you can access the most commonly used features, sometimes it won't contain all of the items that you need to access quickly. This can be easily remedied! First, you will need to activate the System UI Tuner, which gives you access to all of the customizable interface controls.
Pull down the notification tray by swiping down from the top of the home screen with two fingers (or swipe down with one finger twice, depending on your system).
Tap and hold the settings icon (that's the cog in the top right corner) for five seconds.
Confirm that you want to enable this feature if you have never used it before (from now on the system will simply notify you that the UI Tuner is on).
If you've done everything correctly, you'll see a wrench appear next to the cog.
Now when you open your Android settings, you will see a new section named System UI Tuner at the bottom of the screen, where you can set up quick access items and their positions.
Tap System UI Tuner to open the Quick Settings screen, where you can remove,  replace or swap any of the icons. The status bar contains the icons that are displayed at the top of the screen. Next to each icon, you will see a toggle switch that hides or displays the icon. Note the battery percentage indicator, which many people want to see in the status bar at all times, even when the notification tray is not pulled down.
There are two ways to disable the System UI Tuner:
Pull down the notification tray and tap and hold the settings cog for five seconds. If everything is done correctly, the system will display a message saying that the System UI Tuner has been disabled.
In the System UI Tuner itself, tap the three vertical dots in the top right corner and then tap Remove from Settings.
ABBYY Tip: Making the Most of RTR
The Real-Time Recognition feature of TextGrabber allows you to recognize any text displayed in the viewfinder of your phone camera, without the need to take a picture or crop the resulting photo. As with any OCR-related feature, there are some things you should know to get the most out of RTR:
The better the lighting, the better the OCR results obtained with TextGrabber.
Be sure to select the right OCR languages! 80% of errors are caused by people trying to recognize an English text using the Portuguese OCR language.
Try to point the camera to the text so that no pictures or other objects appear on the viewfinder screen.
Hold the camera steady while the OCR engine is doing its job.
The recognition field in the RTR mode is smaller because it is designed to instantly recognize short snippets of text. If you would like to capture an A4 page, it's better to use the regular photo OCR mode.
For example, here is how you can easily capture text with a link via Real-Time OCR  and open the website on your device:
App of the Week: Screenshotter
The authors of this blog are no strangers to screenshot taking. Screenshots are widely used as illustrations in our user guides and in the App Store and Google Play descriptions of our apps. Today we want to tell you about Screenshotter, an app for all those who regularly need to take snapshots of the phone screens.
Screenshotter is a free iPhone app that automatically detects screenshots and offers lots of cataloguing and housekeeping features. Simply allow Screenshotter to access your images, and the app will find all your screenshots and suggest ways of organizing them into folders.
Those screenshots that you are not likely to use any time soon can be placed into a folder named Archive (its icon appears in the bottom right corner of the app screen). You can access your screenshot archive at any time, but its folder won't be visible in the list of "important" folders.
Screenshots stored in Screenshotter folders can be sent by e-mail or SMS, or shared on any social network.
Currently, all of the screenshots are stored locally on your device, but the Screenshotter developers are planning to add cloud support in an upcoming release.
Available on iOS.
First-Hand Experience: Advice From a Colleague
Shared by Ludmila Koreneva, accountant
I'm like a human MFP, i.e. a multi-function peripheral. And I know for a fact that there are millions of us multitasking human beings. Kids, work, home, study, gigs, community affairs, and the list goes on and on. It looks like there's no breaking out of this routine, no time to plant a tree, to build a bird house or to learn a new skill. Sometimes you feel you need a reboot.
Here's what works for me. I draw up a list of (nearly impossible) things I should do no matter what. For example:  I'm not very clever with my hands— so why don't I try and make my own baubles and Christmas decorations this year? I've never made jam before—so why don't I try making some this Saturday? I've never had to record intangible assets on the books—it's time to learn how to do it. I've never  written for a blog before—I am writing now.
I follow this standard procedure:
Formulate your wish.
Visualize it.
Make every possible effort to accomplish what you have planned.
Enjoy the result!
Little victories like these give me enormous boosts of confidence, providing solid proof that nothing is impossible if you try hard enough. They are great stress relievers, too. I encourage you to try compiling your own list of challenges and commit yourself to achieving them, one by one.
That's all for today, guys. Until next Monday! P.S. You can find the previous issue of this newsletter here.
Subscribe to our newsletter
Enter email and get FineReader PDF Mobile with 1 month premium for free!
Your subscription was successful! Kindly check your mailbox and confirm your subscription. If you don't see the email within a few minutes, check the spam/junk folder.
Your subscription was successful!