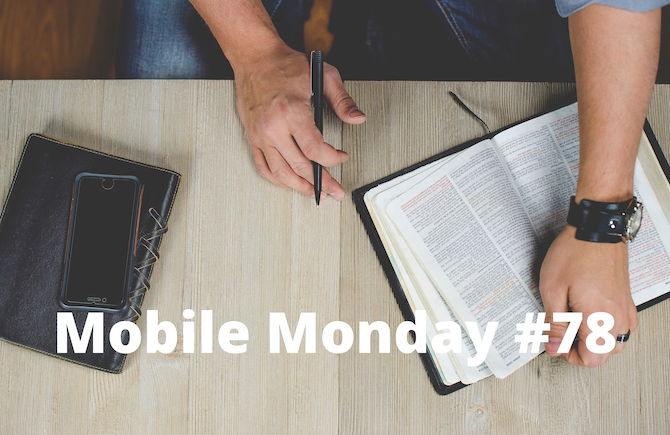 Today, we will show you a few alternative mobile browsers designed to make your browsing experience better. We will also refresh your memory on using TextGrabber to the fullest and show you how to learn new skills using your smartphone.
Smartphone Tip: Choosing an Alternative Browser
Opera Touch
Opera Touch, released last year by the creators of the famous Opera browser, is advertised as the most convenient smartphone browser, especially for large smartphones such as the Galaxy S10, the iPhone XS Max, etc. And it's true, Opera Touch lets you navigate the web using only one hand thanks to its Fast Action Button (FAB). Tapping it lets you do things like switching between your open tabs, visiting your bookmarked websites and refreshing your current page.
Opera Touch also has the trademark desktop Opera feature – Flow. Flow is your personal storage for files, notes and web pages, which is designed to transfer your data over a secure connection. Things you store in Flow can be accessed instantaneously from all your devices that have Flow installed.
Synchronizing your smartphone browser and your PC has never been this easy — just launch Opera on your desktop and use Opera Touch to scan the QR code. No usernames, passwords, or accounts are required.
We think that this might be the ideal mobile browser. Its best feature is its convenience when working on the go thanks to the Flow storage and the FAB.
You can download Opera Touch for iOS or for Android.
Firefox
We recommend Firefox to people who like their browsing simple and distraction-free. The thing that stands out about Firefox the most is its minimalistic design: no unnecessary animations, background images, or gradients. It also has a built-in ad blocking function, a feature that switches image loading on and off, and tracking protection. Users who are especially worried about their privacy can block all known trackers, but that might cause some sites to not function properly.
All the above is already reason enough to try Firefox.
And of course, "the fox" supports bookmark and password synchronization between your devices. Its "new tab" screen can be customized according to your preferences: you can add shortcuts to your favorite web pages and your most visited sites, set a website to be your homepage, or just leave it blank.
Firefox will also make people who like to surf the web at night happy — the browser also boasts a dark theme and a night mode. The latter softens the impact of fonts, images, and background colors on your eyes in the dark.
Finally, Firefox also has a private browsing mode. Unfortunately, it does not make you completely invisible on the internet, but it does allow you to keep the browser from saving any of your data. No history, passwords, or cookies will be saved.
You can download Firefox for iOS or for Android.
Mint
This browser, which is only available for Android, deserves a special mention. Designed by the smartphone-maker Xiaomi, Mint takes up very little space and does not consume a lot of resources. The Xiaomi team successfully made fast browsing available even for older devices thanks to Mint's low resource draw and tiny 10 MB installer.
Multiple tabs, voice search, data compression, a reading mode, Incognito mode, bookmarking, browsing history, and account data synchronization — all of this is supported by Mint, what else could one possibly want from a browser?
The ad blocker works relatively well, although some unwanted banners do manage to slip through.
We would recommend Mint to people that want a simple and convenient browsing experience without anything extra.
You can download Mint for Android here.
ABBYY Tip: The Ideal Scenario for Working with TextGrabber
We are very pleased when our users don't forget about the apps' potential and use them to their full extent. 🙂 One of the reviews in a mobile app magazine contains several examples of this at once:
Recognizing small articles and recipes in books and magazines.
Recognizing text on a screenshot. For example, this way you can copy text from an Instagram photo caption. By the way, it looks like this will be the only way to copy a photo caption, since Instagram has no current plans for implementing such a function. 🙁 You can read more about this here.
Recognizing text from school and university textbooks.
It is worth remembering that text recognition success depends on the quality of a photo. You can read about how to make text more recognizable on photos for TextGrabber, Business Card Reader, and FineScanner here.
You can also read the original review here.
App of the Week: Udemy
Udemy is the app for people who are always eager to learn new things.
This app can be used to access over 65,000 courses, 30,000 instructors, and 2,000 subjects online, from programming and startup creation to digital photography and dog training. How's that for learning new things?
Organize your own study space by choosing only the categories that you're interested in. For example, you can choose to have only business-related courses displayed, and you will see courses on starting a business, advertising budget management, increasing brand awareness, etc. in your feed. With this app, your smartphone will become a treasure house of knowledge.
You can download Udemy for iPhone or for Android.
That's all, folks! See you next time!
P.S. You can find the previous issue of this newsletter here.
Subscribe to our newsletter
Enter email and get FineReader PDF Mobile with 1 month premium for free!
Your subscription was successful! Kindly check your mailbox and confirm your subscription. If you don't see the email within a few minutes, check the spam/junk folder.
Your subscription was successful!