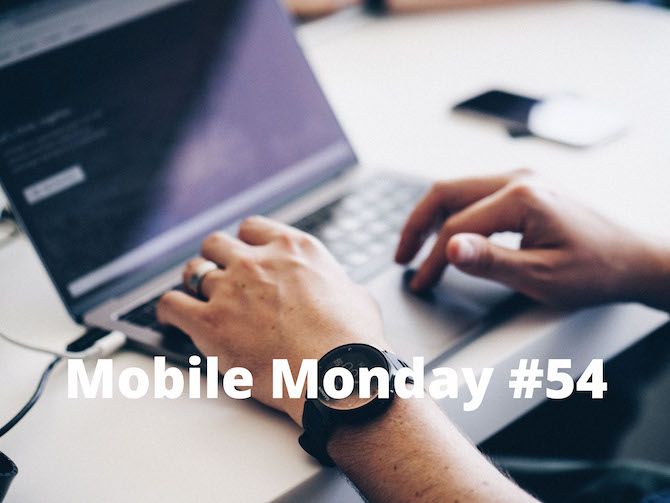 This time around, we'll take a closer look at the new Mojave OS for Mac. We'll also remember Chrome OS, show how to recognize text from screenshots with TextGrabber, and offer suggestions on planning your New Year and Christmas holidays.
Mac Tips: macOS Mojave
Traditionally, together with each new iOS, Apple releases a new version of its operating system for Mac computers. The latest OS for the Mac is named Mojave and offers some nice new features and visual improvements. Here's a brief overview.
Dark mode
The ability to select a black theme is something Mac users have long been waiting for. Now Apple finally offers you a choice between the classic light mode and a stylish system-wide dark mode. The colours have been chosen with great care and are very comfortable for the eyes, without jarring contrasts between black and white.
To switch to the new dark mode, go to System Preferences → General.
Dynamic Desktop
Another interesting addition to the new OS is the ability to set dynamic wallpapers for your desktop, which will change with the time of day. It's actually very nifty, with the colour scheme changing depending on lighting conditions outside (if you're not finding yourself in a spell of overcast skies, that is).
To enable Dynamic Desktop, click System Preferences → Desktop & Screensaver and select Dynamic for your preferred wallpaper.
New features in Screenshots
When you press Shift + CMD + 5, a window will pop up offering some new commands. Now you can record what's happening on your screen or in a particular area of the screen. Screenshots can be made of the entire screen (Shift + CMD + 3), of a particular section of the screen (Shift + CMD + 4), or of the window or element that becomes active when you point your mouse cursor to it (this can be a program window or, say, the Dock bar).
You can also set a timer for the recording to start.
Recently opened applications
The Dock now displays the icons of recently used apps. We find the feature really useful; however, but we would also like to see here the icons of frequently used apps that have not been added to the Dock.
Once you've updated to Mojave, the recent apps feature will be enabled by default. To turn it off or on, go to System Preferences → Dock.
Voice Memos on Mac
Users of iOS will be familiar with the Voice Memos app. Now it is also available on Mac computers, with exactly the same features and with the same very basic UI.
App Store no longer needed for updates
Here's a small but very welcome improvement: you no longer need to visit the App Store to update your Mac. Like on your iPhone, you can now download updates in System Preferences → Software Updates.
Inserting photos and scans from your iPhone into your Mac documents
Now you can insert photos and scans into your Mac documents directly from your iPhone (the document editing app on your Mac must support this feature). Simply click Insert from your iPhone and select Take Photo or Scan Documents. Your iPhone camera will be immediately initiated, allowing you to take a picture, which will then be inserted into your document on the desktop computer. It really works!
Quick actions on files
Now you can convert any image to PDF with a right-click. Simples! You can also use the Quick Actions menu to rotate or mark up an image.
Using Stacks to organize your desktop icons
The new Stacks feature allows you to group files on your desktop by type, so that both your physical and virtual desk are always in order.
To find out more about what's new in macOS Mojave, please refer to this section of the Apple website.
Last but not least, here's the list of devices that can be updated to the latest OS:
MacBook (start of 2015 and later)
iMac (end of 2012 and later)
MacBook Air (mid-2012 and later)
MacBook Pro (mid-2012 and later)
Mac Mini (end of 2012 and later)
Mac Pro (end of 2013, mid-2010, mid-2012)
iMac Pro (2017)
Google tips: Chrome OS
Since we're talking operating systems, let's look at Chrome OS, which was developed by Google for desktop computers.
The very name reminds us of Google's popular browser. Indeed, the two have a lot of things in common.
At its core, Chrome OS is Linux combined with Google services.
Like other operating systems, you can open apps in dedicated windows, but you're mainly supposed to interact with your PC via the browser. For this reason, your Chrome OS computer must always be connected to the Internet.
Chrome OS is not very resource-hungry, as most of the calculations are done on Google's servers. It may prove ideal for older or not very powerful laptops.
Lots of different vendors offer their laptop computers with Chrome OS pre-installed. Such "Chromebooks" are not very expensive, reasonably fast, and may be an excellent choice for routine day-to-day use.
Here's a list of recommended Chrome OS laptops for 2018:
Google Pixelbook
Asus Chromebook Flip
Samsung Chromebook Pro
Dell Chromebook 11
Acer Chromebook 15
Acer Chromebook R11
In our opinion,  Chrome OS is particularly useful for running Android apps. For this, you will need Chrome OS 53 or greater. Simply open Google Play and download the app that you need. Note, however, that if you're using a Chromebook issued to you by your company or college, you won't be able to install any apps from Google Play   without the approval of your system administrator.
See here for detailed instructions on installing Android apps on Chrome OS. And here you will find a list of devices that can run Android apps.
ABBYY Tip: How to Recognize Text on Screenshots
Sometimes you may need to capture and recognize text from a photo you've just received in your e-mail or from a screenshot. This can be easily done using TextGrabber and Siri . We already described the voice commands available in TextGrabber in this newsletter. Now we have made a small video to show you how you can quickly open and recognize your recent images in TextGrabber.
App of the Week: Wild Weather
Autumn is the time of year when we check the weather several times a day, hoping that tomorrow will be sunnier and warmer. So here's a bright and colourful app to cheer you up. It's called Wild Weather and looks so nice that we often tap it just to look at its lovely, comforting drawings that serve as the backdrop.
The app displays the standard weather details you'll find on weather websites and in similar apps. What really sets it apart is the illustrations. If you like artful drawings you will definitely like this app. By the way, the artwork used in the app is available for your enjoyment here.
First-Hand Experience: Advice From a Colleague
By Sergey Kharchenko, iOS Software Developer
Winter is just around the corner, which means the New Year and Christmas holidays are also not far way. If you haven't yet started thinking about the winter holidays, now is a good time to start making your plans. For me personally, New Year is about snow, oranges, and some traditional Russian dishes that are so heavy on calories that winter seems to be the only time of year when you're allowed to have them. But most importantly, the long winter holidays is a chance to be with your family and friends.
For those of us who like to spend their winter evenings nursing a mug of mulled wine by the fireside, a mountain ski resort is the ideal holiday destination. It does cost you, though, so it's a good idea to begin looking for the best deals in the autumn. And don't worry if you can't afford some swanky resort in the Alps, just read on.
When the budget is tight, my mountainous country of choice is Georgia. Wonderful people, stunning vistas, plenty of snow. Last year my friends and I went to Gudauri, a popular skiing and snowboarding destination with excellent pistes well suited for beginners.
Gudauri is a big village, but it's not particularly famous for its busy nightlife, so I prefer to go there with a large crowd of friends and fellow skiers. I also strongly suggest that you book tables in advance, perhaps as part of your package tour, because restaurants tend to be packed during the season. Georgian cuisine in itself is worth the travel.
You can also do a trip to Tbilisi. Old Tbilisi is famous for its ancient buildings of immense architectural value. There are also lots of small shops where you can taste excellent local wines.
Of course, there're many other exciting places to go to for your holidays, but the thrust of my advice would be to plan your trip well in advance. Good planning and good company will ensure that you won't get bored even in the Mongolian desert.
That's all from us for today. Until next Monday!
P.S. You can find the previous issue of this newsletter here.
Subscribe to our newsletter
Enter email and get FineReader PDF Mobile with 1 month premium for free!
Your subscription was successful! Kindly check your mailbox and confirm your subscription. If you don't see the email within a few minutes, check the spam/junk folder.
Your subscription was successful!