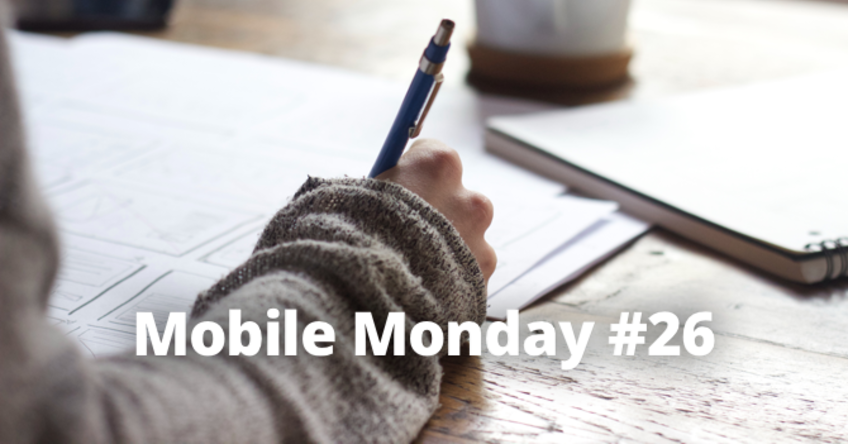 In the last Mobile Monday we have shared some useful tips on using email apps. Well, we have more! We also have some advice on how to overcome procrastination and how to easily translate text snippets with TextGrabber. Let's go!
iOS Tip: How to E-mail Like a Pro 2
In the previous newsletter, we already revealed six mailing secrets that could really help you with your online correspondence on iOS. Here are some more nifty tricks for managing your emails to make your friends jealous of your mailing skills.
Narrowing down your inbox searches
In the search field, type, for example, "February meeting" to find all messages you received in February having the word "meeting" in them. To find all unread flagged messages from contacts in your VIP list, type "flagged unread VIP". You can also search by any other attribute (e.g. attachment).
Managing messages with swipe gestures
While viewing the list of incoming messages, swipe left on any message to open the list of available actions. Swipe all the way to the left to select the first action. You can also swipe right to display another action. To customize the actions available to you in these two menus, tap Settings > Mail, Contacts, Calendars > Swipe Options.
Gathering e-mails from VIP senders in one place
Add important contacts to the VIP list to collect their letters in the VIP inbox. Simply tap the name of a contact and then tap Add to VIP.
Choosing a different e-mail account
Tap the From field and select the account that you want to use (if you have more than one).
Taking care of important e-mails (where you are either in the "To" or "Cc" field)
Tap Settings > Mail and flick on the Show To/Cc Label option. Now in the list of incoming e-mails, you will see a "To" label next to each message addressed directly to you ("Cc" will indicate those messages where you are in the "Cc" field). You can also use the "To or Cc" inbox to collect messages directly addressed to you. To show or hide this inbox, tap Mailboxes and then tap Edit.
Android Tip: How to E-mail Like a Pro 2
Gmail is also very flexible when it comes to managing your e-mails. Here are some tricks that will definitely make your mailing chores easier:
Ignoring group notifications
Social networks allow you to disable pesky notifications from chats or groups. This is a useful feature because some people just won't stop talking. In Gmail, you can protect yourself from being inundated with incessant notifications by tapping More and enabling Ignore. This will block all notifications but new messages will be let through.
Just like on iOS, Gmail allows you to archive messages with a swiping gesture (you can swipe either left to right or right to left).
In Settings, tap Accounts to see the account that is currently associated with your device. Tap this account to make sure that Gmail synching is on. Or, while you are in the mailing app, select Settings and then tap your e-mail address to see if your e-mails are ready to be synched. While on this screen, you can also specify how long the program should store your messages and select the labels to be used.
Blocking annoying senders
Just like the desktop version of Gmail, the Android mailing app allows you to block specific senders. All incoming messages from blocked senders will be archived (i.e. invisible to you) and saved as unread. To use this feature, while reading a message from an unwanted sender, tap the icon in the shape of three vertical dots and select Block Sender. If you need to access an archived message, just filter your e-mails using the appropriate label.
ABBYY Tip: Translating Text Snippets With TextGrabber
Today we're going to spill some beans on how the translation feature operates in TextGrabber and what you can do to help it translate your text.
First off, here's some recommendations on taking photos:
Be sure there is enough light where you are taking the snapshot.
The lines of the text should run parallel to the upper edge the screen of your phone or tablet.
The optimal distance between the text and the lens of your device is 15–30 cm. Moving closer in on your text may cause the autofocus feature to malfunction and the text on the photo will become blurred.
TextGrabber is most happy with standard fonts you usually see in books, without any embellishments.
Be sure to hold the device firm and steady, pointing it directly to your text.
You'd be wise to select the language of your text in advance so that the program knows for sure which language the text is written in. After the text has been recognized, select the language into which you want the text to be translated. Note that your text must not be more than 5,000 characters long. This is a limitation imposed by the third-party translation services, but we hope this length is sufficient for most practical purposes.
Last but not least, please be aware that TextGrabber is just a useful app, not a human translator, so don't expect to get a literary masterpiece. But still, the app should give you a fairly good idea of what the text fragment is about.
App of the Week: Beat Procrastination With Zero Willpower
Anyone who has read anything on the subject of time management will no doubt have encountered the colorful phrase "time eaters". The developers of Zero Willpower have declared war on those critters and on anything that may distract us from our work.
The aptly named app will block off your social networks (which are the worst time eaters) for a certain period of time. Now Facebook, Instagram, and YouTube will have to wait until you have finished doing what's really important. You can always add any other sites of your choice to the blacklist.
Zero Willpower can be downloaded from the App Store for just $0.99, which, in our opinion, is a very small price for such a great app.
First-Hand Experience: Advice From a Colleague
Shared by Gleb Minevich, iOS developer
Paste and copy are among the most commonly used computer commands. Sometimes we need to copy multiple fragments in a row, or paste a text fragment we copied to the clipboard quite a while ago. Some users will even keep a word processor running and use it as their own personal clipboard. But even then there's the danger of pasting some new text over a useful old fragment and lose the latter forever. Luckily, there is a safer and more convenient way to extend the capabilities of the standard clipboard.
Clipy is a clipboard manager for macOS which lets you copy multiple text fragments and images and paste them anywhere you need via a handy pop-up menu. You call up the menu by pressing a combination of hotkeys. Everything is fully customizable: you can specify the number of items to keep on the clipboard, store items in dedicated folders, or preview any of the copied images. Those who take information security really seriously can download the source code and compile Clipy themselves.
That's it from us for today. Until next Monday and have a great week! P.S. You can find the previous version of this newsletter here.
Subscribe to our newsletter
Enter email and get FineReader PDF Mobile with 1 month premium for free!
Your subscription was successful! Kindly check your mailbox and confirm your subscription. If you don't see the email within a few minutes, check the spam/junk folder.
Your subscription was successful!