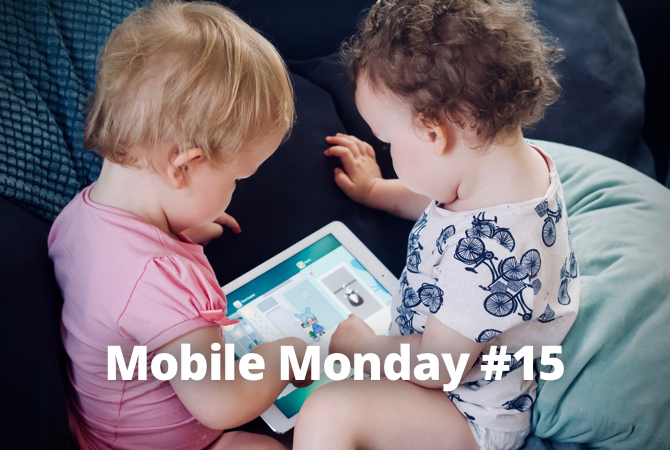 Do you want to work in two apps simultaneously? Modern smartphones let you do this easily! Today we are talking about multi-window modes, Drag & Drop in FineReader PDF and TextGrabber, and how to travel in time and be confident.
iOS Tip: How to use Split View
Split View and Slide Over are among some of features that were introduced in iOS 9 for iPads. These capabilities make multitasking on the iPad even more user-friendly—any additional apps can now be opened straight from the Dock. If Split View is enabled, when you open a new app it will appear side by side with the already opened app. This is especially handy if you need to copy/paste a piece of text or take a quick look at the browser or a business app. There are several ways to use this mode.
Switch apps using gestures
The easiest way to switch between opened apps is by using gestures.
To see the app switcher, swipe up from the bottom edge of the screen and double-tap the Home button to see all your open apps. Swipe right with one finger to find and open another app.
To switch between the apps, swipe left or right with four or five fingers in your current app.
To return to the Home screen, pinch four or five fingers together.
The Dock with the recently opened apps
Slide Over
The Dock at the bottom of the screen supports the Slide Over mode, which makes it easy to work with several apps at the same time. To enable Slide Over, drag an app from the Dock to any place on the screen and the app will open in an iPhone-sized floating pane.
Slide Over window
Split View
The Split View mode allows users to work with two apps simultaneously. For example, you can view photos while typing messages in the Mail app. To enable Split View, proceed as follows:
Open any app.
Swipe up to open the Dock.
In the Dock, long-tap another app and drag it onto the left- or right-hand side of the screen.
Working in Split View mode
You can adjust Split View:
To give apps equal space on the screen, place the app divider at the center of the screen.
To enable Split View in Slide Over mode, swipe down from the top of the open app.
To close Split View, drag the divider over the app that you wish to close.
You can find more detailed instructions here.
Android Tip: How to Use Multi-Window Mode
Android 7 Nougat now features a Multi-Window mode that allows users to work with two apps at the same time. For example, you can divide your screen in two so that you can view a webpage on the left and type an email on the right. The exact functionality depends on your device.
Perform the following steps to activate Multi-Window mode:
Click the square button in the bottom right corner, then select and long-tap the desired app. Now you can drag it to the top portion of the screen and activate Multi-Window mode.
Long-tap the same button in the bottom-right corner again and your device will open an overview screen, where you can select another app for joint display.
Multi-Window mode
The Multi-Window mode may be also enabled in the developer options:
Go to Settings and tap About device.
Scroll down to the field with the build number and tap it several times to become a developer (yes, even we are impressed how easy it is!)
Find the Developer options.
Enable the Change the size in the Multi-Window mode.
Restart your device and you are done!
Two-window view
Note that some apps may display incorrectly in Multi-Window mode. For example, Netflix will pause the video when you switch to another app.
To learn more about Multi-Window mode, consult this Android guide.
ABBYY Tip: Drag & Drop in FineReader PDF Mobile and TextGrabber
Did you know that you can drag files between FineReader PDF Mobile and TextGrabber? Drag & Drop in FineReader PDF Mobile enables users to import images and PDFs and export PDFs and recognized files into different iPad apps. Here is how you do it:
Find the document that you wish to add to FineReader PDF Mobile (for example, a photo of a document in the Gallery).
Tap and hold the document and press the Home button at the same time.
Drag the document onto the FineReader PDF Mobile icon and then onto the list of documents.
Release the document. The app will open the image editor, crop the edges, and add a filter. All you need to do now is tap the Save
TextGrabber allows you to import and export texts and images for further recognition. Read below or watch this video to learn more:
Find the document you wish to import or export.
Tap and hold the document and press the Home button at the same time.
Select the app where you want to drag the document.
Drag the file onto the TextGrabber icon and then onto the list of documents.
Release the document.
Drag & Drop in FineReader PDF Mobile
App of the Week: Timehop
Timehop always knows what you did last summer. Or possibly two or three years ago. This app stores all events, photos and videos you take. Timehop is your own personal time capsule.
Timehop comes in three guises: a website, a newsletter with photos, check-ins and texts from the past, and a mobile app with push notifications. It doesn't matter whether you access the platform from the website or from the app. After you install the app, connect your social network accounts, such as Facebook, Twitter, Instagram, etc., and simply enjoy your past. Abe the Dino, the mascot of the app, will send you daily notifications with your posts from last year or the year before last.
The app is available on iOS and Android.
First-Hand Experience: Advice From a Colleague
By Daria Marinina, Manager of Education Projects
Sometimes I come to work with my mind still slumbering, even though I've had my large mug of strong coffee. Here's what I do get myself together.
A good way to wake up completely is to do some exercise routine in the morning. If your work day starts with a business meeting where you are one of the speakers, your organs of speech also need some exercise. Here are a few exercises and tongue twisters to prepare yourself for the day ahead. Surprisingly, yawning is also good for you!
Here are some exercises that we do in our theater classes. They will help you enunciate clearly while speaking:
Lie down, relax, and close your eyes. Imagine a blue sky above you. Only sky, no trees, birds or clouds. Try holding on to this image for five minutes. Do you start seeing birds? It is probably because you are not concentrated enough. Don't worry, you can always try again. You can also imagine a physical object, for example, a chair. If you lose your concentration, the imagined object may vanish.
Divide the space around you into two sections—a so-called circle of laughter and a circle of tears. Every time you step into the first circle you must start laughing and when you step into the second circle, you must cry. It doesn't matter whether your emotions originate in your mind or on your face. With time, you will see that you have become much better at controlling your emotions.
That's all from us for today. Have a great week and see you next Monday!
Subscribe to our newsletter
Enter email and get FineReader PDF Mobile with 1 month premium for free!
Your subscription was successful! Kindly check your mailbox and confirm your subscription. If you don't see the email within a few minutes, check the spam/junk folder.
Your subscription was successful!