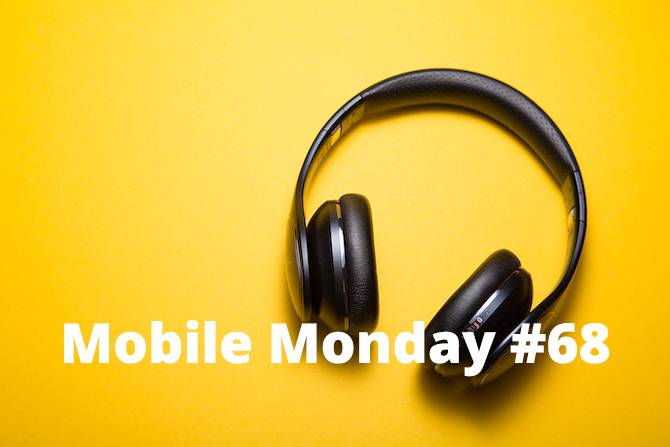 Today's Mobile Monday is all (well, mostly) about music, as we'll be describing some features in Apple Music and Google Music. Also in today's issue: Business Card Reader Android now supports Salesforce and we provide some tips on safeguarding passwords.
iOS Tips: Using Apple Music
Customizing your Apple Music screen
Open Apple Music and tap Edit in the top right corner of the screen. Here you can select sections to be shown when you open the app or remove those that you don't need.
Listen to tracks identified with Shazam
Shazam is a must-have app for any music lover, as it can identify a song in seconds. And you can integrate it with Apple Music!
In Shazam, open the settings screen and tap Connect next to Apple Music. Now any tracks you identify with Shazam will be added to the "My Shazam Tracks" playlist in Apple Music.
You can also ask Siri: "What's this song?" or "Siri, Shazam this song" (note, however, that you won't be able to create a playlist from songs identified via Siri).
Get music recommendations
On the "For You" tab, you will find tracks recommended by Apple Music based on what you've listened to so far. The algorithm is not perfect, but you can make it smarter by manually marking tracks that you have enjoyed (while playing a song, tap the three dots in the right-hand corner of the screen and tell the program if you like the song or not). The more songs you mark, the more relevant tracks will pop up in your list of recommendations.
Go to the artist's page or album
While listening to a track, you may want to find more music by the same artist. To do this, tap the artist's name (that is printed in red) and the app will ask you if you want to go to the artist's page or album.
Listen offline
You can download tracks to be able to listen to them when your device is not connected to the Internet. Note that simply adding a track to your library won't make it available offline, so we recommend enabling automatic downloads. To do this, tap Settings → Music and flick on the Automatic Downloads switch. Now tapping the "+" icon will also download the track.
Android Tip: Using Google Play Music
Shazam? Never heard of it!
On Android, the Music app can also identify songs by listening to music that is playing around you. Just tap the search field and the app will ask you if you want to identify what's playing. Simple!
Select the quality of the stream
If you're on a metered connection, you can switch to Low or Normal music quality. If you have an unlimited data plan, you may want to switch to High or Always High. There's also an option that prevents the phone from downloading anything unless it is connected to a Wi-Fi network.
Feeling lucky?
As you would expect from a Google app, there's also that "I'm feeling lucky" button, which will select tracks based on your listening history.
Watch videos on YouTube
While listening to a track, open its pop-up menu and tap Watch video (the item will only be active if there is a music video for the track).
ABBYY Tip: Exporting Business Cards from BCR for Android to Salesforce
In the latest update for BCR for Android we have added the ability to export your business cards to Salesforce (detailed instructions follow).
Open BCR for Android.
Scan a business card.
Once the app has captured the data from the card, it will ask you where you want to save the data. Select any of the two items that include Salesforce as a destination.
The program will present you with a number of editable fields where you can add or remove data. You can also add more fields by tapping the "+" icon.
When you are done editing, tap the Export button to save your captured business card to the phone memory and to Salesforce.
Download the latest update and save your business cards to Salesforce with just one tap!
App of the Week: Dashlane
It's been some time since we last offered security-related advice in this newsletter. This time around we have found a very handy password manager. It is called Dashlane and will not only securely store your existing passwords, but will also generate new strong passwords, automatically save your sensitive information, and display alerts if it suspects a data security breach.
Dashlane will also scan your inbox for e-mails with new registration data. Should you change your registration data on any website, Dashlane will be aware of the change, so you won't have to make any manual adjustments.
Dashlane is available on iOS and Android.
That's all from us for today. See you next Monday!
P.S. You can find the previous issue of this newsletter here.
Subscribe to our newsletter
Enter email and get FineReader PDF Mobile with 1 month premium for free!
Your subscription was successful! Kindly check your mailbox and confirm your subscription. If you don't see the email within a few minutes, check the spam/junk folder.
Your subscription was successful!