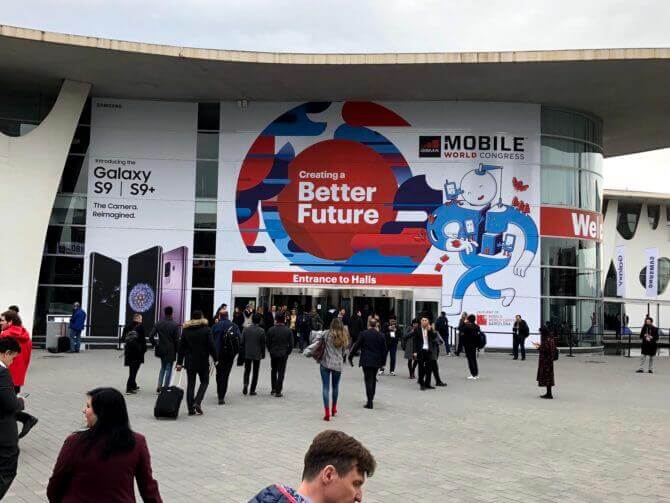 It has been a couple weeks since Mobile World Congress. Now we can look back and answer the questions: out of everything at MWC 2018, what will actually have a lasting impact and what kind of impact will it be?
This year, Barcelona quite literally gave MWC attendees the cold shoulder. The usually sunny city saw snowflakes fall from the sky and the temperature drop. The unseasonably icy weather was matched by the sentiment of the Catalan population. With the region's independence movement silenced last fall, Barcelonans were not happy to see King Felipe VI of Spain who arrived in the city the night before the show. When he landed, protesters filled the streets of the city center stopping the traffic and leaving me and the crew of fellow attendees stranded in one of the neighborhoods. A few people I spoke to noticed similar feelings of unrest throughout the week, which gave the tech show a political and social dimension.
But let's focus on the tech. Here are the absolute highlights of MWC and key trends we are going to hear about throughout the year.
Smartphone Cameras – Samsung Galaxy S9 and S9+
In their ever-accelerating race, smartphone manufacturers continue to bet big on camera. Samsung Galaxy S9 and S9+ announcement was indisputably the biggest highlight of the show. The headline said: "The Camera. Reimagined".
Indeed, S9's rear 12MP camera incorporates a dual aperture lens with both an f1.5 and f2.4 aperture and optical image stabilization. Samsung explains: "Similar to the way the iris of a human eye expands and contracts, Samsung's Dual Aperture (f1.5 – f2.4) automatically lets in more light when it's dark and less light when it's too bright, taking photos that are crisp and clear anytime, anywhere." S9+ offers an additional telephoto sensor and a lens with an f2.4 aperture for wide-angle shots. Both phones come with an 8MP front-facing camera. With these improvements, the camera, clearly angled to compete with iPhone X's, does outperform when it comes to well-lit shots, but low-light photos often look blurry, lack detail and texture.
There is a new video mode too – Super Slo-Mo when the camera captures .2 seconds of real-time video and slows it down to get a 6-second burst at 960 frames per second. The resulting clips look mesmerizing.
The new camera also helps create notorious AR emoji – the half-baked response to Apple's Animoji that lets you create an animated 3D copy of yourself and use it instead of emoji. Unfortunately, as of now, the tech does not work very well – what is supposed to be a digital doppelgänger only vaguely resembles you even after manual personalization, and the facial expressions it produces look anything but human. With that said, Samsung will certainly be updating the feature, and we can expect smarter, more natural looking AR emoji in the future.
Finally, Samsung's AI assistant Bixby now offers new handy functionality using the S9 camera. Bixby Vision lets you translate text by pointing your camera at it (just like our TextGrabber), try makeup looks and view calorie count of the food in the shot.
In addition to that, the Korean giant's new smartphones received new color schemes, slimmer bezels, and a brighter screen. The fingerprint sensor has finally been moved to a comfortable spot below the camera module. The devices now boast intelligent scan, the new identification system that combines two biometric authenticators: iris scanner and facial recognition, to achieve higher security. When it comes to audio and sound quality, Galaxy S9 has received better speakers and still has a headphone jack, for those of us who hate dealing with adapters.
Overall, S9 is a beautiful device with a premium feel and top-notch tech inside. The outstanding camera, new lightning-fast Qualcomm processor, and wireless charging make it a pleasure to use. However, compared to Galaxy S8, S8+ and Note 8, the improvements are incremental, so if you have those, there is really no reason to upgrade considering the hefty price tag ($719.99 for S9 and $839.99 for S9+).
Other noteworthy phones at MWC included the pretty solid Nokia 8 Sirocco and nostalgic Nokia 8110 4G (more on that below), Sony Xperia XZ2 and XZ2 Compact, Asus ZenFone 5 with the proverbial notch, and Vivo Apex concept phone with a fingerprint sensor built into the screen and a selfie camera that pops up like a piece of toast.
Nokia's nostalgia
After last year's success when the sales of the indestructible Nokia 3310 exceeded expectations, Nokia continued to appeal to our nostalgia for the simpler days. At MWC 2018, HTC Global, the company making Nokia's smartphones, unveiled Nokia 8110 4G aka "the banana phone" – the beloved slider now equipped with 4G connectivity, a 2MP rear camera, and a Qualcomm 205 SoC processor. It is meant to be an affordable companion on vacation when you want to do a digital detox while still staying connected.
5G
After mobile, 5G was probably the most used term at  MWC 2018. The technology behind the next-generation mobile network was talked about back in 2017 too, but this year, the overall impression is that 5G is going from hype to reality. Field-testing of 5G-enabled devices is already in progress in a few locations around the world. The first 5G smartphones will come to market next year, but there is a possibility that the coverage won't be that great and batteries won't last long.
However, when the technology matures, it will bring us a faster, more reliable and comprehensive network that will easily handle the rapidly growing number of connected devices with no communication delay. With connected drones, robots and farm silos exchanging data, this all sounds very promising. For example, Ericsson's AR demo showed us that using 5G we can create immersive AR experiences with thinner glasses you actually do not mind wearing. The sleek R-9 glasses from ODG do not have the processing power required for the experience, but they can offload that work to a server using 5G, and the speed and responsiveness will be comparable to what can be done on the device.
Blockchain and Cryptocurrency
This year, everyone in Barcelona talked about blockchain – in contrast to MWC 2017, when the hype was just starting. Today a lot of people think that blockchain has the potential to change everything, disrupt almost every area of our lives. Many mines and/or trade cryptocurrency. Especially for them, German cybersecurity firm Sikur created SIKURPhone, the first fully encrypted phone with a cryptocurrency wallet launched at MWC. The phone runs a highly modified version of Android and is advertised to be "hack-proof".
Cars
Just like the majority of recent tech shows, MWC 2018 saw a wide variety of transportation and automotive tech representing the industry. BMW showcased their autonomous electric car i3 that you can summon using your smartphone. Once you take a seat in the back, you are free to relax and enjoy the entertainment system, while the car drives you wherever you need to be – during the demo no one was at the drivers or front seat monitoring the process. The vehicle also lets you control some of the systems from the backseat like the doors, horn and headlight flasher. When you arrive at your destination, you can just get out, lock the doors and go about your business – the car will find a parking spot and park itself.
Huawei demonstrated that their flagship smartphone Mate 10 Pro is smart enough to drive a Porsche. Media had an opportunity to take a ride in a Porsche Panamera with a smartphone "in the driver's seat". The project was designed to show off the processing power of Huawei's most advanced smartphone chip Kirin 970, which features real-time on-device AI. In preparation for the demo, the engine was fed over a million images and taught to recognize 1,000 objects. During the ride, Huawei staff put cardboard cutouts of different objects, people and animals in front of the car, the high-speed camera on the roof provided a constant live video feed to the phone, the engine recognized what it saw, and the car maneuvered around the obstacles using simple robots controlling its systems. "This is purely a showcase of what the phone today is capable of," commented Arne Herkelmann, European head of handset portfolio and planning for Huawei. And, although the car moved extremely slow – 5 to 30 mph, the demo was pretty impressive considering it was put together in just 5 weeks.
Next-Gen Materials
There was something else really noteworthy showcased at MWC 2018 that did not come from a major smartphone company, a tech giant or a car manufacturer. It was a product of a European research initiative – the new-generation ultra-light and flexible material called graphene.
Graphene is 200 times stronger than steel and lighter than paper, which makes it very well suited for a variety of tech applications such as noninvasive nerve sensors, which will make the future generation of prosthetics more comfortable and responsive; a wide-spectrum graphene light camera that can see details invisible to the human eye; a seemingly transparent screen, which will be used for touch interfaces of the future. These were all developed by European universities as part of Graphene Flagship, a €1B research initiative, and will soon be commercialized.
To sum up, while there was a lot of amazing tech at MWC 2018, the show will mostly be remembered for the political unrest and snowy weather. Even the biggest product announcement (Samsung Galaxy S9) highlighted incremental, not breakthrough updates. LG brought a revamped version of V30, Lenovo and Huawei launched laptops instead of phones, and HTC had nothing new at all.
That said, it was still a great opportunity to get the big picture, observe the trends that are going to unfold in the months to come and, of course, get together with friends and like-minded people from all over the world (while ABBYY Business Card Reader helped to add them to my Contacts), surrounded by innovative tech and the historic beauty of Barcelona. This is why we love MWC and are already looking forward to next year's show.
Subscribe to our newsletter
Enter email and get FineScanner with 1 month premium for free!
Your subscription was successful! Kindly check your mailbox and confirm your subscription. If you don't see the email within a few minutes, check the spam/junk folder.
Your subscription was successful!