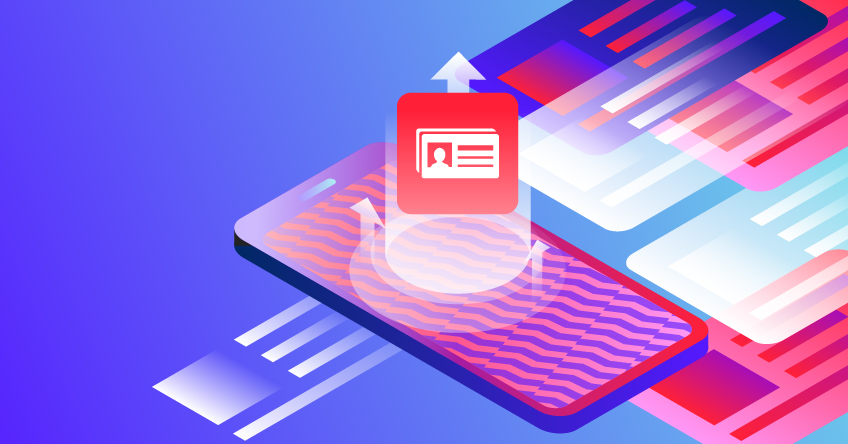 Business Card Reader for Android is now available with the most significant update in recent years. We redesigned the app, improved the code, made familiar features better, and added something new.
BCR for Android now has an absolutely new design—modern and light, and includes new interface animations.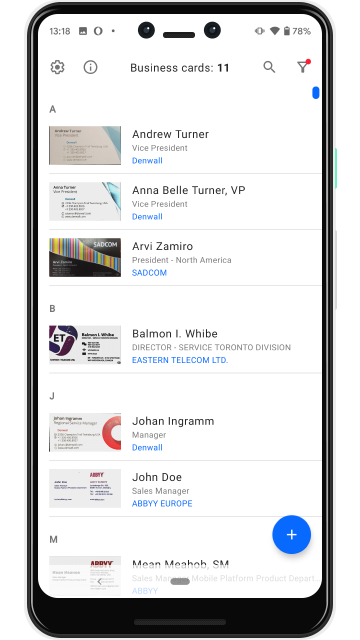 Sorting and groups were moved to a separate screen, which you can open by pressing the button in the upper right corner. You can sort business cards by first name, last name, company, and date. Don't forget to add contacts to groups, so you can navigate the cardholder more easily.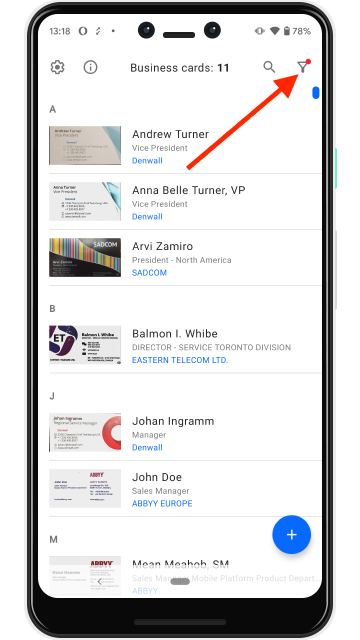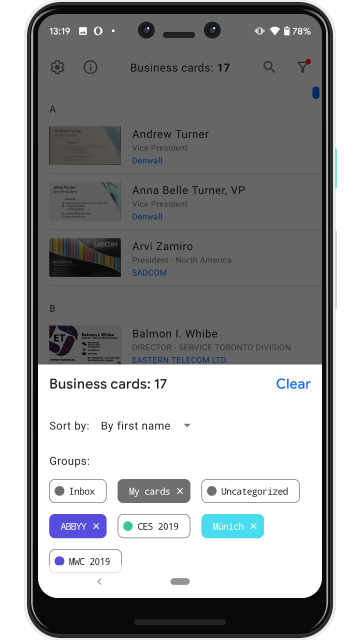 The dark mode is finally available in BCR Android—better late than never. It's suitable for working in low light conditions or just for fans of dark mode interfaces.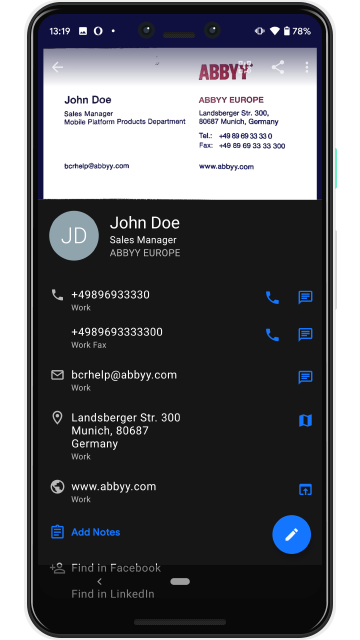 You can now share a contact using a quick response (QR) code. Just tap the QR code icon in the contact's card or choose the QR code in the sharing options. Show the QR code on your screen and suggest scanning it with a camera or a QR reader app. The contact will be added to the device phone book. This QR code can also be sent as a JPG image. You can, for example, add it to your paper business card or a website.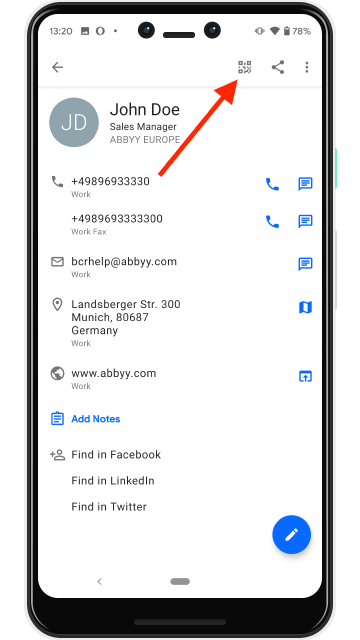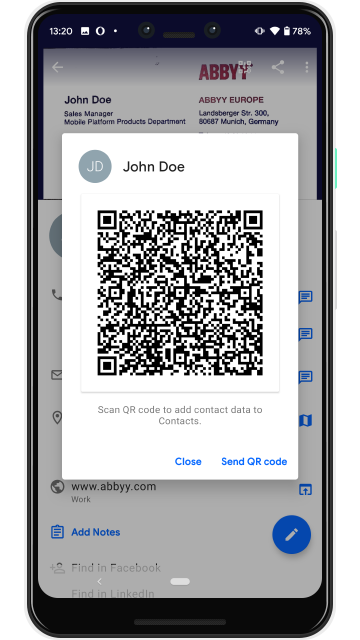 If you need to easily copy contact data to fill out forms, you can share a business card as a text.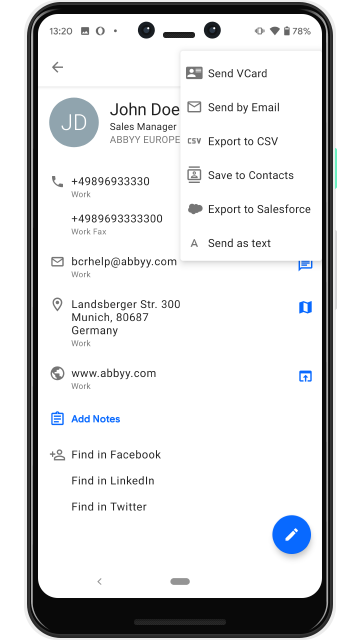 Export to Salesforce CRM is now more advanced. Contact data can be exported to Salesforce not only as a Salesforce Lead, but also as a Salesforce Contact.
If you export a business card to the default Contacts app, you will be able to open this contact in BCR in one tap.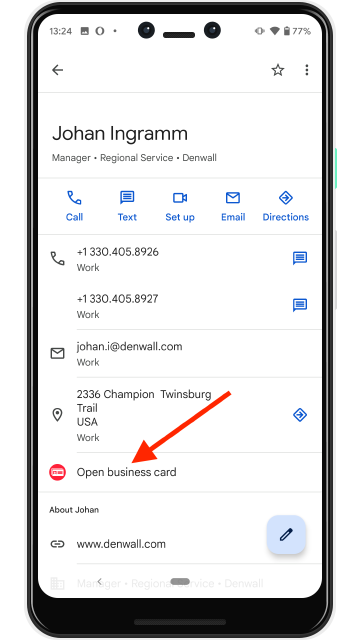 Importing a business card photo is also more convenient now. We implemented BCR to a system sharing menu so that you can import an image from any third-party app.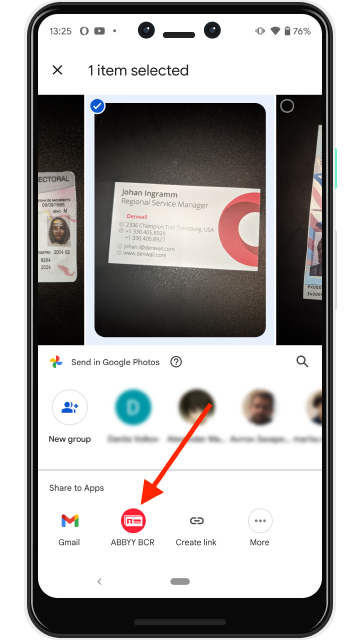 Contacts in .vcf (vCard) format can be imported to BCR from any app that supports vCard. For example, you can move contacts from a device phone book or other contacts' manager app to BCR. To try it, go to a default Contacts app, tap Share, and choose BCR—the contact will be imported to BCR.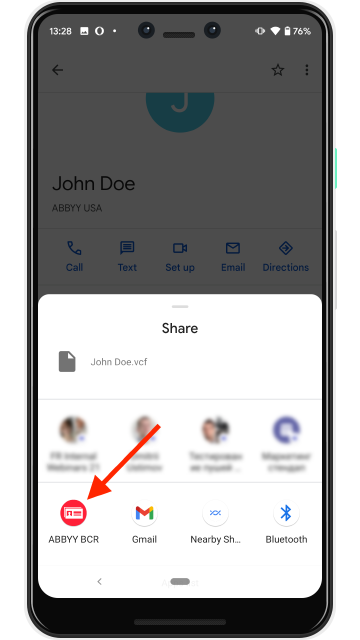 Contacts search has become more flexible. You can now search not only by name, company, and notes, but also by email, phone number, website, and address.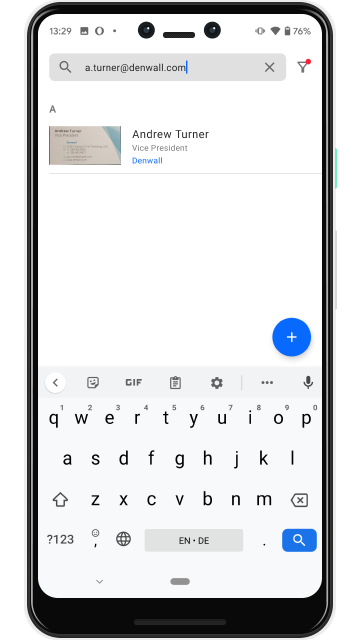 And, of course, we've fixed old bugs and optimized the app. We reduced the size of BCR and made some recognition languages downloadable. Previous versions had all optical character recognition (OCR) languages installed by default. Now, six languages are downloaded with the app. The other 19 languages can be downloaded by the tap of a button.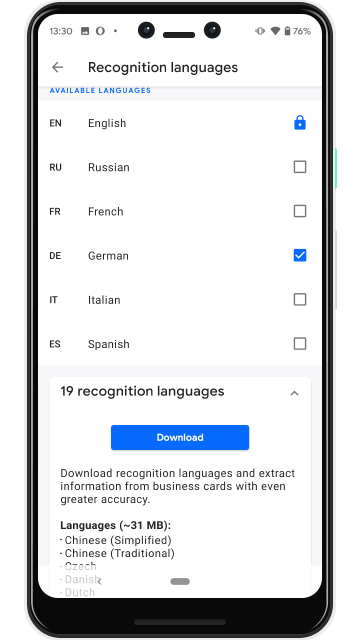 Don't forget to turn on the synchronization to ensure you never lose a contact, and to always have access from any device or in browsers via abbyybcr.com. Go to Settings, navigate to ABBYY Account, and login/register to activate the synchronization. You can login to your ABBYY Account on any device with BCR, and your contacts will be uploaded in a few moments.
Subscribe to our newsletter
Enter email and get FineReader PDF Mobile with 1 month premium for free!
Your subscription was successful! Kindly check your mailbox and confirm your subscription. If you don't see the email within a few minutes, check the spam/junk folder.
Your subscription was successful!