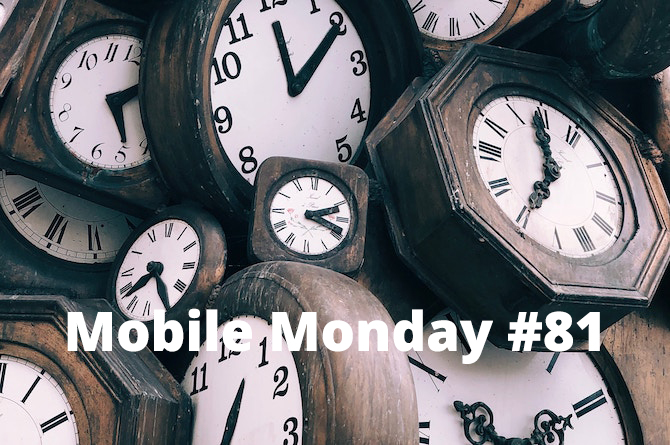 In today's issue, we'll talk about new features in the latest Safari and Chrome browsers for iOS and Android respectively. We'll also talk about copying text from a TextGrabber note in one tap and show you a time zone app.
iOS Tip: A New Button in Safari for iOS 12.2
Apple's browser has a feature that offers users the most popular suggestions for their search queries. Often, the phrases cannot be displayed in full, especially on smaller screens, like that of the iPhone SE. Sometimes, after selecting a suggestion, it could turn out that what you ended up with was not what you were looking for. Then, you had to go back, edit your query, and tap the search button again. However, Apple's iOS 12.2 update now makes it possible for the user to not have to go through this extra step.
The search menu now has an extra button in the shape of a blue arrow. When tapped, it will enter the query suggestion into the search bar without initiating the search itself. The suggestion can then be checked and edited if necessary.
Android Tip: The Long-Awaited Dark Theme for Chrome
Recently, there has been a popular trend of introducing dark themes almost everywhere — from programs to operating systems. In the next Android operating system, Android 10 (also named Android Q), we will see a fully-fledged dark theme as one of its features. In the meantime, it looks like Google has decided to start small and test the waters by implementing a Dark Mode for their browser.
Enabling Dark Mode in Chrome
To enable Dark Mode, your Chrome browser must be version 74 or later.
A little bit of work is also required to enable the dark theme itself:
Enter chrome://flags into the address bar of your browser to access the special settings page.
Tap the search bar at the top and enter the following: Android Chrome UI dark mode.
Tap the shown parameter.
Change the setting from "default" to "enabled."
Restart the browser.
The "Settings" section in Chrome will now have a Dark Mode option.
Voilà! You can now enjoy your browsing in a trendy dark theme.
Be aware that the Dark Mode parameter can take some time to appear in the settings. You might have to reset your Chrome browser more than once.
Naturally, once Android 10 is released, this process will be much easier. For now, Dark Mode is still in testing.
ABBYY Tip: Copying Text from TextGrabber in One Tap
Often, you might need to copy the text you have recognized with TextGrabber, so that you can send it via email, social networks, or messengers. Most of us probably do it by using the "Select all" option that appears when tapping the text. But did you know that TextGrabber had a special button that you can use to select all the text from a note in one go?
iOS
If you're using TextGrabber on an iPhone, tap the three dots in the upper left corner, which will open the utility menu. There, tap the button to the right of the "Close" icon. That's all — the text will now be copied to the clipboard. You will also receive an additional notification about this in a pop-up window.
For more information about the clipboard, see this edition of the newsletter.
Android
In the note view window in TextGrabber, tap the "Share" icon in the upper right corner. The button you are looking for is located there and is called "Copy." And just like that, it's done — all of the text has been copied to the clipboard. 🙂
App of the Week: Klok
If you travel a lot and need to know local time in different countries, we recommend trying an app called Klok – Time Zone Converter. The app itself is simple and useful, allowing you to add up to five locations around the world. You can also choose one of two display modes — analog or digital.
However, the app's most important feature is its widget. Its minimalistic design will make it fit in perfectly with your other widgets. Now, you will always know both the local time and the time back home, regardless of where you are in the world.
You can download Klok for iOS here.
That's all, folks! See you next time!
Subscribe to our newsletter
Enter email and get FineScanner with 1 month premium for free!
Your subscription was successful! Kindly check your mailbox and confirm your subscription. If you don't see the email within a few minutes, check the spam/junk folder.
Your subscription was successful!