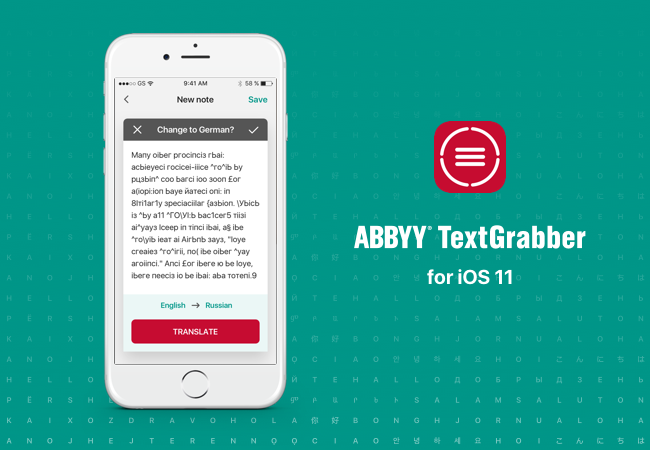 It's been several days since the release of iOS 11, many of you have already explored the new OS and are now watching with interest how well other apps are configured for it. Today we will tell you about TextGrabber.
Anticipating the release of iOS 11, we added two new features to TextGrabber — automatic language detection and Drag & Drop on iPads. Here are some details.
Language detection
Ever had poor recognition result due to the wrong language selected? Now we've taught TextGrabber to select the right language for you! The app will choose the most probable language when you recognize a text (if the results turn out to be all wrong, it will put you back in control and suggest choosing the language manually). The technology works particularly well for languages within the same linguistic group. Just try it once and you'll see that it really works!
Drag & Drop
What is it? It's a way to import and export texts and images that you want to capture or translate using just two fingers! Grab, drag, release! Here's more detailed instructions:
Select the document you want to export or import.
While holding it, press the "Home" button.
Select the TextGrabber app where you want to drop the document.
Drag the document to the app icon and then to the list of documents.
Release the document. Done! Now you can recognize the text or email the result.
We've made a small video to show you how easy it is:
Please share your impressions of the new iOS 11 on the TextGrabber page in the App Store. We carefully read all reviews and try to respond to all questions. And most important, we use your feedback translates into new features and improvements!
P.S. The coolest sale of the year is approaching! We are getting ready for it at full speed, and advise you to keep up! Leave your e-mail on our black-black landing page and be the first to know about the beginning of the sale!
Russian
Subscribe to our newsletter
Enter email and get FineScanner with 1 month premium for free!
Your subscription was successful! Kindly check your mailbox and confirm your subscription. If you don't see the email within a few minutes, check the spam/junk folder.
Your subscription was successful!