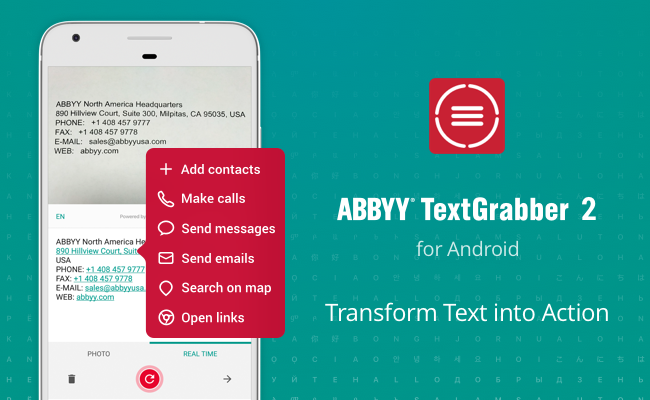 Today we proudly present our completely new TextGrabber Android. You'll be amazed. Like its iOS sibling released in June, the Android version can now recognize texts on the fly thanks to our cool new technology, Real-Time Recognition!
RTR technology can recognize any text you see on the screen of your camera—you don't even need to take a picture or crop excess background. Just start your phone camera, point it to any small text fragment, and RTR will immediately recognize it and show you the result. You can use captured text right away. If it's a phone number, you can dial it; if it's somebody's email, you can send them a message; if it's an address, you can get route directions to that address. Here's how it works:
RTR can handle texts on any surface: product labels, electricity meters, computer screens, passports, payment orders, you name it. Unique feature: the app can read texts in more than 60 languages even if you're offline.
For larger text fragments, you can still take snapshots. We have improved the crop tool, which now uses 8 points instead of 2 to adjust the edges:
Captured text can be immediately translated into any of the 100+ supported languages to give you a general idea of what it is about. If you are not sure what language you're looking at (e.g. can't choose between Chinese traditional and Chinese simplified), select "Auto" and let the technology do the guessing.
As you will have noticed in the video, besides the amazing new tech, we've also redesigned the app to give it a sleeker new Android look. The iOS and Android versions of TextGrabber are not that different, so you can comfortably continue using the app even if you decide to migrate from one platform to the other. To save a note, you now tap on the check mark in the top right corner of the screen:
You can merge multiple notes into one, specifying their order:
To start adding notes, tap the "Plus" button at the bottom of the "Notes" screen.
With the more powerful OCR technology, the app now works faster, while preserving support for Text-To-Speech apps.
So why wait? Upgrade to version 2.0 or download the new TextGrabber from Google Play and enjoy the latest in mobile OCR!
All feedback will be greatly appreciated.
P.S. From 12 till 17 December you can get TextGrabber with 70% OFF! Hurry up and get the app! :)
P.P.S. Christmas is coming and we already have a present for you! Look at our fantastic Christmas landing page and leave an email to be the first to know about the start of our New Year Sale!
Subscribe to our newsletter
Enter email and get FineReader PDF Mobile with 1 month premium for free!
Your subscription was successful! Kindly check your mailbox and confirm your subscription. If you don't see the email within a few minutes, check the spam/junk folder.
Your subscription was successful!