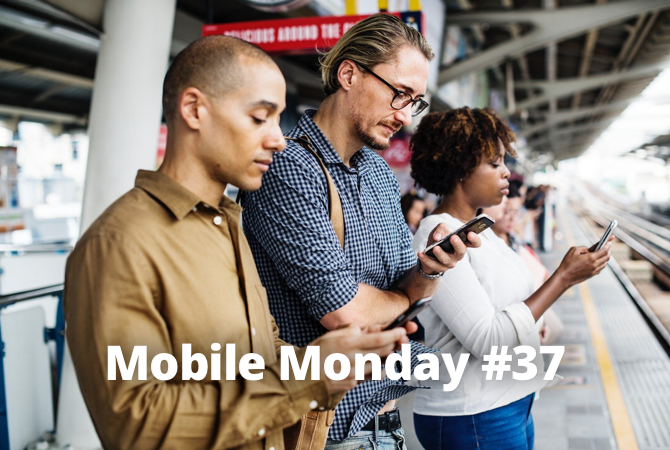 Today 52% of users worldwide prefer smartphones to desktop computers, with the average user spending 6 hours online daily. We're going to tell you how to kick the gadget addiction, reveal fast actions in TextGrabber, manage passwords like a pro.
In this day and age, man and phone are inseparable, and as phones are getting smarter and smarter, they are becoming increasingly indispensable. Modern smartphones boast so many useful features (not necessarily related to making phone calls) that many people cannot function normally without their beloved gadgets. So much so that a new kind of phobia has evolved, termed nomophobia.
Here's a few tips on how not succumb to this new hi-tech ailment:
Install only apps that you really.
Whittle down the number of time-killing games to one or two.
Prefer old-fashioned paper books to e-books.
When at home, put the phone somewhere else than your pocket.
Be aware of your surroundings. When you are in the company of your friends, put the phone away and enjoy real-life conversation.
iOS Tip: How to Combat Gadget Addiction
If you think it's time to say "No" to your smartphone, you may wish to try Moment, an app that will calculate how much time you spend with your phone, log the time, place and duration of your phone activities, collect statistics for each opened app, and generally help you manage your time more efficiently.
The Pro version of the app allows you to set a daily cap on your phone use. When you have used up the allotted time, the app will start sending you push notifications trying to bring you back into the offline world. You can also program your phone to switch off for a certain period of time.
You can also enable the Moment Family option, allowing you to track phone usage by your family. Planning a family dinner? With Moment Family, you can lock the phones and tablets of all of your family who are going to attend!
Another way to make your iPhone less enticing is to switch it to "Greyscale" mode (see our previous newsletter for a detailed description).
Apple has recently announced iOS 12 with the new Screen Time feature. It allows users to see how much time is spent in each application and how many times per hour on average a smartphone or tablet is launched. On top of that, it enables owners of Apple devices to set daily time limits during which apps can be used—both for themselves and their children connected to Family Sharing.
Android Tip: How to Combat Gadget Addiction
There is a similar app for Android called Menthal. Its developers promise that it will help you overcome your nomophobia and spend less time with your smartphone. Before you can start using the app you must register and wait for your details to be added to the general registry of participants. Menthal analyses your phone activities to find out which apps you use and for how long.
Another interesting feature is the mood meter. Twice a day, Menthal will query you about your mood and log your answers.
Combining your mood log with your phone usage statistics, Menthal will gauge your mental health. For instance, if you spend an extended period of time with your friends without checking your phone, Menthal will assume that you're in good cheer and having a good time.
ABBYY Tip: Some Useful Shortcuts in TextGrabber
Did you know that TextGrabber, allows you to perform some common actions with just a few taps? For example, there's a quick way to make a phone call, send an email, open a URL or create a route on the map. And all this without typing addresses, phone numbers, or locations!
Instructions for iPhone users:
Open TextGrabber and select the Real Time mode on the camera screen.
Point the camera to the text fragment containing the desired street address, phone number or email (e.g. on a flier or business card), tap the camera button, and wait half a second.
Et voila! The recognized data appears on screen. Click the green text to send someone an e-mail, make a phone call, or find a location on the map. Watch this video to see how it works:
Instructions for Android users:
Open TextGrabber and select the Video mode in the camera screen.
Point the camera to the text fragment containing the desired address, phone number or email, tap the camera button, and wait a little.
Et voila! The recognized data appears on screen. Click the green text to send someone an e-mail, make a phone call, or find a location on the map. Watch this video to see how it works:
App of the Week: 1Password
Reliable passwords are very hard to remember. If you're still jotting down your passwords or saving them in note taking apps, it's time you tried 1Password. With this app installed, you will no longer need to lock away your notepad in a safe and then hide the key in a secure location.
The app is available on all popular platforms — Mac, Windows, iOS, and Android. You can use 1Password free of charge for the first 30 days. When the trial expires, you will need to purchase a subscription. The app can be used to securely store your passwords, credit card details, data from your ID card, software licenses, and protected notes. The service can generate strong passwords, store them, and sync the stored data across all of your devices via Dropbox, iCloud, and Wi-Fi Sync. 1Password allows you to import your passwords and other sensitive data from another location. There's also a browser extension enabling you to save and enter passwords in your browser automatically.
First-Hand Experience: Advice From a Colleague
By Anton Zakharenkov, UX Designer
How to Do a Bunny Hop
Recently, many office workers in Moscow took part in Bike to Work Day, and today I'm going to teach you a nifty trick called bunny hop that will help you negotiate kerbs and raised pavements much more efficiently.
Bunny hop is one of the very first tricks that any advanced cyclist has to master. Once you've learned bunny-hopping, kerbs will no longer be nasty obstacles but additional en-route entertainment, and getting from A to B will become faster.
The method is called "bunny hop" because when executed properly, your bike jumps like a hare as you first lift the front wheel and then pull up the back wheel.
The best way to master the Bunny Hop is in two stages:
First, you need to learn to lift the front wheel 50 to 100 from the ground while maintaining full control of your bike so as not to flip over backwards.
Next, practise lifting the rear wheel as if pulling it up towards the front of the bike. To achieve this, wait until the front wheel reaches its maximum height, stretch out your arms while maintaining a firm grip on the handlebar and pull up your legs.
Watch some videos on YouTube to get a better idea and see how your body weight shifts as you execute the trick. I recommend that your practice on grass and wear protection, just to be on the safe side. Start by trying to jump over some small stick and when you are confident enough, try some real kerbs.
That's all from us for today. See you next Monday!
P.S. You can find the previous issue of this newsletter here.
Subscribe to our newsletter
Enter email and get FineReader PDF Mobile with 1 month premium for free!
Your subscription was successful! Kindly check your mailbox and confirm your subscription. If you don't see the email within a few minutes, check the spam/junk folder.
Your subscription was successful!