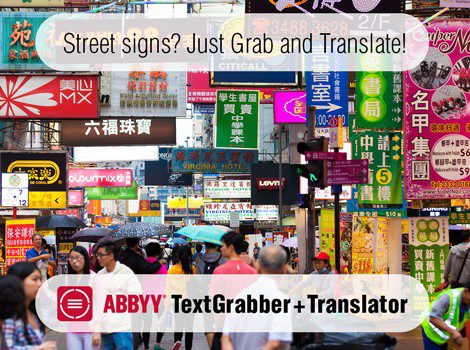 I don't know about you, but sometimes I feel like my words go out to the world and I never get genuine feedback on what people think (well, some friends give me too much "genuine" feedback).
For all the places I've gone, the faces I've seen, the amazing food I've tasted, the best part of traveling is having great positive experiences. Not understanding the language in some countries I travel to can be a challenge sometimes, however. That's why ABBYY's award winning TextGrabber + Translator app is always of value to me, and countless others around the world.
For example - One of our readers wrote to us recently about how stressed he was, not having a grasp of the language, when traveling to China for work. Let's face it - we've all been there, whether we travel for work or pleasure… or both. He said TextGrabber helped him quickly translate hotel rules, important signs and menus… all on his phone.
Why do legions of people around the world love ABBYY's TextGrabber + Translator app? Because it's so easy to use - the app quickly extracts text from a variety of printed sources, such as books, magazines, ads, timetables, etc. by using the device's camera.  With its quick text capture (60+ languages) and translation (70+ languages – that's over twice as many languages as other translation apps!) you can digitize printed information and translate it into your native language anywhere, anytime.
We are very excited that Text Grabber + Translator, has been so well received in China, the U.S. and numerous other countries. It is such an amazing accomplishment.
So, go out and enjoy the world knowing that ABBYY's TextGrabber is here to help you connect and make the most of your travels.
Subscribe to our newsletter
Enter email and get FineReader PDF Mobile with 1 month premium for free!
Your subscription was successful! Kindly check your mailbox and confirm your subscription. If you don't see the email within a few minutes, check the spam/junk folder.
Your subscription was successful!