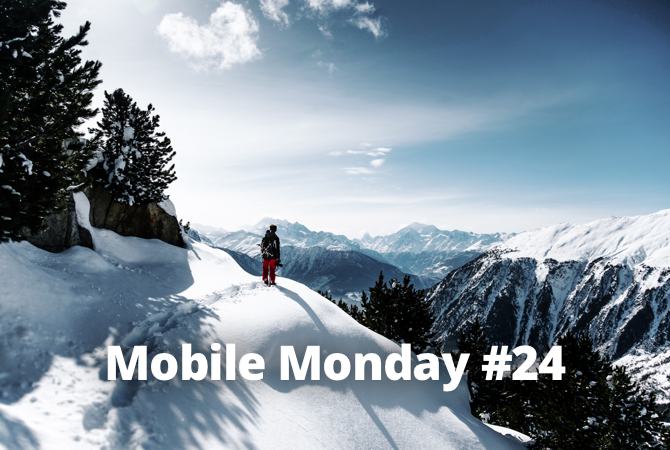 It is difficult to read on some websites, that do not have a mobile version. Have you heard of Reader mode in browser? Let's have a look what it is. Also we'll enable an auto download to cloud from FineScanner.
iOS Tip: How to Enable Reader Mode in Safari
Quite often we come across visually "heavy" sites, often not even adapted for mobile devices. The Reader Mode exists just for such cases. It selects only the text of the article you are interested in and ignores the other elements of the site.
So, where is the reading mode on the iPhone and iPad? Next to the address bar, to the left, there is a button in the form of several lines — that's what we need.
In the Reader Mode, the "aA" button appears in the address bar on the right. It allows you to adjust certain settings, such as:
Change the font size (occurs with the tap on "a" or "A").
Change the color theme — four to choose from, and night mode is also there.
Change the font — also a few to choose from.
If you change the settings, the system will remember them and apply them to all pages you open later.
So, the Reader Mode has several advantages: the articles are displayed in a convenient and clear manner, nothing superfluous, bright advertisements do not interfere with reading, and text can be changed to a bigger font, so as not to strain your eyes too much. On the other hand, comments to some articles are inaccessible — to read them, you have to go to a normal mode.
Android Tip. How to Enable Reader in Chrome
Chrome also has a read mode, although turning it on is slightly more difficult than on iOS. Here's what you need to do:
Type "chrome: // flags" in the address bar.
Find the item Enable Reader Mode Toolbar Icon.
Click Enable.
Restart the browser.
Now, when you go to the article page, an icon with the letter "A" appears to the right of the address bar, and you can go into the Reader Mode.
ABBYY Tip. Ship Documents to the Cloud From FineScanner iOS
In order not to suffer from manual sending recognized documents from FineScanner to the cloud each time, you can immediately configure auto-forwarding to your favorite cloud service (from those that support FineScanner iOS). Here is how it's done:
Go to FineScanner Settings — Cloud services.
Choose any service from the list.
Enter your login and password.
Tap Auto-sending in, select the cloud and the size of the sent PDF.
Done! Now all documents recognized in FineScanner will be automatically sent to the cloud.
App of the Week. FireChat — Limitless Communication
Mobile app stores are full of various messengers — from the standard Facebook Messenger to WhatsApp, which is utilized by more than a billion people. All of them require an internet connection, which is not always a given, especially in rural areas. Fortunately, FireChat allows you to message your friends even in locations where the network is lacking or overwhelmed (for instance, underground, on a concert or a football match). The only thing you need to do is turn on the Bluetooth.
The Multipeer Connectivity Framework technology enables the interaction of devices from differing networks: for example, in a situation where one user has both Wi-Fi and Bluetooth, the other — only Bluetooth, and the third only has Wi-Fi, all of them will be able to communicate. FireChat will also pleasantly surprise anyone interested in maintaining their anonymity, as an authorization is not required. All you need to do is choose a login (which does not even have to be unique) and you are all set. There is no need to verify anything via email and neither chat history or limits on username changes are present.
FireChat is available for both iOS and Android.
First-Hand Experience: Advice From a Colleague
Shared by Sergei Harchenko, iOS developer
Mountains are an all-year-round R&R destination providing both breathtaking beauty and danger, oftentimes of the least expected kind. Skiing and snowboarding remain the most popular activities. If you either lack the skill or the desire to do that, you could simply go to any mountain resort, get to the top and enjoy the view, and return via the ropeway or the paraplane. Being literally above the clouds is certainly a wonderful feeling. Still, it is highly recommended to use a snowboard or ski to get back down.
The runs are always clearly marked and you can choose according to your skill level. They are much like roads, merely without any kind of airbag in sight, so drive safely. The human factor is the main danger, as you well know.
The freeriding — the practice of skiing/snowboarding outside of the pistes — are another beast entirely. They offer a completely different experience, and I personally prefer it to "traditional" methods. The main upsides are the extremely low probability to hit someone or get hit, the far greater speed and the abundance of snow to cushion your landings. Freeriding is also far more aesthetically satisfying, with each descent completely unlike anything you experienced previously. Still, the risks are there, and you shouldn't get too far from the known areas without a couple of people who know the run. There's also the freeriding in completely wild places, which requires extra equipment (GPS, spades, etc) and an experienced group alongside a guide
The reason why I chose this topic is the fact that it's the ski season and I've just got back from Rose Hutor (which I personally recommend). At this point, I have been to three resorts (Gudauri, Elbrus, and Rosa Hutor) and each of them has a unique atmosphere. If you're a beginner, Gudauri will give you a great start to your skiing or snowboarding career. In case you are a grizzled pro-Elbrus will provide some challenge. Rose Hutor, on the other hand, has roads for both novices and professionals. Winter brings the cold, but also the opportunity for unforgettable experiences!
That's the end of our Mobile Week! As we promised, here is the contest. You read five issues of Mobile Mondays, learned some new tricks, or had fun at least (we certainly did). Now, to participate in our contest, please write in comments below, what issue from Mobile Week you like the most and why is it so? Maybe you discovered some cool mobile features from our newsletter, or found an interesting app — it can be anything. First ten participants will receive a promo code for any our app (FineScanner, TextGrabber or Business Card Reader). 
P.S. The previous issue is here.
Subscribe to our newsletter
Enter email and get FineReader PDF Mobile with 1 month premium for free!
Your subscription was successful! Kindly check your mailbox and confirm your subscription. If you don't see the email within a few minutes, check the spam/junk folder.
Your subscription was successful!