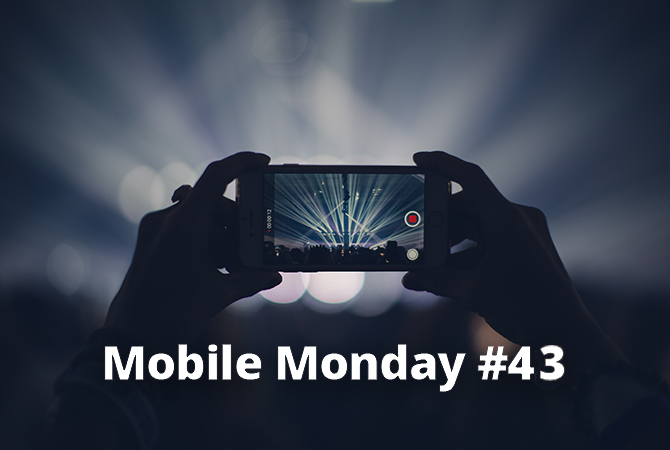 Our lives are full of events and sometimes you wish you had a camera with you. But we all know that it's not that convenient to carry the optical instrument around all the time. Today we are discussing how to record videos on your smartphone, scanning BCR contacts or adding them manually, and renting a bicycle.
iOS Tip: Recording Videos on iPhone
What can be easier than recording a video on your iPhone? Yes, it is quite simple but let's explore video recording settings and take a look at a few useful features. And by the way, we've already discussed how to take photos so you can probably get back to the previous issue and get yourself up to speed.
Resolution and FPS
iOS camera has 4 video recording options. To configure video resolution and frames per seconds, go to Settings > Camera > Record Video:
720p at 30 fps
1080p at 30 fps
1080p at 60 fps
4K at 30 fps (this option is available on iPhone 6S, 6S Plus, and newer models)
So how do you select a mode?
When choosing a recording mode bear in mind the memory available on your device. If you have less than 64 Gb at your disposal, 4К won't be your option. One minute in this resolution will take up 350 Mb. This means you will only be able to store 45–50 minutes of video, which is obviously not a lot.
The optimal option for most devices is 1080p at 60 fps. This mode lets you record FullHD videos that can be shown on all modern TVs and retain the smoothness of your recording.
Want to record a video of cute cats? Opt for 720р at 30 fps. This will suffice to watch your video at any smartphone and won't make your file too heavy.
This is no secret that iPhone is widely used to record commercials, music videos, and even movies. To become a professional cameraman, take the smartphone with the largest capacity and enable the 4К at 30 fps mode in settings. 4К TVs are not yet common, but such high resolution is required for post-processing and framing without any loss of quality. Obviously, 4К videos are easier to adapt for cinemas and television.
Slo-mo
The most impressive videos are usually recorded in the slo-mo mode. iPhone allows you to configure the resolution and number of frames per second for slow-motion videos. To do this, go to Settings > Camera > Slo-mo and select one of the following options:
1080р at 120 fps
720р at 240 fps
The more frames per seconds are used, the smoother and slower a video will be. Such files tend to take up considerable space—350 Mb/min and 300 Mb/min depending on settings. However, they are mostly short.
You've probably noticed that the slo-mo mode makes a video very dark if there's not enough light around. This is caused by default settings— the diaphragm almost fully closes and does not permit light through.
But enough with technical aspects. Have you ever noticed a white spot in the bottom-left corner in the video mode? Do you know its purpose? The answer is simple. It lets you take photos during video recording.
Android Tip: Recording Videos on Android Devices
Android devices have plenty of capabilities for photo and video recording, but it's up to you how to use this vast variety of functions. It's a real trump card for both amateur and professional operators.
It's close to impossible to describe functions if each smartphone producer. Today we decided to discuss the Samsung Galaxy S9 and how to record videos using this device. From our perspective, it has an impressive built-in camera that makes videos bright and vivid.
Galaxy S9 offers 8 video recording modes. To go to settings, tap the cog icon while in the camera mode.
Below are some available video recording modes:
4K at 60 fps
5:9 with the 2224х1080 resolution (a movie format that gains popularity among smartphone users)
1:1 with the 1440х1440 resolution
Here's an example of a 4К video:
The slo-mo mode lets you record awesome videos at 960 fps and in the 720р resolution. This makes slo-mo videos look smooth and epic. See for yourselves:
The Samsung device also allows you to apply masks to a video—just like in Snapchat. To become a kitten, select the Selfie Emoji mode and choose a mask from the list.
Photo taking modes are easy to change: simply swipe left or right at the top of the screen to swap between modes.
Galaxy S9 also lets you pause video recording. With this feature, you will be able to record a small clip with the change of scenes without having to post-edit the video.
ABBYY Tip: To Scan or Not to Scan?
Our beloved Business Card Reader is about to celebrate its 10th iOS anniversary. All these years users have been debating how to input data to the app: to scan a business card or rather to add all the data manually. But enough talking, let's get down straight to business!
Here are a couple of features of this app:
It allows you to find a person on Facebook or LinkedIn and load their profile picture to the business card
If you ran out of paper business cards, send one from BCR
The entire BCR contact base can be exported to an Excel file
You can search not only by name and surname but also by company, place where you got acquainted, card creation date, and group where the card is stored
All your business cards are accessible from your laptop thanks to the web version of BCR
Business cards can be exported to Salesforce CRM (this is now available only in iOS)
Apps of the Week: Email Clients
Gmail
This is an email client devised by Google. Android and iOS apps almost fully replicate the web version, they are user-friendly and allow users to integrate documents from Google Drive. The app also sorts all emails by subject and sends them to Primary, Social, and Promotions folders.
Spark
Spark is a brilliant email client. If you are an owner of an Apple device, follow this link to download the app. It features innovative design, convenient search, and the so-called Smart folders. You can also schedule the time when your email will be sent and discuss emails right in the built-in chat. All incoming mail is sorted between the following folders: Personal, Notifications, Mailing, and Read.
Mail.ru
This is a client of very popular in some countries email service Mail.ru. The app is available both for Android and iOS. It offers a familiar blue and white interface and user-friendly design—nothing in excess. Mail.ru client can be connected to other email services so that you can manage all your emails at the same time.
First-Hand Experience: Advice From a Colleague
Shared by Danila Volkov, the marketing assistant
Velobike bicycle-sharing service
Not everyone can afford to keep a bicycle at home and I have the same problem. But if you actually decided to ride one in Moscow, try the Velobike bicycle-sharing service that operates here since 2013. At the outset of the project, I came down to one of the rental stations and didn't understand a thing.
Yet, I decided to give it another go and made one more attempt in the summer of 2016—and I loved it! Start from downloading an iOS or Android app. There you will be able to purchase a subscription, view all your past rides, and check bicycle availability at the rental stations. We do hope that this trend will be taken up by entrepreneurs and authorities so that people from other cities will also be able to enjoy a ride without having to buy their own bicycle.
A rent can be paid in the app or with the Troika card at the rental stations.
The number of rental stations grows each season. It was promised that this year the number will increase by 430 in Moscow!
How to inspect a bike? Before renting a bike check whether it is damaged or its chain came off, try rotating pedals. In general, bicycles are quite convenient and have 3 speeds. It is not a mountain bike, of course, but it will do the job. It also has a nice basket above the front wheel for small items.
Before going on a ride, check the closest rental station and the number of bicycles left. If there are no more than 1 or 2, there's a good chance that they won't be there by the time you arrive. Opt for stations with the greater assortment. The most brilliant thing, possibly, is that you can now rent electric bicycles that can go up to 25 km/hour.
Did you know that the world knows a huge number of such rental systems? The most prominent bike rentals are Mobike and Ofo. They cover around 300 cities around the globe, including the USA, England, Italy, China, Japan, and many more. These systems allow you to end your ride anywhere without having to return the bicycle to the specific station. Simply leave it at any parking for bicycles. To become a modern cyclist, download the apps: Mobike for iOS and Android and Offo for iOS or Android .
Ofo intends to come to the Russian market soon. And not only Moscow or Saint Petersburg, they are planning to expand to other cities as well. But for now, we will have to rent bicycles in rental stations just like we used to. But I do hope that soon enough a device and an app will be enough to take a bike and go for a ride.
And one more thing. With this apps, you can leave a note to the next renter saying if something is wrong with a bike: the chain comes off or the tires need to be reinflated. It will save the next person time and show your caring attitude.
That's all for today! Until next Monday!
P.S. Click here for the previous issue.
Subscribe to our newsletter
Enter email and get FineScanner with 1 month premium for free!
Your subscription was successful! Kindly check your mailbox and confirm your subscription. If you don't see the email within a few minutes, check the spam/junk folder.
Your subscription was successful!