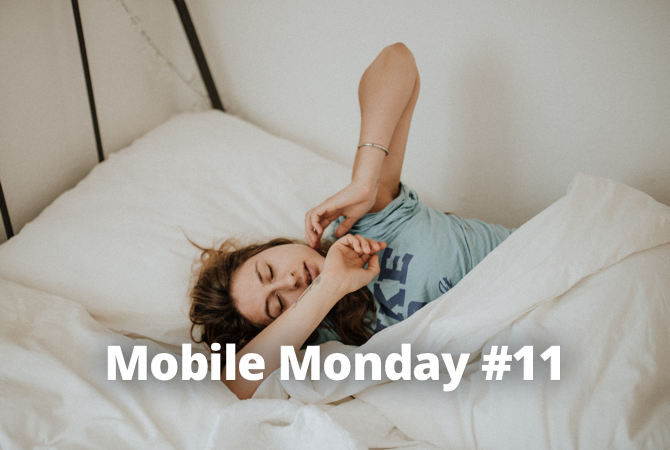 Are you having trouble with your smartphone and no one is around to help? Try remote access so that someone knowledgeable may configure your device for you. Also in the news: recognition technologies, sleep trackers, and Google monitoring your movements.
iOS Tip: How to Control Your iPhone Remotely
Being able to access your phone remotely from another device can be very useful. Remote access allows you to resolve multiple program issues without leaving your home and at no charge—someone knowledgeable can diagnose your device over the Internet. Some of you will have asked your more tech savvy friends to configure your PC remotely from their computer. You only had to allow them access to your machine by checking the right boxes and entering your password.
Unfortunately, iOS doesn't feature remote access capabilities and not every user would want to jailbreak their phone. But there is a solution! Third-party developers offer numerous alternatives. A user can connect to their device from an iPad, a Mac or a PC. Here's a few apps you might want to try. QuickSupport by TeamViewer is a service that allows you to run system checks on your smartphone, view a list of running processes and iOS configuration profile, and accept and send files from and to your iPhone.
For another user to be able to connect to your device, they need to install the desktop version of QuickSupport. On the screen of your device, you will see a code required to establish a secure connection. This code must be entered in the QuickSupport window on the PC. Now your iPhone menu can be accessed via the Internet. The developers of QuickSupport also offer a full version called TeamViewer: RemoteControl. It allows you to control your iPhone from your computer and your computer from your iPhone.
Bomgar is another remote access app. It can be used on iPhones and on iPads. As with QuickSupport, you need to install it on both your iPhone and your computer or iPad). This software requires a stable Internet connection. If the connection is lost, your device may freeze. To secure the connection, you enter a code on both devices. All sessions are encrypted. You can view system information, clean up, and update your device.
Rescue + Mobile is the last RA app in today's review. It allows you to identify and resolve most system issues. This tech support app is always there to help. There are several ways you can contact the help desk: via chat, through co-browsing, and by using tips that the tech support will offer after checking the system notifications of your iPhone. The key is to have a stable internet connection and follow the interactive tips from the help desk. The connection is protected by a six-digit code provided by a tech support specialist. Once the session ends, no one will be able to access the menu of your smartphone without your permission.
Android Tip: How to Control Your Android Phone Remotely
There are several popular apps that provide high-quality and hassle-free remote access to and from Android devices. Let's start with AirDroid, a free application which allows you to remotely access your Android device from a browser.
AirDroid is most useful for reading and viewing the contents of your mobile screen, especially when the resolution of your smartphone is too low. You can also cast your smartphone screen to a laptop or big computer screen. AirDroid is also great for sending data from a PC to your Android device over the air and for remotely deleting useless files and apps. As icing on the cake, the app enables complete access to contacts and SMS, so you can send someone a message by entering its text on your PC.
The second app is TeamViewer (that sure sounds familiar!). The main purpose of the app is to provide control over desktop computers from Android devices. For instance, you can manage files on your office computer while sitting at home with your smartphone. You can also share your screen with other users.
App number three is Splashtop 2. It is noticeably faster and more user-friendly compared to other similar apps. There's one major limitation, however—the desktop computer can only be accessed over a local area network. That's why the app is most useful at home. For example, you can start watching a movie on your desktop PC and then continue watching it on your Android device in the kitchen. The app faultlessly mirrors your PC screen, enabling you to watch videos on your tablet or smartphone. There's also a paid-for version of Splashtop 2 that lets you access your PC using a 3G/4G Internet connection.
ABBYY Tip: TextGrabber vs. FineScanner
Quite often our users approach us with this question: what's the difference between TextGrabber and FineScanner, if both of them recognize text? You've come to the right place: we are here to explain, clarify, and enlighten!
TextGrabber is designed to recognize small text fragments, especially in real time. A paragraph or two – that's where it is at its best. You can use it to capture a dish on the menu, a fragment in a book in a foreign language, a sign at the airport, or a list of ingredients on a label. Of course, you can try and recognize an entire A4 page, but you have been warned. On the plus side—no Internet is required! On the minus side, it understands only 60+ languages and is most comfortable with plain text without heavy formatting.
A pleasant perk, TextGrabber not only recognizes text, but it can also translate the result into 100+ languages. Live recognition offers some interactive features: tap recognized text to send a message or e-mail, make a call, save the text to contacts, find a location on the map, open a URL in a browser, or create an event in the calendar.
Now to FineScanner. Its main function is to scan large multi-page documents or books into PDF or JPG. It's intended to replace your desktop scanner. It also allows you to recognize scanned documents to make them editable. The OCR feature requires an active Internet connection, but it can handle texts in 193 languages and convert the results into a dozen formats, including Word, Excel, PowerPoint, Searchable PDF, RTF, EPUB, and FB2.
To sum up. TextGrabber recognizes and translates small printed text fragments and FineScanner scans and converts full-sized pages of books and large documents.
App of the Week: Wake Up Easily With Sleep Cycle
Sleep is one of life's greatest pleasures. Waking-up, on the other hand,  can be a real nightmare, especially on Mondays. But if there is a problem, there is a solution, and today we are going to tell you about Sleep Cycle, a sleep-tracking app that makes waking-up easier.
For Sleep Cycle to work correctly, you must place your phone right next to you in bed. Then it will use the phone's microphone and accelerometer to monitor your movements as you sleep. The developers recommend placing the phone close to your head, so that the microphone can pick up all the sounds that you may make as you move in sleep.
Sleep Cycle includes a smart alarm clock. Instead of waking you up at 7:00am sharp, the app will check your sleep phase and sound the alarm at some point between 7:00 and 7:30 when it knows that you have entered a light sleep phase.
For sleep geeks, Sleep Cycle will draw sleep graphs that you can study when you are awake. Nighty-night!
First-Hand Experience: Advice From a Colleague
Shared by Aleksey Efimov, Android app developer
Hi! I'm here to tell you some interesting facts about your personal info.
Google watches my every move. Literally, it puts every one of my steps on the map, day in day out. Few people actually know this, but Google lets you review the history of all your activities. Anyone having a Google account can click this link and examine their location history, past searches, what videos they watched on YouTube, and other pieces of their digital footprint. It's not only fun, it's hugely useful.
I'm particularly fascinated by the Timeline feature and will check now and then where I was on this day, say, two years ago. If that's ancient history to you and you are more interested in the present, you may want to find out where you were, say, between 0:00 and 2:00am last Friday, those two hours of which you have only hazy recollections.
If you don't want Google to remember some of your actions, you can instruct it which types of data to collect. Simply follow this link to make the necessary tweaks and stay abreast of things—at least those that happen to you.
That's all for today, guys. As usual, the next issue of this newsletter will be out next Monday. The previous issue is available here.
P.P.S. Christmas is coming and we already have a present for you! Look at our fantastic Christmas landing page and leave an email to be the first to know about the start of our New Year Sale!
Subscribe to our newsletter
Enter email and get FineScanner with 1 month premium for free!
Your subscription was successful! Kindly check your mailbox and confirm your subscription. If you don't see the email within a few minutes, check the spam/junk folder.
Your subscription was successful!