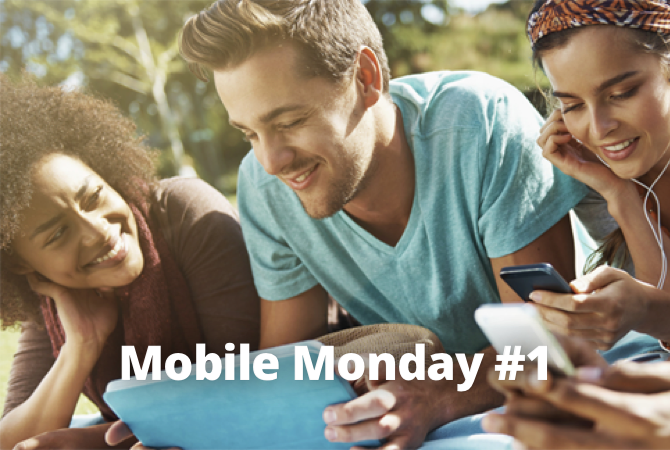 Hello everybody, it's Monday! Yes, ok, we understand that's not an occasion that elicits cheer from many people. But that's no excuse to not try and make the most of it. That's why we here at the ABBYY Mobile decided to try to help you get a productive head start on your week with our weekly Mobile Mondays letters (we call them M&Ms, like the candy). We hope our weekly dose of advice, tips and life hacks will help you lighten your workload, or at least put a smile on your face once in a while.
iPhone Tip: How To Change Your Ringtone
You probably think this is funny. We do to, to some extent. Apple devices grow in popularity with each passing year, and once in a while when you hear the all-too-familiar marimba playing somewhere in your vicinity, you find yourself unable to get a fix on the sound: is it on the left, on the right, in your pocket, in the bag of the person next to you? The marimba is nice, but things can get a little frustrating when everybody has the same ringtone. So we decided to reach out to the world with instructions on how to change iPhone ringtones. For the sake of diversity, peace of mind and great justice.
There are two ways to change your ringtone: the easy way that costs money and the relatively complicated but free way. We'll start with the easy way first.
Open the iTunes Store app on your iPhone (do not confuse with the App Store, which is for apps and games only).
Select the Tones tab on the lower-right corner of the screen.
On this tab, find a good ringtone. Preferably one that will not grow old no matter how many times you hear it.
Buy it. Yeah, all things considered Apple could've made ringtones free, but it's only a couple of cents anyway. Wait for the download to be completed.
Set the ringtone for all calls.
You are done, kudos to you!
If you want to use a custom ringtone, you'll have to things the other way. It's harder, but interesting:
Open the iTunes app on your computer. Click File > Add to Library, select a track in your collection and add it. Bear in mind that an iPhone ringtone cannot be longer than 38 seconds, so it's a good idea to memorize the timing of the fragment you want on your ringtone.
Now right-click the track and click Get Info on the context menu. Select the Options tab and cut out the desired 38-second fragment by specifying its start and end times.
Select the track in iTunes and click File > Create AAC Version.
A new media file with the *.m4a extension will appear. Click the name of this file in macOS Finder or Windows Explorer and change its extension to *.m4r (this is the file extension of iPhone ringtones). To locate the new ringtone, right-click the media file you just created, click Get Info on the context menu of the file you just created, select the File tab and look under Location.
Delete the shortened version of the track from iTunes.
Drag the *.m4r ringtone file to iTunes. The Tones item will appear in the Music menu. Click this item to open the section containing your new ringtone.
Now, just synchronize your iPhone with your computer and the ringtone will appear on the iPhone.
On your iPhone, tap Settings > Sounds and set the new ringtone as the main ringtone on your phone.
That's it, double kudos to you!
If you couldn't follow some of these instructions, you can find a very detailed guide here, complete with screenshots.
Android Tip: How to Change Your Ringtone
Even though it's much easier to change your ringtone on Android devices, the standard ringtone is still something we hear all too often. Below are four easy steps that will help you break the monotony.
Find the default player app (if you have lots of apps, do a search for Music).
Find the desired track in your music collection.
Tap and hold the track to bring up its shortcut menu, and then tap Set as ringtone.
You're done! Now go get called.
ABBYY Tip: How to Change Recognition Languages in TextGrabber
The problem most frequently reported by our users in TextGrabber is incorrectly recognized text. In most cases, this happens when people forget to change their settings and try to recognize, say, Chinese, while TextGrabber is set to look for English. Below you will find simple instructions on how to painlessly change the recognition language on iPhone and Android smartphones. Let's start with Android.
On the camera screen in the Video mode, before you point the camera at the text, click on the button with the abbreviation of the languages and select the required ones from the list. By default, the English language and locale of the device are enabled.
In the Photo mode, shoot the text and on the next step at the top of the screen, select the recognition languages if they do not match with the default ones.
IMPORTANT! Do not select more than three languages, and bear in mind that selecting fewer languages leads to higher OCR accuracy. Profit!
Now for the iPhone.
Open the camera screen in TextGrabber.
In the upper-left corner of the screen, there is an oval with the caption OCR languages. Tap this oval.
Select the desired languages from the list. IMPORTANT! Do not select more than 3 languages, and bear in mind that selecting fewer languages leads to higher OCR accuracy. Profit!
App of the Week: Headspace
The best way to rest is to hit the sack, but in the modern business world, the sack is rarely an option. That's where Headspace comes in. It is a simple, well-designed app that helps choose a meditation session you can easily work into your schedule.
The Headspace platform was created by Andy Puddicombe, a former Buddhist monk from the UK who set out to popularize the practice of meditation. Over the years, his startup attracted a huge community of users and developed a mobile app. The Headspace app provides voice-controlled meditation sessions (in English) that help to relax, get your head together and get back to work. Most session takes half an hour on average, but new users usually start with sessions that last ten minutes.
Headspace is a subscription service that will only cost you $8 a month if you subscribe for a year. In addition to the Android and iOS apps, a browser-based version of Headspace is also available.
First-Hand Experience: Advice From a Department Manager
The author of this week's column is Igor Akimov, Head of the Mobile Product's group at ABBYY
I really wanted a chance to share some of my worldly wisdom, so I decided to leverage my position as the head of the department that made this mailing list) This is a one-time thing and I promise this column will have advice from other experts in future issues.
There are many tips I could give to other managers, but I would like to share the one approach that I consider to be vital when managing a team of people.
One-on-one meetings. It's as simple as it sounds: have regular one-on-one meetings with all of your subordinates and your supervisor. These don't have to be formal, and you should discuss any topic you want, from "how's things" to "doctor, I'm having nightmares about bugs that I didn't fix yet". I try to have a sit-down with every person on the team at least once a month, for 30 to 60 minutes. Yes, that is a lot of meetings and a lot of time, but it's worth it. You get a chance to give direct, unadulterated feedback, leaving little room for situations where your subordinate thinks you hate them because you gave them a funny look during that one presentation two weeks ago. You can freely talk about the subordinate's career growth, personal development, plans for the future, and, perhaps most importantly, discuss problems that may have escaped your notice. If you want to learn more about this team management approach, watch this video (in Russian).
That's all, folks! Don't be shy to tell us what you think and ask questions in the comments. See you next Monday.
Subscribe to our newsletter
Enter email and get FineScanner with 1 month premium for free!
Your subscription was successful! Kindly check your mailbox and confirm your subscription. If you don't see the email within a few minutes, check the spam/junk folder.
Your subscription was successful!