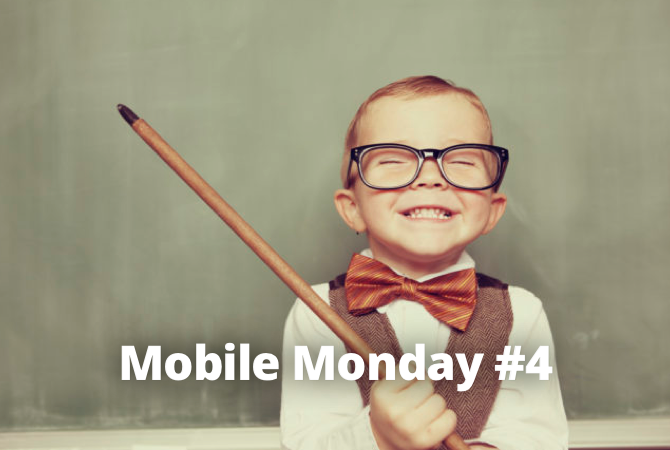 Today's issue we devote to education and productive organization of time! How to set up a calendar with schedule and goals in the smartphone, how to learn foreign words without paper cards, how to clean up the wardrobe and not only.
iPhone Tip: How to Schedule Events Using the Calendar App
Pupils have their school timetables posted up on noticeboards. They are also often given a printed copy on their first day at school. But what about the parents? How can they possibly remember all the details of their kids' schoolday? Here's where your iPhone's Calendar with its New Event feature will come in handy. There are two ways to add an event to your calendar. First, the long one:
Open the Calendar app and tap the plus icon in the top right corner.
Specify a title, a location and a time for the event.
Set an alert, if necessary.
If it's a recurring event, specify this under Repeat.
Tap Done. The new event will appear in the calendar.
And here's a quicker way:
Use the 3D-Touch function and press on the Calendar icon a tad harder (this will work for the iPhone 6S and above).
Tap Add Event in the pop-up window.
If the event is to take place in a far-away location, you can make the app calculate the travel time so that it displays the alert in good time rather than 15 minutes before the event which is an hour's drive away from where you are at the moment.
You can even talk to your Calendar! For example, you can ask Siri when the next math test is (if you have previously scheduled this event, of course), tell it to postpone a PTA meeting, or just ask it to read out your plans for today.
And here's one more trick. Rotate the calendar (i.e. turn your iPhone on its side) and you will see your schedule for the entire week, where you can move your meetings around, changing their dates and times.
This way, you can use Calendar to make digital copies of your kids' timetables and have everything under control! If you need more detailed instructions on working with the Calendar app, please see this page.
Android Tip: How to Schedule Events Using the Calendar App
The Google Calendar is also a no-brainer. Let's create a simple reminder together:
Open the Calendar app and tap the big red button in the bottom right corner.
Specify the type of event: Alert, Goal (see below) or Meeting.
Enter the time, location, and subject of the meeting.
Set it to Repeat, if necessary, add a reminder, and you're done!
With Google Tasks, you can track your daily tasks, create to-do lists, and set deadlines. You can add and modify tasks either in Gmail or in Google Calendar, or both, as the two apps will sync their data periodically. Now that's what we call convenient!
You can also use Google Calendar to fit in various useful things into your schedule, such as reading a book, taking a stroll, meditating, or doing some yoga. In Calendar these are called Goals and can be added to the schedule by tapping the same plus button. Select a category, e.g. "Go for a run" or "Talk to Mom", and Calendar will automatically find free slots for this activity in your monthly schedule. You can always make adjustments at a later date.
If you need more detailed instructions on working with Calendar, Tasks, and Lists, please see this page.
ABBYY Tip: How to Learn Foreign Words With Lingvo
Kids today learn at least one foreign language at school, which is great. But, alas, rote learning is still commonplace and has put off many a budding polyglot. We can offer a truly mobile learning tool that makes memorizing new words easier than ever before.
ABBYY Lingvo iOS allows you to create flashcards, which you can view on the screen of your device whenever you have a spare moment. They won't get wet in the rain or get scattered by a gust of wind either.
If you choose to add a word from a dictionary, all the relevant information about the word will also be added from the dictionary entry. Once you have added enough words, thumb through your virtual pack of cards to learn them or test your knowledge.
To create a flashcard:
Type a word you want to learn in the search box.
Open the dictionary entry for the word.
Click the "+" icon in the bottom left corner. Edit the card, click Create.
That's it! Now you can click on Begin Lesson to view the cards, repeat the words, and check yourself —  when you click on the card immediately appears translation of the word.
For iOS devices, it's easy to learn and memorize new words. And in ABBYY Lingvo for Windows, in addition to creating such cards, you can also do grammar training. Moreover, with the help of the ABBYY Tutor app you can replenish your active vocabulary with words from other, more complex, exercises.
App of the Week. Combat the Nothing-to-Wear Syndrome With Stylebook
Any good student knows that books should be judged by their covers and people should be judged by their looks. That's why some will even get up half an hour earlier to have enough time to preen in front of a mirror. Here's a smart way to save an extra 30 minutes of sleep and put together a great look with a just a few taps on your phone.
Stylebook is a virtual closet that you can fill with clothes you actually want to wear. Take photos of your favourite pieces, add hash tags (you can use any of those already available in the app or create your own), and you are set to go!
But that was just the beginning. You can combine your items to create new looks that will make Karl Lagerfeld proud of you!
Stylebook even offers an in-built photo editor, allowing you to shorten a skirt, adjust the colours or apply a filter. We have tried out the filters and must say they do make your clothes look realistic.
Stylebook is available on iOS, it's a paid app. Pack your closet full of your favourite items and save yourself hours of rummaging through piles of clothes that are either not "in" or just don't take your fancy any more.
First-Hand Experience: Advice From a Colleague
Shared by Maria Leybenzon, Head of ABBYY Technical Support
With instant massaging and Facebook, PTA meetings and parent-teacher nights as we knew them are becoming a thing of the past. Most routine issues can be discussed and resolved online. Schools now typically provide online reports, each form has its own page on the school website, teachers talk to parents in dedicated chat rooms, and parents talk to other parents on message boards and online forums.
Many technically savvy parents' associations use online payment systems for fund-raising and parental donations and keep their books in Google Documents, allowing them to keep tabs on spending decisions.
Arguably, geeky dads are the most valuable and effective members of parents' associations, because they know how to make the most of the latest communication tech. Now you can hold a PTA meeting on Facebook while playing sports with your kids in a park!
That's all we wanted to tell you about today, guys. "See" you next Monday!
Subscribe to our newsletter
Enter email and get FineScanner with 1 month premium for free!
Your subscription was successful! Kindly check your mailbox and confirm your subscription. If you don't see the email within a few minutes, check the spam/junk folder.
Your subscription was successful!