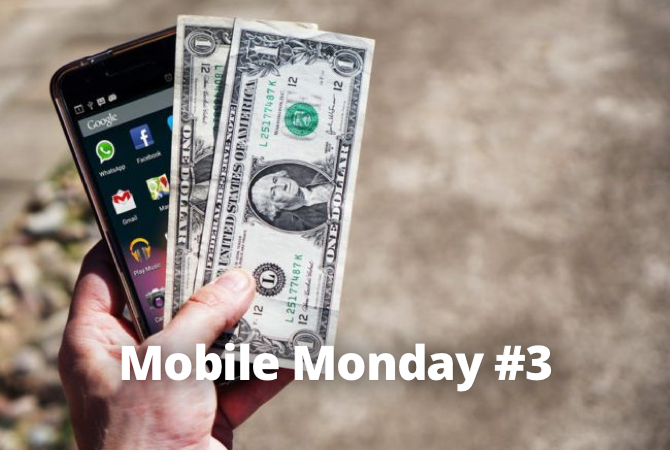 This time, as usual, we have prepared several screenfuls of helpful advice to help you become more productive. In this newsletter, you will learn how to cast content from your mobile device to another screen, how to find things on your iPhone, and how to pinpoint your expenses before they get out of hand.
iOS Tip: How to Cast and Record Content From Your Mobile Screen
If you want to demonstrate a mobile app to a large group of people, record a screencast and upload it to YouTube, or if you just want to play your favorite iPhone or iPad game on a big TV screen, you will need a device or app that can "mirror" the content of your phone on another display.
The following options are available to iOS users.
1. Apple TV. Even previous generation Apple TV boxes can receive audio and video from a mobile device and send it to a projector or TV over HDMI. And if you are the lucky owner of the latest Apple TV, you'll have no problem whatsoever viewing videos, games, web pages and other mobile content on your TV. Just make sure your mobile device and Apple TV are connected to the same Wi-Fi network, tap "AirPlay" in your app or device menu, and then allow the video to play on the big screen of your choice.
2. Mac+QuickTime. Another method is to connect your iPhone or iPad to any contemporary Mac with a cable, launch QuickTime Player, click File > New screen recording and then select your device from the drop-down menu next to the bug red Record The screen of your mobile device will be accurately reproduced on your Mac, enabling you to make a presentation or record a video.
3. Apple TV emulators. There are also apps that let you cast your device screen as if you were using Apple TV. The best of the lot are, in our opinion, Reflector and AirServer (we prefer the latter). Each will set you back $15, but trust us they are worth every penny. Both Mac and  Windows versions are available and they can easily communicate with iOS and Android devices. You can cast in full screen mode, tweak video quality, record clips, make screenshots, and enjoy lots of other bells and whistles. You use these apps in exactly the same manner as the Apple TV: make sure the two devices are on the same local network, tap AirPlay on your iPhone, and then select the big screen that will display your mobile content.
Android Tip: How to Cast and Record Content From Your Mobile Screen
Mirroring the screen of your Android device is not that different from iOS, only the choice of casting apps and devices is predictably bigger.
1. Miracast and Google Cast. This is the hardware implementation of the Google protocol for casting video and audio content from your Android devices. If your TV, projector or tablet supports this technology, if your PC runs Windows 10 with the latest updates (look for the Connect tool), or if you have invested in a Chromecast dongle that plugs into an HDMI port of your  receiving device (even the oldest and cheapest stick will do the trick), you can easily cast content from or mirror the screen of your mobile device, provided that it runs Android 5.0 or later. Tap the Cast icon in the app that supports the technology or tap Screen Share in the device settings to mirror the screen.
2. Miracast and Google Cast emulators. On Android as well we plump for Reflector or AirServer. You can record and play screencasts to any device all in the same app. However, only AirServer supports Miracast. Same instructions as before: connect the two devices to the same Wi-Fi network and tap either Cast in the app or Screen Share in the device settings. If you encounter any problems at this stage, just download the Google Home app onto your phone or tablet and scan your network for compatible devices that can accept video and other content.
3. The next method can be used by developers and advanced users. Android Studio includes a dedicated app called Android Monitor that shows you what happens on the screen of a connected device. It can also record videos of up to 3 minutes long. If you choose this route, however, it's probably best to engage the services of someone well versed in Android gadgetry. The steps are roughly as follows: open a project in Android Studio, run it on your device, start recording, and tap Stop when you're done. The method will work without any additional configuration on Android 6.0, while on Android 5.0 and 5.1 you will have to switch Profile GPU rendering to In adb shell dumpsys gfxinfo in the developer menu.
4. And here's a nifty tip for gamers. The Google Play Games app can not just show your scores but also record your gameplay. Invoke the recording menu, switch to another app, and record everything that happens on your small screen in 480p or 720p resolution.
5.Screen recording apps. AZ Screen Recorder, DU Recorder, Mobizen Screen recorder, AirDroid and similar apps allow you to record everything that happens on the screen of your device (the apps require Android 5.0 or later). The free versions will either show ads or limit the length of recordings, but their ad-free counterparts won't cost you more than $5-10.
ABBYY Tip: Making the Best of Spotlight Search
The Spotlight search feature in iOS is an excellent tool for finding anything anywhere on your device. If, like us, you have dozens of documents, hundreds of apps, and no end of contacts stored on your device, Spotlight will probably be one of your most frequently used iOS apps.
To open Spotlight, swipe down from the centre of your Home screen. You can search app names, notes, mail, contacts, meetings, reminders, podcasts and all sorts of content inside the installed apps. All ABBYY apps support Spotlight search, so you can:
Carry out full-text searches in TextGrabber to find notes.
Search across all captured fields in Business Card Reader to find business cards.
Search titles and tags in FineScanner to find documents.
Spotlight Search is easily accessible from any screen and is a cinch to use. Highly recommended.
App of the Week: Manage Your Expenses With Monefy
Have you ever looked at your bank statement wondering where the money that was supposed to last you all month has gone? Scratch your head as much as you like, but there's only one way to find out: keep a watchful eye over every penny you spend. And that's where Monefy comes in. Of course, it's just one of the dozens of home budgeting apps out there, but its uncluttered interface and tiny learning curve make it especially appealing.
What Monefy does best is remember each and every transaction to and from your bank account. The app will keep track of your expenses in various categories like Transport, Food, Gifts, Communications, etc. There are only three sources of income you can specify — Salary, Savings, and Deposits. So any cash you get from sources other than your employer will have to go into the Savings category.
Additionally, Monefy can sync your budget data across all of your devices via your personal Dropbox account. This ability to keep track of your budget on multiple devices makes Monefy a great tool for managing your family finances.
Free iOS and Android versions are available, but you can also purchase a Pro version for only 160 Russian roubles. The Pro version allows you to make entries in multiple currencies, protect your data with a password, and synchronize your budgeting data across multiple devices. It also includes a handy widget for the home screen and offers several additional expense categories.
First-Hand Experience: Advice From a Colleague
Shared by Alexandra Shmelkina, marketing consultant
It so happens that before I became a marketing specialist I trained as a journalist. I was preparing to work as a reporter for some newspaper or magazine and was not a little surprised when I was offered the position of marketing assistant.
It won't be fair to say that I had no relevant skills whatsoever, since journalism involves gathering, interpreting, and presenting information. However, initially I was petrified by such terms as conversion rate, deep linking, MAU, DAU, or ARPU.
The volume of information snowballed and there's only so many hours in a day! So I had come up three life hacks, which I'm going to share with you today at absolutely no charge.
Do things quickly, so that you have enough time to make the necessary corrections.
All newbies making their first steps are apt to make mistakes. The best tactic, in my opinion, is to complete the job ahead of time and get some feedback from your supervisor so that you have enough time to iron things out before it's too late.
Some things should be put off till tomorrow if I you absolutely can't do them today.
In my previous life as a journalist I learned one important lesson: better no text than bad text. So if you feel spent and exhausted, give yourself a break and tackle the problem later when you have a clear head.
Watch carefully what other (competent) people do and imitate.
When I started on the job, I'd had next to no experience with Apple products or services. Most mobile apps, however, are released both for Apple and Android, so I had to let iOS into my life and now I divide my attention in equal measure between the green robot and the bitten apple. To become a fluent user of Apple products in the shortest time possible, I closely watched our testing engineers and repeated what they did until I learned all the most common and not so common operations. Now I can effortlessly switch from iOS to Android and back again and would be hard pressed to answer which platform I'm most comfortable with. Of course, this shadowing method is also applicable in lots of other situations where certain practical skills can be learned through careful observation and imitation.
That's all we wanted to tell you about today, guys. Please share your ideas and suggestions in the comments section. See you next Monday!
Subscribe to our newsletter
Enter email and get FineReader PDF Mobile with 1 month premium for free!
Your subscription was successful! Kindly check your mailbox and confirm your subscription. If you don't see the email within a few minutes, check the spam/junk folder.
Your subscription was successful!