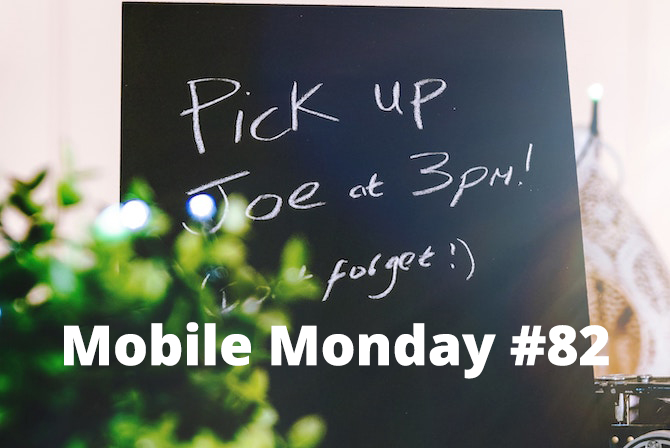 In today's newsletter, we encourage you to take a second look at the built-in reminder app on your phone. We also choose a larger font for your TextGrabber notes and create a 30-second video to relax and amaze your followers.
iOS Tip: Reminders in iOS
Many iPhone users head to the App Store in search of a handy reminder app without even taking a look at the native iOS Reminders app. Which is a shame, really, because the app has a lot to commend it.
Reminders is a no-frills app that does exactly what it says on the tin (and a little more besides). So let's take a closer look.
The app allows you to create lists of reminders and group them into categories. To create a new list, open the app, swipe down, tap the plus icon in the top right corner, and then tap List.  Now give a name to your new list (e.g. "Family Outing," "Work," "DIY" or whatever it is that you need to be reminded of), and you are ready to add reminders.
Once again, tap the plus icon, but this time around, tap Reminder instead of List and then type in the text of your reminder. Now, to unleash the full potential of this little app, tap the "i" icon on the right.
Set a time
This is pretty straightforward — just set a date and time for your reminder.  You can also create recurring reminders for regular events, like watering your house plants on a particular day of the week. Besides the time periods suggested by default, you can specify a custom regular interval. You can do this by tapping Repeat followed by Custom.
Set a place
Turn on the Remind me at a location option and tap Location. Here you can type in the address where the reminder should pop up or you can use your current location. You can also specify when exactly you want to be reminded — either when you arrive at the specified location or when you leave that place. For example, if you need to buy something at a particular shop, your phone can readily display a reminder the moment you arrive there.
Shared reminders To share reminders with other members of your family, open the list of reminders that you want to share, tap Edit in the top right corner, and then tap Sharing. Now you can invite other people to use this list. After they accept your invitation, they will be able to act on your reminders and you will be able to see when a reminder has been completed by someone else.
Reminders from Siri
Siri can also be of some use when it comes to reminders. Just say "Remind me to get my stuff back at 7 p.m." and Siri will create a reminder for you. Or you may ask her to create a reminder for a phone call: ''Remind me to call Gran at 12 p.m. tomorrow." When the reminder pops up, all you will need to do is tap it to make the call.
Talking about Siri, did you know that both FineScanner and TextGrabber can accept voice commands?  Here's a past issue of this newsletter where you can read about voice commands for FineScanner and here's another newsletter about TextGrabber.
Call back reminders
If you receive a call but can't answer it right away, tap Remind me above the Decline button. One hour later, your phone will remind you of this missed call (you can change this interval if you wish).
Android Tip: Setting Reminders
As different Android phones have different reminder apps, we will use the Google app as an illustration. The app is called Google Reminders and is part of Google Calendar.  And a very handy part it is, especially if you tend to forget about small things you need to do and need some tech to jolt your memory. There is one small detail about Google Reminders that you need to be aware of, however. For some unexplained reason, the app will only let you set reminders for any date other than today. So there's no chance of getting a reminder to pop into a corner shop after work.
To create a reminder, open Google Calendar, tap the red plus sign in the bottom right corner, and then tap Reminder . Enter the event or item you want to be reminded of and tap it. Now set a time (this can be a specific time or all day).
When the time arrives, Google Reminders will keep showing you this reminder until  you cancel it or mark it as "done."
ABBYY Tip: Changing Font Size in TextGrabber iOS
There's one useful little setting in ABBYY TextGrabber iOS which you may have overlooked but which may prove very helpful. It allows you to change the font size in your notes that you save in TextGrabber. Larger fonts will make your notes easier to read in some circumstances — say, when you are reading them on public transport. Here's how you can change the font:
Tap the menu button in the bottom left corner of the camera screen.
Tap the gear icon in the top left corner and locate the Font size setting.
Tap Font size and select a larger font.
Now you can easily read your notes in TextGrabber even while on a bumpy ride down a road full of pot holes.
App of the Week: Groovo
Video clips you create with Groovo will not run more than 30 seconds, but, as it turns out, this is ample time to create an atmosphere and stun your subscribers.
The app will transform a photo or a clip into a short sequence from a music video. You can also apply aging, glitch, and other vintage effects to turn a simple portrait or landscape into a pop art masterpiece.
Try uploading a video of rain drops running down a window pane, apply the flickering TV filter, throw in some slow beat, and you'll get a stylish meditation clip that will keep you glued to your phone screen for hours.
Groovo is available both for iOS and for Android.
That's all from us for today. See you next Monday!
Subscribe to our newsletter
Enter email and get FineScanner with 1 month premium for free!
Your subscription was successful! Kindly check your mailbox and confirm your subscription. If you don't see the email within a few minutes, check the spam/junk folder.
Your subscription was successful!