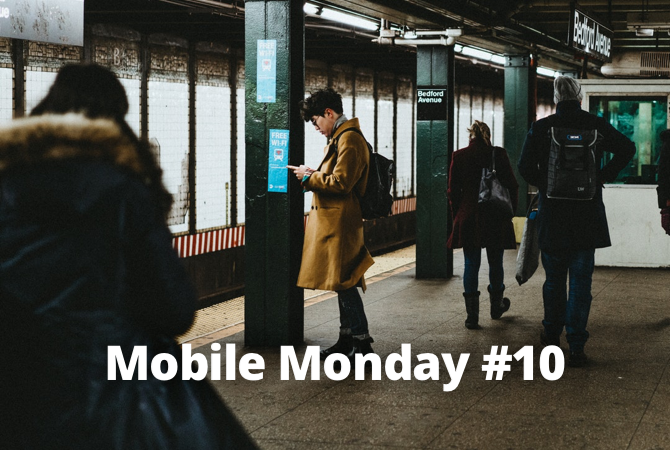 Talking with your smartphone still looks odd. Yet, voice assistants improve so fast that we decided to share with you what they are capable of today. Also in the news: merging notes in TextGrabber, fighting the blues, and thrifty travelling.
iOS Tip: How to Feel at Ease With Siri
The major event in the Russian IT industry is the release of Alice, a Russian AI-powered personal assistant devised by Yandex. Alice is by no means the first personal assistant to emerge from the R&D vaults of a multi-national IT company. And while millions of mobile users are chatting up Alice, here's a few tips on how you can hit it off with its American sibling Siri.
What questions can you ask Siri?
Perennial problem with AI assistants: they are supposed to be smart and know loads of useful information, but very often they will be stumped by the simplest of questions. Here's a brief list of commands that Siri can understand without fail (click this link if you want to see the complete list):
Call Dad at work
Call back my last missed call
Show ABBYY contact information
Read the last message from ____
Play the last voicemail from the boss
Show my call history
When did my boss call me?
Do I have any new email?
Message wife on WhatsApp "I'm on my way exclamation point"
Remind me to reply to this message on Saturday
Reschedule the meeting from 10:00am to 8:00pm
What's my next appointment?
Wake me up tomorrow at 7am
Remind me to walk the dog at 8:00pm
Set a timer for 5 minutes
Remind me to buyTextGrabber
Remind me of this when I get into the car
Play some music
Pause
Find a cinema nearby
Play the chart topper
Hey, Siri, what song is this?
Play Unstoppable Sia
Skip
Turn on Airplane mode
Is Bluetooth on?
Make the screen brighter
Open FineScanner
What is the weather like tomorrow?
What's the dollar exchange rate?
Where am I?
What day is it today?
Who am I? (Well, we'll have to stop here :))
Correcting Siri
Sometimes Siri may misunderstand what you've just said. Instead of typing in the correct variant, you can tap the misunderstood words and Siri will come up with several likely suggestions. This is both convenient and useful, because that way can Siri be trained to recognize your manner of speech.
Siri, find my car
Siri can also help you find your car in a large car park on a busy day. If your car is equipped with Bluetooth or CarPlay, the Maps app will help you locate your car and tell you when you last used it. It will even allow you to add a photo. Ask Siri "Where is my car?" and the phone will guide you to your vehicle.
Getting it write
Siri may not know very much about grammar and punctuation, but it will listen when you tell her to start a new paragraph, to place a full stop at the end of a sentence or put a comma where necessary. Here's a nearly complete list of all punctuation commands you may need when dictating texts to Siri.
Finding a new voice
If you want Siri to talk to you in a male voice, tap Settings > Siri and then tap Find -> Siri Voice.
Taking selfies
If you tell Siri to take a selfie, it will power up the front camera. And if you want to find some particular snapshots stored on your phone, just say "Siri, show me the photos from <say> Blackpool" and enjoy the slideshow.
Making small talk
Siri is not just a good listener, she is a great conversationalist, too. If you feel chatty, you can while away some time in polite conversation with your virtual assistant and even have some laughs. For example:
P.S. You may also remember this classic.
Android Tip: Google Assistant
While Apple have provided us with only one virtual assistant on iOS, there's a whole army of them on Android, and each one of them is good in its own subtle way. To take just a few:
Google Assistant
Everybody knows Siri, but few are familiar with its Android counterpart, Google Assistant, which has evolved from the bare-noes-yet-useful Google Now assistant. Everybody knows the "OK, Google!" code phrase.
Google Assistant is currently Google's most advanced offering in the field of computer-to-human interaction. It can help you book a plane flight, buy a ticket for a film, choose a restaurant, find a location on the map, or control your apps.
Google Now and its smarter and chattier sibling Google Assistant can handle questions and commands related to the following areas of interest (which are close to those covered by Siri):
step counter,
Birthday,
concerts,
currency,
news,
events,
reminders,
flights,
friends' Birthdays,
hotels,
movies,
sights,
nearby events,
photos,
new episodes/books/albums,
next appointment,
parking location,
product listing,
public transport,
stocks,
time to home,
traffic,
translation,
weather,
what to watch/read;
Android powers lots of diverse devices and it's a real hassle adapting it for each, so currently not very many devices support it. But this will surely change soon. Google Assistant works perfectly on the Google Pixel (which is to be expected) and on the new  LG G6. In theory, it could be installed  on any device running Android 6 or later, having a 720p or better screen, and at least 1.5 GB of onboard memory.
ABBYY Tip: How to Merge Notes in TextGrabber
Unlike FineScanner, TextGrabber is not intended for scanning large chunks of text, so you can't use it to recognize a multi-page magazine article at one go. However, you can capture large texts fragment by fragment and then join them into one piece. Here's how you do it on iOS:
At the top of the screen, you can see an icon with a check mark. This is used for marking off fragments to be joined together.
Select the notes you want to join together and tap the check mark icon for each.
In the bottom right corner, tap the "Merge" button.
Now you have the complete page. Clever, eh?
Now you can manipulate this text as you wish. You can read it, translate it, edit it, or send it to a friend. Remember, however, that the Translate feature can only handle texts of up to 5,000 characters long (which is roughly three А4 pages).
App of the Week: Travel Cheaper With Skyscanner
Skyscanner is a popular app for travellers that helps you find and book the cheapest flights to any country one month or even one year ahead of the trip.
With Skyscanner you can:
Find the cheapest flight for a specific date (you can even choose the desired departure and destination airports).
List the best deals for a specific period of time (week, month, or year).
Find a direct flight or flights with the smallest number of stopovers.
Based on your location, draw up a list of the cheapest destinations.
Track selected destinations and when you like a price, book a ticket right away.
Whether you are planning a trip at the last minute or for your summer holidays, Skyscanner will help you book a flight without breaking the bank. There's even a built-in calendar that shows the cheapest day of the month or year for the selected destination, with push notifications to alert you to price changes.
Another interesting feature is the "Everywhere" destination. The app will analyze all flights originating from the airport near you and show you the cheapest destinations. So if you are desperate to get away from it all, it will only take you two taps to book a flight.
First-Hand Experience: Advice From a Colleague
Shared by Olga Tosltunova, head of business and sales development
The day is cold, and dark, and dreary; It rains, and the wind is never weary... It's this time of year when nature transitions from warm summer days to winter. The days are growing shorter and the trees stand leafless against the grey skies. Little wonder, then, that even the most cheereful of folks may feel slightly down and moody and worn out. If that describes your current state of mind, read on, for I have a couple of tips on how to overcome the winter blues and return to your normal sunny self.
The first thing to do is to find out when your sulkiness is the worst. For me it's in the morning, when I've just opened my eyes and am fumbling for my mobile to switch off the piercing alarm. Now for the remedy. In my case. the morning blues are best treated with a jog or a short pacy walk outside. Jogging is more effective. And some additional exercise won't hurt. So far, I haven't done any kind of exercise myself, so I can only vouch for the jogging part. Trust me, when you step inside after an hour's run in crisp November air, you will be the happiest man or woman alive. Home, sweet home! No gym will ever come close to this experience. For this medicine to work, one should take it regularly. Every day. Except Saturdays, perhaps. Then again, on a Saturday you will also be brimming with happiness because you won't have to go out into the drizzle. That's our mornings sorted.
If your winter blues manifest themselves when you're at the office trying to do some useful work... No, you don't need to find another job. Sensible people are right to avoid radical change and rash decisions. Don't let the weather affect your career choices. Emotional intelligence, pure and simple. So what do you do then? Try making small changes to your working environment—for example, clear up the mess on the desk or put up a colourful or funny poster on the wall. You can also ask to be sent for a brief internship at another department, or ask to be considered for some additional duties that would make a welcome break from your usual routine.
The evening blues are the worst. Complications include excessive consumption of sweet desserts and bouts of sedentary behaviour. Good company is what gets me out of this rut. Go out with your friends, visit your family, go for a walk with the kids or just go out to meet some interesting people. Gregarious environments are particularly hostile to the blues bug. If you are a confirmed introvert, huddle snuggly under the covers with a book or in front of the telly for the latest episode of your favourte show.
Finally, if you are suddenly assaulted by a fit of the blues late at night, this is a clear sign that it's time to turn in. If you wake up in the morning and the condition persists, how about a walk or a jog (see above)?
Keep calm and be happy.
That's all for today, guys. As usual, the next issue of this newsletter will be out next Monday. P.S. The previous issue is available here.
Subscribe to our newsletter
Enter email and get FineScanner with 1 month premium for free!
Your subscription was successful! Kindly check your mailbox and confirm your subscription. If you don't see the email within a few minutes, check the spam/junk folder.
Your subscription was successful!