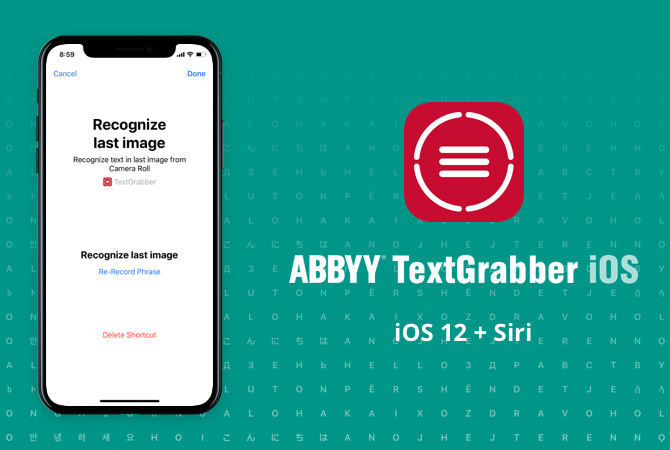 Remember, how TextGrabber on iOS 11 has automatically suggested which language you're recognizing? Or how fast the work with Drag-and-Drop on iPad in TextGrabber was? Well, now you can even talk to TextGrabber with the help of Siri. Learn how.
TextGrabber understands Siri
There is now one more route to open the last photo from the gallery in TextGrabber, besides 3D Touch. Ask Siri to do it! You just need to create a Siri Shortcut. That's the way you do it:
Go to the Main Settings → Siri and Search → All Shortcuts → look for Recognize last image from TextGrabber and tap +
Tap the red record button and pronounce a phrase that you would like to open the last image in TextGrabber with. For example "Recognize last image".
Voila! Now check the recorded shortcut by activating Siri. Tell her the recorded phrase, and the last image from the gallery will be opened in TextGrabber in Photo recognition mode. Check out this video instruction:
To change or delete a Shortcut you've created, go to Main Settings → Siri and Search → My Shortcuts.
Update to iOS 12 and download the new TextGrabber. Looking forward to your feedback!
P.S. Here's what we've done for TextGrabber in iOS 11.
Subscribe to our newsletter
Enter email and get FineReader PDF Mobile with 1 month premium for free!
Your subscription was successful! Kindly check your mailbox and confirm your subscription. If you don't see the email within a few minutes, check the spam/junk folder.
Your subscription was successful!