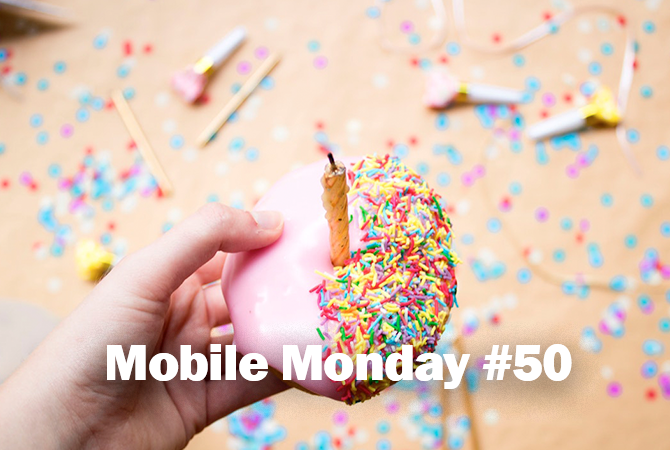 It's a jubilee issue of ABBYY Mobile Monday! So far, we have published 49 iOS and Android and ABBYY product tips, app recommendations, and life hacks contributed by our colleagues. We genuinely hope you have found them useful. In today's newsletter, we'll we waxing a bit historical.
Staying true to form, we will also provide some advice on how to get rid of your paper documents and how your gadgets can help you exercise your brain.
Progress and change are fascinating to observe. Consider cars or smartphones, for example. They have come a long way!
Our apps have also evolved beyond recognition if put them side by side with their very first versions. As we are constantly reminded reading your feedback, there's always room for improvement, so our developers do their best to implement your suggestions and latest tech in our Business Card Reader, FineScanner, and TextGrabber. Maybe perfection is possible, after all?
Evolution of ABBYY Apps for the iPhone
Business Card Reader
We'll begin with a bit of historical perspective. The first version of BCR was designed to run on Symbian devices. Even in those days the app did not require an active Internet connection, supported three interface languages, and could read text in 16 languages. However, the device manufacturers clamoured to improve the newly introduced operating system, which resulted in some confusion both for the users and for the software developers. Symbian was widely used by Samsung, Motorola, and Sony, and the latter two even created their own modification of the OS called UIQ. Naturally, our developers spent lots of time adapting BCR to run smoothly on each Symbian clone, which also meant they could not focus entirely on new and improved features.
Things really took a turn with the release of the iPhone in 2007. Of course, we immediately thought of releasing BCR for  the new OS, but its prospects were still uncertain. So we decided to release an MVP (a minimum viable product), i.e. a product that would require minimum development time and effort. A considerable share of the development work was outsourced to developers who had the necessary expertise and devices on which to test their code. The first version of BCR for iOS was developed by Media Moji and was designed to run on the iPhone 3G. This phone had a fixed-focus camera, which was not very suitable for taking snapshots of business cards. In the 3GS, Apple introduced autofocus and from now on BCR could easily read any text printed on business cards.
And here's today's BCR for iOS:
Since then, BCR has learnt lots of new tricks. It can now read text in 25 languages, automatically crops snapshots, offers a demo mode enhanced with augmented reality, exports data to Excel and Salesforce, allows you to look up contacts on Facebook and LinkedIn, and a lot more. The latest version is Business Card Reader 9. Click here to find out what it can do  for you.
TextGrabber
Starting from 2007, ABBYY has offered a mobile SDK for developers called ABBYY Mobile OCR Engine, which can digitize images and output captured text in TXT format, without retaining the original formatting.
To find out where the new tech would be of most benefit to our customers, we released five experimental text grabbing apps for iOS—PhoneGrabber, MailGrabber, LinkGrabber, StreetGrabber, and the now-well-known TextGrabber. Each of the apps had its own purpose. PhoneGrabber for example, could capture telephone numbers from classifieds, fliers and such like and place a phone call, MailGrabber grabbed e-mail addresses and opened a mail client with the "To" field already filled in, etc.
Here's how PhoneGrabber looked like in those days:
And this is MailGrabber:
TextGrabber was designed to scan small text snippets from newspapers, magazines or even street signs. Users took snapshots of text fragments of interest (or loaded text images from the gallery), and the program produced editable text which could be modified, fed to a search engine, or shared with others. TextGrabber proved to be the most popular of our text grabbing apps.
Here's how it looks today:
TextGrabber today is an app that can read texts in over 60 languages in real time and immediately translate it into 100+ languages if you are online ("full-text translation") or into 10 languages if you are offline ("verbatim translation"). Additionally, TextGrabber will detect e-mail addresses, phone numbers, postal addresses, dates, and URLs on snapshots, making them clickable and actionable, so that you can place a phone call, send an e-mail message, or open a website in your browser. It can also read QR codes. All scanned texts can be edited, read out loud using text-to-speech, copied, searched, or shared online. All recognized data are saved to Notes, where they can be easily reviewed, merged, or deleted.
FineScanner
At about the time when we released TextGrabber, we had developed technology for removing backgrounds from photos, improving image contrast, and cleaning up noise. At the end of 2011, this technology was put into a single ABBYY Mobile Imaging SDK.
By that time, mobile cameras had improved considerably, and mobile scanning apps were released that allowed users to digitize documents using their phones as scanners.
That's when we first thought of creating FineScanner. The app was conceived as a substitute for bulky office scanners. FineScanner took a photo of a document, cropped and straightened the image, removed shadows and creases, applied some filtering to optimize the image for viewing and printing, and converted the scan to PDF or JPG.
FineScanner does not just make snapshots of documents. It applies powerful imaging technology to create images that are very much like those produced by conventional office scanners.
The video below shows how FineScanner looked back in 2012.
And here's how FineScanner looks today:
Enhanced with ABBYY's proprietary OCR technology, FineScanner has become a mobile scanner, which can create a PDF or JPG version of your paper document, recognize text in any of the 193 supported languages, and save it to 12 popular formats, including Word, Excel, and PowerPoint. All of the original tables, headings, and formatting will be preserved, as if you were using a combination of a scanner and a desktop PC. Documents produced by FineScanner can be opened in any app that supports these output formats, saved to a cloud storage service, printed, or sent to your colleagues by e-mail.
FineScanner has acquired many new features. For instance, now you can edit PDF documents, sign them, highlight text fragments, or redact sensitive data. The autocrop feature in the latest version of FineScanner is powered by a neural network technology, which enables the app to grab the text and correct any distortions quickly and with utmost precision.
Evolution of ABBYY Apps for Android
With iOS and Android becoming the two most popular platforms, mobile developers, including those at ABBYY, could finally breathe a sigh of relief. In the times of Windows Mobile and Symbian, there was a host of online stores where users could download apps. This was a pain in the neck for developers, because each store had its own licensing policy and guidelines. To be able to offer your app in each of these stores, you had to adapt the app to their specific requirements, which resulted in a multitude of fine-tuned  releases.
BCR
As with iOS, we had to be reasonably cautious about the new operating system. Once it became evident that Android was here to stay, we took the plunge. BCR for Android was released one year after the version for iOS.
Here is how it looks today:
BCR for Android can recognize business cards in 25 languages, scans both sides of a business card, reads QR codes, exports captured data to Outlook, and does a lot more besides.
TextGrabber
TextGrabber for Android was first released in 2013 (that's two years after the iOS version). The popular features available on iOS were ported to Android.
This is how TextGrabber for Android looks today. We find its uncluttered UI to be very easy on the eye.
FineScanner
FineScanner for Android hit the stores in 2016. It was definitely worth the effort, because the best mobile scanner finally became available to millions of Android users, who could now enjoy  powerful document storage, image enhancement tools, ability to export to PDF and JPG, optical recognition of texts in 193 languages, and a lot more.
ABBYY Tip: Learning Languages with FineScanner
Learning a new language requires a lot of hard work. Besides listening and speaking, you have a lot of reading to do. Language instructors just love to provide their students with printouts of texts and exercises. Many language learners end up with heaps of papers all over their desks and in their bags.
And what if you have to miss a class through illness? The obvious solution is to ask your classmate to e-mail you the scans of the latest readings and assignments. You may also want to scan all of your class materials yourself, so that they are always at hand and fully searchable. That's where FineScanner will come in handy. Just take snapshots of all your handouts after class and read them on the go, wherever you are. You will also be able to help your friend out by sending them a high-quality PDF with the latest piece of reading and accompanying exercises.
App of the Weak: Peak
Want to use your brain more effectively and push it to its full capacity? Then try Peak, an app with interactive brain teasers and mind games. When you first open the app, it will ask you what skills or abilities you would like to develop.
Vivid graphs and charts will help you track your progress.
The app will also show you strongest points.
First-Hand Experience: Advice From a Colleague
By Igor Akimov, Product Owner, Mobile applications
Hi there!
I'm a great believer in frank and honest feedback. It helps develop our emotional intelligence, reinforces positive behaviour, highlights issues that merit our attention, and encourages us to give credit where credit is due. It is beneficial both to the team and to the individuals involved. Of course, we are talking here about well-intentioned and objective criticism which provides guidance to improve without bruising any egos. I've tried lots of different methods of collecting feedback at ABBYY Mobile: 360-degree assessments, 1-to-1 interviews, retrospectives, anonymous surveys…you name it. Finally, I realized that the simplest solutions are also the best, especially when they become second nature to your team. Now we use a very basic feedback form on Google Docs with just five fields (see here) :
"To" (that's the addressee of your feedback)
"From" (can be left blank if you want to remain anonymous)
Things your colleague is particularly good at and should keep on doing
What can be improved
Things you believe should be discontinued (things that annoy you, interfere with your own work, etc.)
Once the form is completed, a special script (which I wrote myself and which I'm very proud of) will send your feedback to the person in the "To" field. To make this a regular affair, each day all members of the team receive an e-mail reminder asking them to provide their feedback to one of us. For example, today it was Anton that we sent our praises and criticisms to.
I will always remember the reaction of the colleague who was the first to receive our feedback e-mails. He said his inbox was flooded with so many kind words that it felt like it was his birthday. Don't forget to provide regular feedback to your teammates, who will benefit both from your praise and your criticisms, reminding them that they are valued members of the team. Grow yourself and help other grow as well.
See you next Monday!
P.S. You can find the previous issue of this newsletter here.
Subscribe to our newsletter
Enter email and get FineScanner with 1 month premium for free!
Your subscription was successful! Kindly check your mailbox and confirm your subscription. If you don't see the email within a few minutes, check the spam/junk folder.
Your subscription was successful!