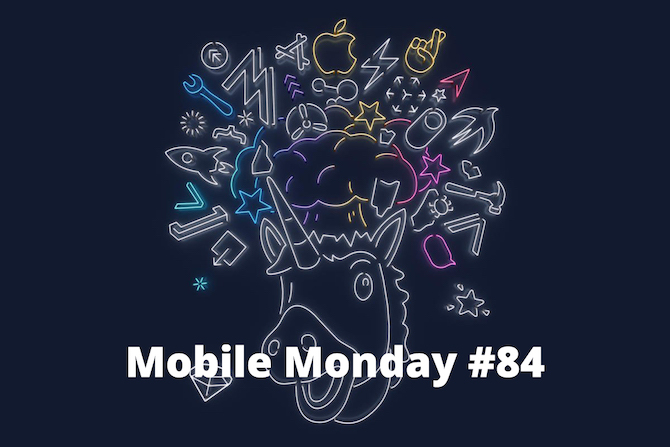 If you have missed the top stories from Apple's Worldwide Developers Conference 2019, have a look at our review of the event. We'll also talk about tracking your finances and differences between online and offline recognition modes in FineScanner AI.
WWDC 2019
Traditionally, WWDC has always been an opportunity for Apple to show off the latest improvements to its operating systems and gadgets.
iOS 13
As many had been expecting, the most exciting piece of news was about the new iPhone operating system. So let's have a look.
The addition of a Dark Theme fits in with the global trend of designing darker visual interfaces. Now iOS, too, will look all hip and modern. Aside from the interface itself, all built-in applications, such as Notes, Mail, and Safari, will also support this feature. It's encouraging to know that many third-party developers are already integrating Dark Theme support into their applications, meaning that many apps will be able to pick up the new theme immediately when iOS 13 is released this fall.
A swipe keyboard feature will finally be introduced — about 5 years after it was implemented in Android. It allows you to type by moving your fingers across the keyboard without having to lift them from the screen.
The Reminders app has received a significant upgrade and should now definitely be able to compete with third-party reminder apps.
FaceID has become even faster, letting you unlock your phone almost instantly.
A new Apple ID authentication system allows users to log in to their Apple accounts with the tap of a new button that has been built into various applications.
Another cool new feature is random email address generation. This feature allows the user to generate a new email address for registering on various websites. All confirmation emails sent to that address will be automatically forwarded to the user's real address.
One thing that Apple was particularly keen to stress was the improvement in application startup speed — the time needed for startup has been halved in iOS 13.
The Photos app has also been upgraded to make it possible to take portrait photographs against a white background, edit image settings, as well as flip and edit videos.
AirPods can now be used to listen to text messages that you receive and to share music to a different pair of earphones. Tracks from Apple Music can now be shared simply by holding one smartphone close to another.
An upgraded Siri now boasts a new human-like voice and can read text messages thanks to Apple's Neural Text-to-Speech technology.
Other interesting features include:
A Karaoke mode for Apple Music 😉
Choosing an interface language for specific applications
A silent mode for incoming calls from unknown numbers
The option to download large applications using your network data plan
Wi-Fi networks are now displayed in the Control Centre
A feature that transmits videos to a car monitor using CarPlay
Your smartphone can now be tracked down even if it is switched off or disconnected from the internet
Supported devices:
iPhone 6s/Plus
iPhone 7/Plus
iPhone 8/Plus
iPhone SE
iPhone X
iPhone Xs
iPhone Xs Max
iPhone Xr
iPod Touch (7thgeneration)
It is pleasing to see that the iPhone SE, a firm fan favorite, is still being shown some love.
A surprise iPadOS release
Now, Apple's tablets will also get their own operating system, which will bring the iPad a step closer to becoming a desktop computer. Let's have a look at this operating system's most important features.
An improved desktop screen will provide much more space for app shortcuts, making it possible to also keep some space reserved in a separate panel for widgets such as weather and calendar.
The Split View and Slide Over modes have been massively overhauled and improved, now supporting multiple instances of the same app, which means you can edit different files at the same time, as well as quickly view your different instances and switch between them.
Safari will open desktop versions of websites by default. A built-in download and hotkey manager will also be implemented.
New gestures for editing text have been added, which include new commands for selecting, copying, cutting, and pasting text, as well as a cancel command.
Shared folders in the Files application make it possible for folders to be used simultaneously by several people.
Supported devices:
iPad Air 2 and iPad Air 3
iPad mini 4 and iPad mini 5
iPad (5thand 6thgeneration)
iPad Pro 9.7 inch
iPad Pro 10.5 inch
iPad Pro 11 inch
iPad Pro 12.9 inch
Mac OS Catalina
Apple will be discontinuing iTunes in the upcoming Mac OS update. It's the end of an era, to be sure, but who will complain? The app, which has recently become too cluttered with different features, buttons, and sections, will be split into several standalone apps. The main app will, unsurprisingly, be Apple Music, which will be host to everything music-related on your computer. A separate application will be provided for videos and podcasts.
The new Sidecar feature will let you use your iPad as a secondary monitor for your Mac. This was already physically possible before, but you had to resort to some third-party software. A while ago, we mentioned one such app in one of our newsletters. Now, this feature will be available out-of-the-box.
Voice Control will become "smarter" and have more features. The option to carry out certain actions using only your voice will also be of benefit to users with special needs.
You will now be able to track down your Mac even if it is switched off or disconnected from the internet.
Supported devices:
Mac mini 2012 and later
Mac Pro 2013 and later
iMac 2012 and later
iMac Pro 2017 and later
MacBook Air 2012 and later
MacBook Pro 2012 and later
MacBook 2015 and later
WatchOS 6 – the smartwatch can now do more things on its own
Finally, the wait is over for many: the Apple Watch will be getting its own App Store. This means that you won't have to use your iPhone to look for apps for your Watch.
A calculator, a voice memo app, and an audiobook app will also be added in WatchOS 6.
Apple's smartwatch will also be able to measure the level of noise around it. If the noise is too loud, the watch will warn the user and calculate when it would be best to leave the noisy area in order to avoid hearing damage.
The device will mark every hour that passes by vibrating slightly and playing some pleasant bird chirrups.
Needless to say, there will be new clock faces, as well as updates for the Fitness section. There, you will be able to compare your new sporting results to your previous ones and find out just how much you've improved.
The supported devices include all watches from Series 1 to Series 4, but Apple did specify that not all features might be available on all devices.
ABBYY Tip: Differences Between Online and Offline Recognition in FineScanner AI 
The new FineScanner AI is now finally able to recognize text without requiring an internet connection. However, the offline recognition features differ slightly from those available online, and these differences must be taken into account when deciding which mode to use.
Offline mode supports only 63 languages, while online mode supports 193.
Offline recognition results can only be saved as plain text in a TXT file. Online recognition lets you export your results into 12 different file formats, including Word, Excel, and PDF.
Offline recognition does not let you save the source formatting. Online recognition will let you keep the formatting of paragraphs and tables, among other things.
Offline recognition only needs your phone to work, so the results are displayed almost instantly. Online mode requires some information to be sent to the servers, which takes some time.
Using Plain Text will save your data, which is very useful on trips abroad.
Both modes let the user choose up to 3 recognition languages simultaneously.
You can read more about this milestone FineScanner update that uses neural networks here.
If you haven't tried FineScanner AI yet, you can download the latest version (or update to it) here.
App of the Week: Splitwise 
Ever had one of those nights out when the waiter forgot to split your bill and you had to work out who needs to pay for what?
The Splitwise app was created precisely for situations like that. It will also help you keep track of how much money you owe to your roommate, for example.
Splitwise can also display notifications about money that you owe, split bills, work out interest, and associate specific sums with specific contacts — making managing your finances easy and fair.
You can also create backups in Excel spreadsheet format and review your expenses to get a better understanding of your own buying habits.
You can download Splitwise for iOS or for Android.
That's all, folks! See you next time.
Subscribe to our newsletter
Enter email and get FineReader PDF Mobile with 1 month premium for free!
Your subscription was successful! Kindly check your mailbox and confirm your subscription. If you don't see the email within a few minutes, check the spam/junk folder.
Your subscription was successful!