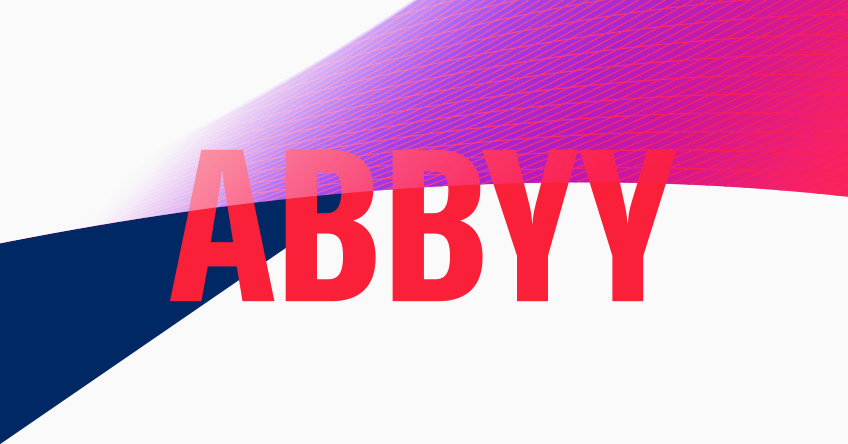 We at ABBYY recently introduced our new brand identity and ABBYY Reimagine concept. Let's take a look at what stands behind our new colors, images, and words!
Our new brand is the emotional expression of ABBYY's strategy. It now personifies who ABBYY is.
Who is ABBYY?
ABBYY has been a mainstay in the market for over 30 years.
We are an established company with over 5,000 customers that trust us with their business– including many of the world's largest enterprises.
We are the technology leader in our industry and have hundreds of patents to prove it. Leading technology companies use ABBYY technologies in their products.
Industry analysts recognize us as the Leader in Intelligent Document Processing as well as Process Discovery and Mining.
The rise of digital transformation has ushered in a new era for ABBYY. Last year, we announced our new Digital Intelligence portfolio enhanced with Process Understanding capabilities to help organizations accelerate their transformations globally.
Today ABBYY is a leading Digital Intelligence company.
We empower organizations to gain a complete understanding of their business processes and the content that fuels them to accelerate their business.
Bringing the new Digital Intelligence vision to life
We understood that our previous brand identity was no longer relevant to our new vision and market standing. We decided to take a fresh look at our brand to ensure it reflected the new ABBYY, and connected with our customers' motivations.
We started by having deep conversations with our customers because we wanted our new brand to address their expectations and aspirations. We aimed to reveal what emotional connection customers have with us and other innovative companies. Our interviews with customers, coupled with our new market position, helped us identify ABBYY's brand personality top characteristics and archetypes.
ABBYY is the visionary, innovative, trusted, high-energy, and creative thinking expert. Customers unanimously agreed with these characteristics during interviews.
ABBYY's brand identity includes two archetypes: Magician and Sage. These brand archetypes personify and represent our values, behaviors, and messaging.
ABBYY is a driven visionary whose magic is sharing knowledge and best-in-class intelligent technologies to:
transform our customers, peoples' daily work, habits, and experiences
help people better understand their business and the world, and do their jobs exceptionally well
turn confusion into clarity
We know: if you can dream it, you can achieve it with ABBYY.
This is how our ABBYY Reimagine concept was born.

The new ABBYY look unleashes what ABBYY represents
"We were inspired by what our customers shared with us through a series of interviews and decided to take a fresh look at our corporate brand. We took their feedback and now the new ABBYY look translates to how we invite customers, partners, and employees to experience and engage with us, to transform and reimagine," said Scott Opitz, CMO at ABBYY.
Together with brand and design agency, Shuka, we created the new brand design. You'll see connections to who ABBYY is in our designs—fresh and exciting, professional but fun, and personal.
The redesign preserves and refreshes our brand's legacy. ABBYY is an established company recognized for its technical acumen, but as the company has evolved and offers more comprehensive solutions for higher value use cases, the new brand identity evokes this transformation.
The logo is timeless and modern, with a classic font and a vibrant red color.
The new color schemes are fresh, energetic, and modern, and the gradients represent the transformation.
The key visual on images is a metaphor for transformation. The shape unfolds and changes. This draws the focus directly to the point of transition. We highlight the design with white space, which symbolizes the turning point—the start of a new future.
The style incorporates isometric illustrations, a set of icons, infographics, and factoids with custom gradients and patterns that can adapt to any digital or physical communication.
ABBYY is a people-focused brand, and the new design represents the company's support of customers globally. The way people look in communications is crucial, so we wanted to make sure they looked natural and unposed. The colors are soft and there is a lot of natural light included in the images. It echoes the glint on the key visual. There are three options for how photos are branded.
The new style was implemented in the video. The principles for animation represent a logical continuation of the custom graphics. The shape in the main visual can be transformed to simulate the behavior of a ribbon and may take one of three states. The custom pattern is animated to go at a uniform speed in the direction of movement.
All in all, here's the transformation of ABBYY's style from 2020 to 2021, with our new fresh, exciting, transformative, innovative, and personal brand.
It takes a team
I would like to thank my team at ABBYY and our colleagues from the brand and design agency, Shuka, for our open and efficient collaboration that helped us bring this project to life.
The rebranding will be showcased live during the ABBYY Reimagine virtual conference. Register for free here.
Visit the Media & Brand Center to view the company's new look.
It is my sincere hope that to see our new brand as more than new colors and shapes and are inspired by how ABBYY can help you reimagine your digital transformation.
Subscribe for blog updates
Your subscription was successful! Kindly check your mailbox and confirm your subscription. If you don't see the email within a few minutes, check the spam/junk folder.
Your subscription was successful!